Rocky Mountain National Park has many designated wilderness sites that you can reserve beginning March 1st of each year.  Each trip costs $20 regardless of the number of nights you stay or how many sites you use in that continuous time period.  I began making plans in April, when the most popular sites were long filled for summer weekends, but I called the wilderness office and told the ranger what we were looking for and spots in the park we'd loved, and he helped me come up with several possible itineraries for me to think about and then book the ones we liked the sound of most.  If you do not have a specific spot in mind, I would definitely recommend going that route!  Call on a weekday when they aren't busy and hopefully you'll end up speaking with someone as wonderful and patient as I did!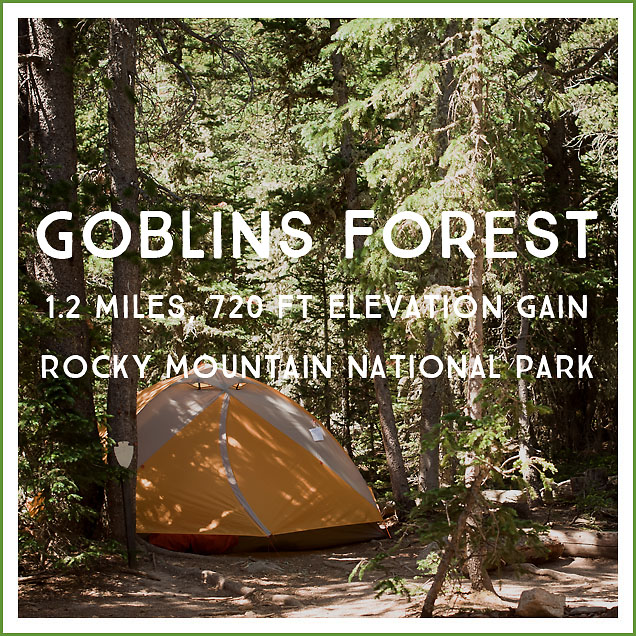 For our first trip backpacking in RMNP we spent two nights in Goblins Forest to celebrate my 33rd birthday.
Goblins' Forest is a short 1.2 miles from the trailhead (which is actually outside the main gate of RMNP and so there is no additional fee to enter the park).  With 750 feet elevation gain, it is a decent climb to the collection of six sites, but nothing little legs can't handle with a full pack.

For this 2 night trip complete with two bear canisters, when fully loaded up with water, Nic was carrying a 40lb pack, mine was 35lb, Will carried 22lbs, and Ellie 7lbs.
The group of campsites is off the crowded trail enough to remain quiet and includes a pit toilet.  Three of the tents sites are well separated from the others, but three are in a shared clearing.  (At least as it looked to me during my exploring–the forest there is overgrown and a little confusing.)  The area was VERY buggy in mid-July, but luckily I'd seen a mention on Instagram that week about the bugs and brought bug spray.  There aren't any views to be had, but the little trickle of a stream running through the campground and periodically disappearing under the ground is cute.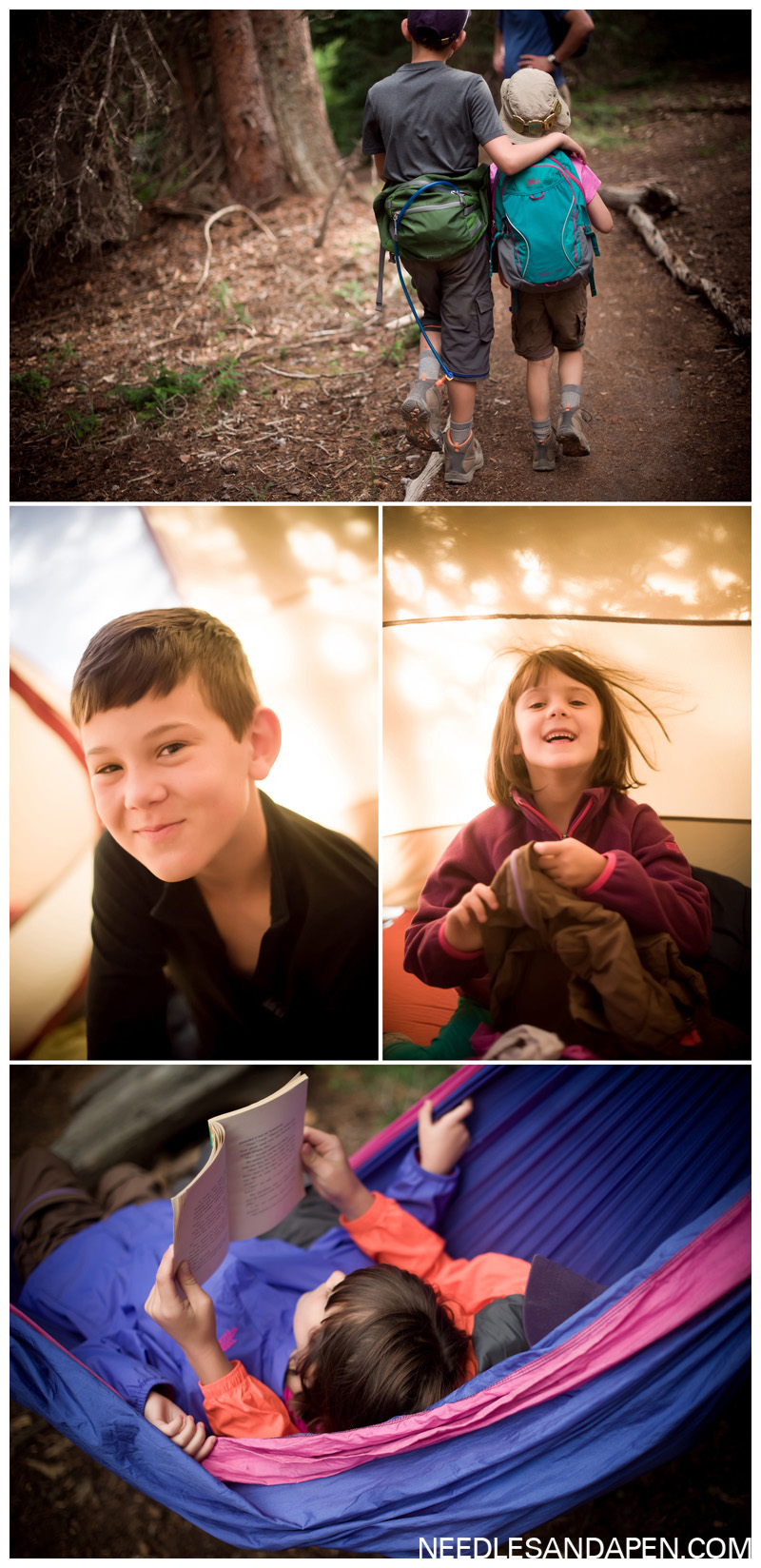 The campsites are primarily used by hikers planning an early morning ascent of Longs Peak.  When we woke up Saturday morning we were surprised to find all our other campers long gone.  Sunday morning Nic was awake when he heard alarms going off all around the campground.  Curious, he took a peek at the time and it was 3am.  Which explains why it had been so quiet the night before!  For both of our nights there, the other campers climbed into their tents and seemed to go to sleep about 7pm!
For us, this campsite was a starting point to Chasm Lake, a difficult 8 mile round trip hike that I wouldn't have been brave enough to attempt with the kids had we not been able to chop two miles off the hike by staying at Goblins's Forest.  Review of that terrifying phobia-inducing hike is here  🙂

The trip was a birthday party for me (THIRTY THREE!), which meant figuring out my 'ultralight celebration.'  (My brother-in-law is a dedicated ultra-light backpacker but we are more 'ultra-AWESOME' campers.  Any time I make any sort of concession to weight I pretend to be an ultra-light backpacker and expect a medal.  And by weight concession I mean any time I don't bring along a cast iron pan and four pairs of shoes.)
Anyway, I figured Erik would be very proud of my genius 'ultralight' frosted birthday cake on the left (this was also being used as a strategic tranquilizer for me, since this was my first night in the great outdoors after Disaster Night at the Campground [post to come once I've had enough therapy]).  On our way to the trailhead, I also picked up this Creme Brulee freeze dried dessert from Backpackers Pantry at REI without reading the instructions.  When I went to make it I thought, 'oh this is going to be a DISASTER' because it said something like "whisk for six minutes with a fork" and I didn't even have a fork let alone the desire to whisk something for six minutes!  But then we tasted it, and it was heaven.  I felt really badly about all the nasty things I'd told it about the scathing reviews I was going to leave for it.  It was a delightful birthday treat that came together even with some half-hearted whisking with a spoon.