Last month I checked out a few baking books at the library.  It kicked off a baking marathon, and it's taking its toll.  My jeans are uncomfortably snug, I've gained 4 pounds, and my muffin top is looking increasingly like it belongs on some ceiling in Italy.  Some times I get bitter that modern women are subjected to a standard of beauty like this instead of this, but then I remember that it wasn't like they had Chili's back then, so really, how fun could livin' up the chub have been?
Anyway, back to baking.  I've been baking.  A lot.  The Happy Baker is one of the most fun cookbooks I've ever seen (I didn't enjoy the memoir part of the cookbook and stopped reading after a chapter or two, but the recipes are easy, fun, delicious, and have very few ingredients, and none that you can't find at your local Super Target).   One of the recipes involves just fritos and milk chocolate.  Need I say more?  I'm also liking Fat Witch Brownies, even if the signature recipe is just okay and not the REAL recipe for the famous Fat Witch Brownies.  I highly recommend the Earl Gray Brownie and want to try the lavender bars really badly, but can't find lavender extract at any of my normal grocery stores (which means I'll have to go to Whole Foods, and that's never good for my pocketbook).  My latest library cookbook is a little fancier and the recipes and ingredients a little harder, so we'll see if I actually get around to making something from it.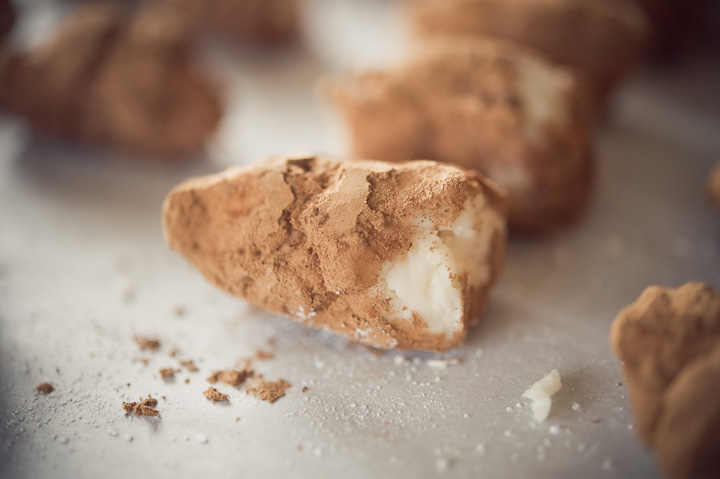 Yesterday I found this recipe for Irish Potato candies while dinking around with the Paprika app that I am now obsessed with.  They're a strange looking little treat, but super yummy (far from looking like potatoes, they look like Mr Hankie).  To mix things up, I tried three different coatings.  The recipe called for a cocoa + cinnamon coating, and I also tried cocoa + cayenne pepper and cinnamon + nutmeg.  The cocoa + cayenne pepper was a hit with Nicolas, but since Will licks all food to test it, he was NOT a fan–having gotten just a mouthful of cocoa and cayenne pepper and nothing sweet or creamy to temper it.  The cinnamon + nutmeg was also good and tasted wonderfully like Christmas–a perfect recipe to break out again for Christmas parties!  Next time I make it, I'm planning on doubling the coconut.  It is heavy on the cream cheese mixture and light on coconut, but I think I'd like more of an almond joy kind of texture for the inside.