***Cool announcement:  the subscribe by email feature in the sidebar to the right is now working!***
Look at this poor little neglected blog!  It was a busy summer that included a week-long evacuation from a wildfire that we thought for a few days had destroyed our home (I even had a blog post planned out titled "well, that's one way to take care of the WIPs"), two more camping trips, a teeny tiny bit of sewing, and lots and lots and lots of wedding photography.
I thought I'd check in with a project that will last me to my nursing home days–my English paper pieced stars.  I posted about them previously here auditioning backgrounds, here to share my storage method, and last in May 2011 (over two years if anyone is counting, which I'd appreciated it if you didn't) to show my progress.  
Try not to be awed and humbled by my incredible progress in the last two years.  😛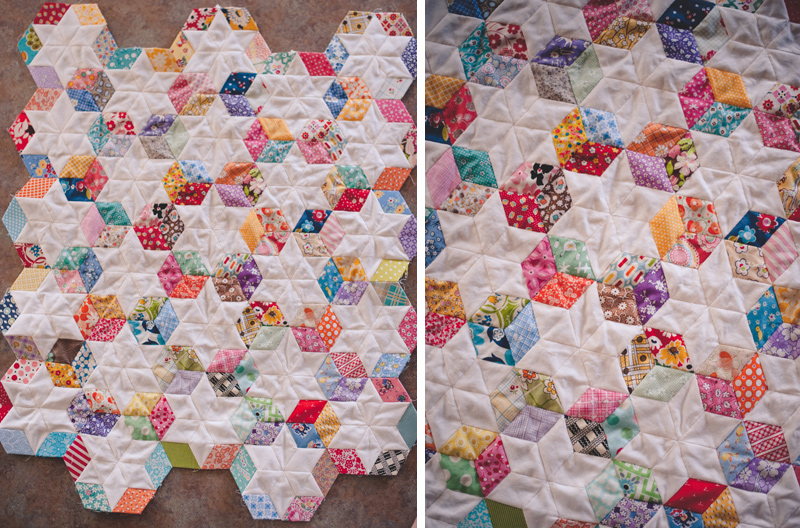 But, it's comin' along!  😛  I'm actually loving it right now at piano lessons (Will's) and during my preschool mornings with Ellie while she works on various projects.  (I'm homeschooling Ellie for preschool this year but am having a hard time getting past the stigma.  We were at Gymboree picking up some fall clothes [20% off coupon on top of 30% off already marked down clothing?  don't mind if I do, Gymboree] this week and the woman asked "is she in preschool?" and I said "yes" and Ellie piped up "I go to homeschool preschool" and then I died a long denim skirt and Reeboks death right there at the checkout counter.)  I expect to see, you know, like three whole stars added onto this bad boy before the end of the year!
I'm not loving the way the tumble blocks pop out right now versus the stars, but my plan to quilt this in pearl cottom in the outline of the stars will make a big difference to the final quilt, I think (slash hope). Anyway, that's it for my dip back into the waters of this blog.  Hope to see you around again soon!  🙂