Remember that time when I thought I could go to nursing school and work and have a family and post regularly on my blog?  I am adorable sometimes.
Anyway, for those of you still holding out hope that this little old blog will be updated, hurray!  It's finals week so OBVIOUSLY I am going to do a blog post.  Because I firmly believe that hobbies are the antidote to crazy stress.  I have a lot of posts to catch up on, but I'm missing my babies right now so I'm going to do a blog post in which I get to look at pictures of my babies, which means it's time to share our best ever Halloween!
So, you know how when you have babies you get excited about all their first holidays and you dream up their costumes and can't wait to see them in the outfit of your dreams?  Now imagine that instead of that, your sister-in-law is me, and you have to dress your babies, yourself, and your husband up to fit their family's fought-over-it-since-November-1st-of-last-year-and-finally-settled-on-a-theme theme.  It takes a special sister-in-law to do that, but that's the kind of sister-in-law I have!
Our theme for this year was the Pixar movie, Inside Out.  Ellie was obviously going to be Disgust, because she totally nails that whole persona.  I called Sadness, because Sadness wears a sweater and I live in Colorado and am no fool. We assigned Nic to Fear because he's the tallest of our crew, and Will got Anger because (a) he's the shortest male and (b) it was a costume we could get him excited about because I told him I'd make him a fire wig.

I got really excited about the theme once I started doing research for what other people had done for Inside Out cosplay.  When I saw Riley's imaginary boyfriend cosplayed I thought it was the coolest thing ever, so I shamelessly stole it for my brother-in-law.  (While we're talking about other people's cosplays of Inside Out, how completely amazing is this girls' Bing Bong?!)  I had been trying to think of baby-friendly costumes, and when I realized the babies could be Joy and Bing Bong (switching off on our two nights of costume related events so that neither of them require therapy later) and sit in the "rocket" it felt like everything was going to come together beautifully.  My sister-in-law could be Riley and we would have the movie well covered.  (The babies ended up totally hating their rocket ship, but it still made for an excellent beer/supplies transporter, so not all was lost.)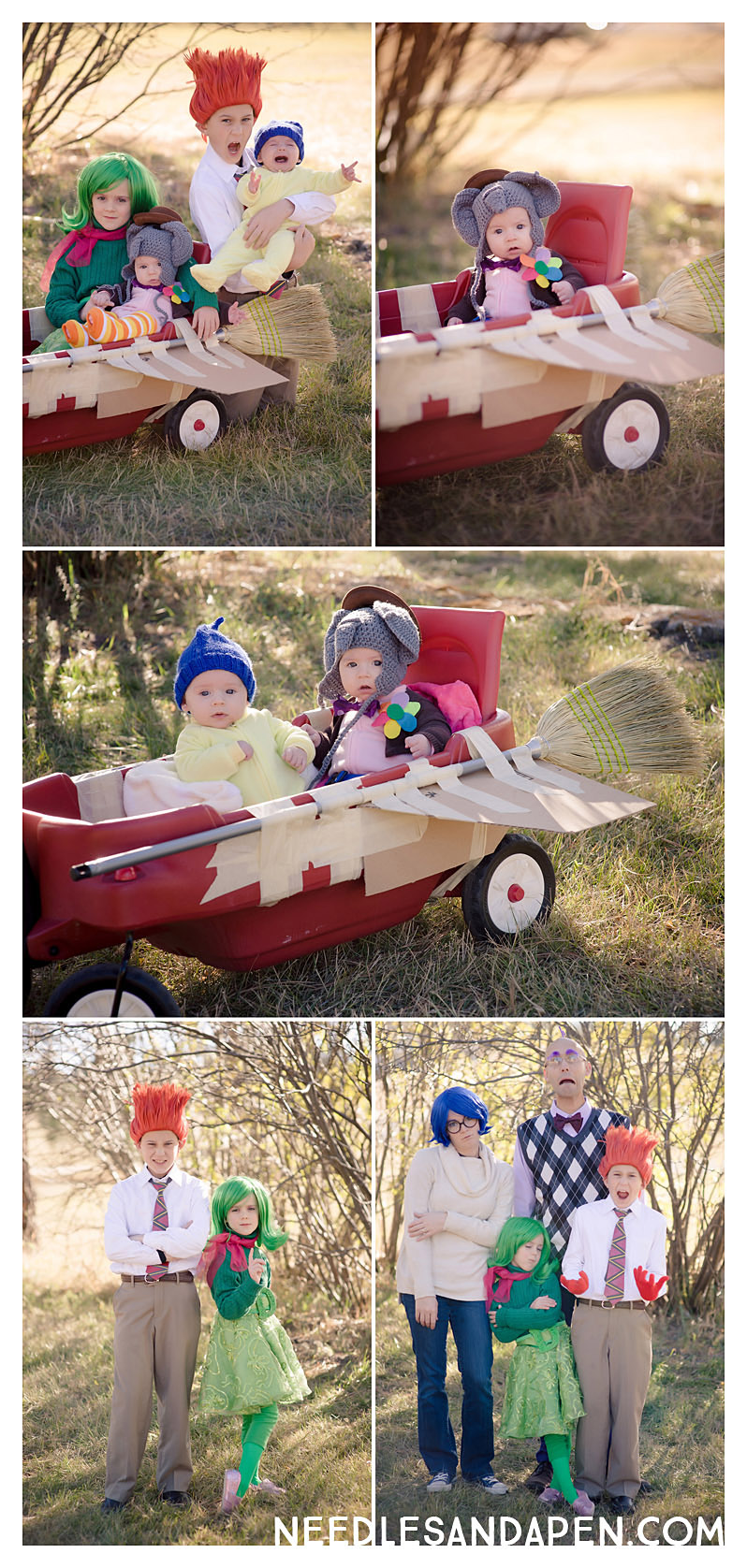 Wigs:  Ellie's wig was an Amazon find, mine came from Epic Cosplay, and Riley's wig (which ended up being much shorter than pictured) and Will's wigs came from Arda.  Will's wig was the Malinda that we then tried to gel into its upside down shape (much harder than it seemed like it would be) so I ended up using bobby pins to secure it at Boo at the Zoo and sewed it up for Halloween night.  To get the flame color Nic and I chalked it with yellow and two shades of orange.  The color ended up being really cool, but I'm not sold on the styling.  I should have devoted days (and bought glue) to get it the way I had pictured.  Lesson learned.  Nic's single fear hair was a purple pipe clearer he attached to his head with double sided wig tape (everyone wanted to know how it was attached!!).  His eyebrows were actually a purple mustache I found at Party City that I cut in half.

Outfits:  I found Nic's entire outfit on Amazon as well as my glasses.  I know that Fear's shirt isn't actually purple, but when planning Halloween costumes I talk a lot about what is "emotionally correct" versus what is actually true to the film.  (Which is how I ended up feeling about Riley's imaginary boyfriend's jacket that I found at the Salvation Army when in reality he wears a forest green button down shirt.)    I bought a grey tie for Will and then used fabric paint to create the same design as Anger's real tie, and Ellie's belt buckle was a wooden "d" from Joanns that I painted green and covered in green glitter.  I purchased her sweater on AliExpress, and made her belt, scarf, skirt and capris from fabric at Joanns.  I spent a thousand years looking for the perfect Sadness sweater until I finally stumbled upon it accidentally at Costco.  I knit Joy's hat from some blue glitter yarn I found at Joanns, using a basic baby cap pattern that I customized with a ribbed brim instead of rolled (just because I like that better) and then I changed up the decreases at the end so that it would come to a point like Joy's short hair.  I made Bing Bong's flower pin from felt, the rest of her outfit her momma found online.  One of my favorite items just doesn't come across in photos well.  I bought a large "glowing orb" that changes colors as a memory ball for the kids/adults and a tiny one for the babies.  You let it cycle through its colors and then just stop it on purple, red, green, yellow, or blue, for whoever was carrying it.  It was really cool in real life after dark, you can just trust me on that one.  😉  I also painted the kids trick or treat bags the appropriate color and covered them in glitter, but it was kind of a disaster.  I had wanted them to really look like memory balls with the tops cut off, but the closest shape I could find were the traditional jack-o-lantern treat bags and most of the glitter fell off.  It was one of those "I'm in nursing school, this is good enough" moments.