My self proclaimed Summer of Knits began this weekend with my very own Linden sweatshirt!  I did a lot of blog reading before starting this one, and chose my fabric based on an instagram post from Film in the Fridge. 
Supplies:  Linden sweatshirt pattern, 1.5 yards of Splendid sweatshirt fleece, 2 inches of a knit I got from Fabric.com on clearance for $2 a yard for the neckline band.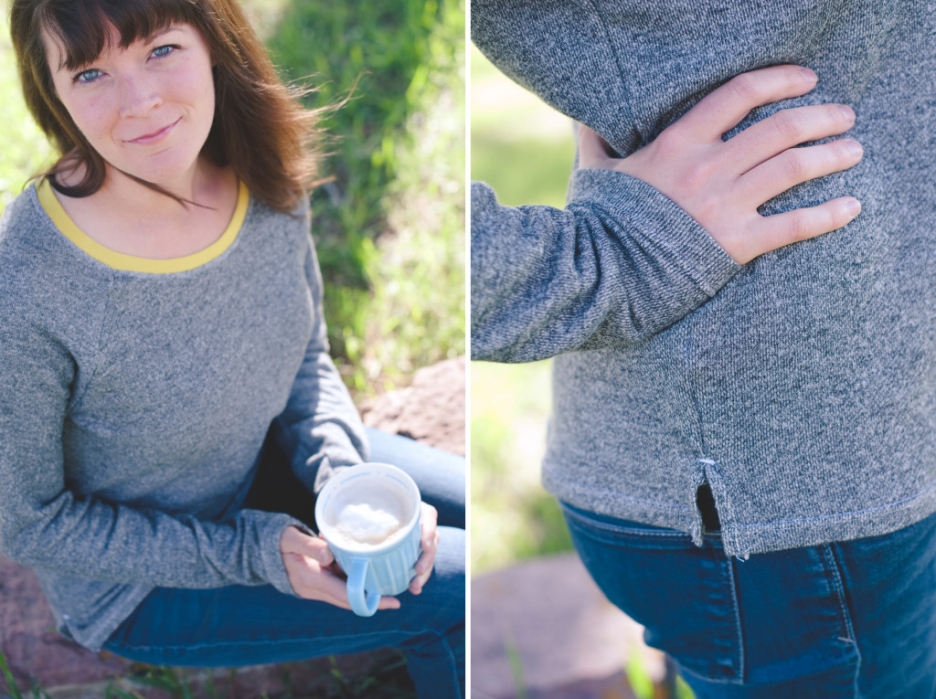 Pattern notes:  I made a size 4 based on things I'd read online about it running large (I'm normally a 6) and it's still very roomy.  I added about 4″ of length to the sleeves and this is now my favorite shirt EVER.  With my monkey arms I usually end up with sleeves about an inch too short after washing and thumb holes that look like wrist holes–I never get delightfully snuggly sleeves like this!  I added 2 1/2″ to the front bodice piece because I noticed that the pattern as written ran a little short for my liking.  For the back bodice pattern piece, I originally drafted a new curved hem (much longer than the original pattern) based on my favorite sweatshirt.  I absolutely loved it before I sewed the hem, but once I sewed it using a twin needle and just didn't hang quite right and I decided the contrasting neckline was a little too sporty for that look anyway, so I chopped off the extra fabric to have the length match the front.  I kept it a split hem, though, which I ended up mostly winging.  I read a note that the sleeves were slim compared to the large amount of ease in the body, and I found this to be true–if you end up sizing down a large amount in the body I'd double check the sleeve finished measurements.  With the adjustments in length to the pattern pieces, my 1 1/2 yard fabric piece was just right.   The pattern is very well written and easy to follow–it made a great first knitwear project!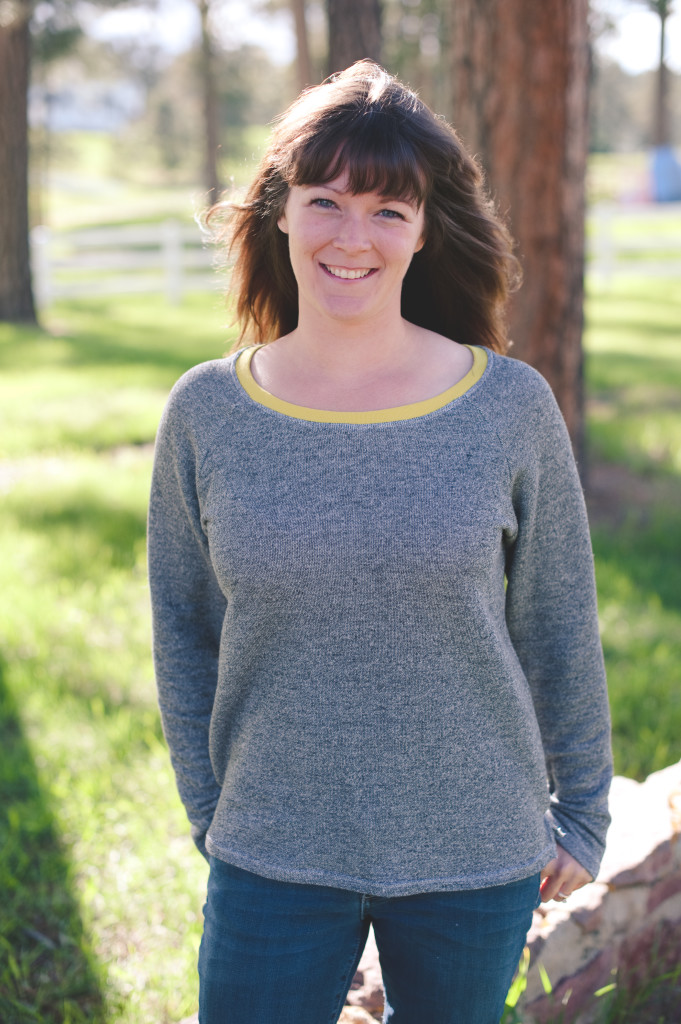 Project notes:  I can't wait to make another, and badly want the navy version of this fabric to come back in stock!  I'm not sold on my choice of neckband–I think keeping it the same as the main fabric would have made it less casual.  I am not a fan of the fake coverstitch with a twin needle.  I used wonderunder but still had some waving to each hem.  It also seemed to stretch out the neckline and sleeve hems–I'm curious if that will bounce back after I wash it.   I'm jonesing for a coverstitch machine something awful now…the serged seams looked so perfect until I had to run them through my sewing machine!  Craigslist needs to come through for me this summer…come on people–clean out those craft closets!  😀