It was a market bag weekend (using jane market bag pattern)–I made my library bag as well as two others. I find that whenever I repeat a pattern, I end up making more mistakes than the first time.  With the floral bag and my library bag I forgot to do the top stitching down the length of the center panels, and I was so focused on NOT missing that with the second library bag that I forgot to top stitch around the top!  (I'm also not sure whether the pocket is crooked or the crooked striped print just makes it LOOK crooked, but there's that, too.  I shouldn't start listing the mistakes in my projects, though–that could get both lengthy and depressing.)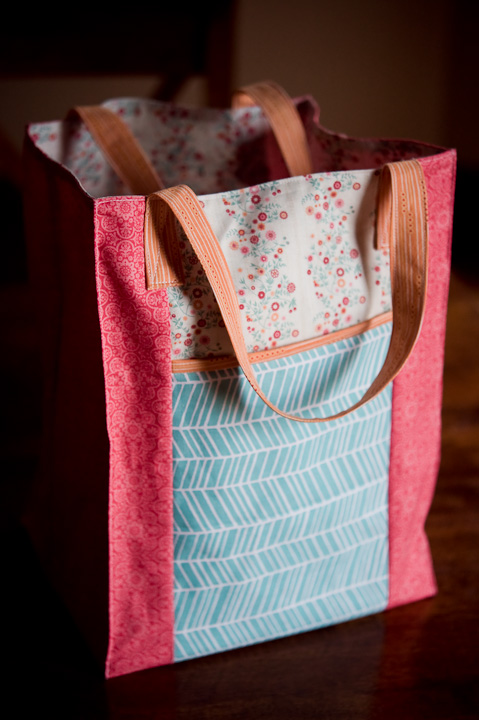 The floral fabric reminds me of my parents' bedding when I was growing up–my sister and I were both drawn to it, and then we realized why!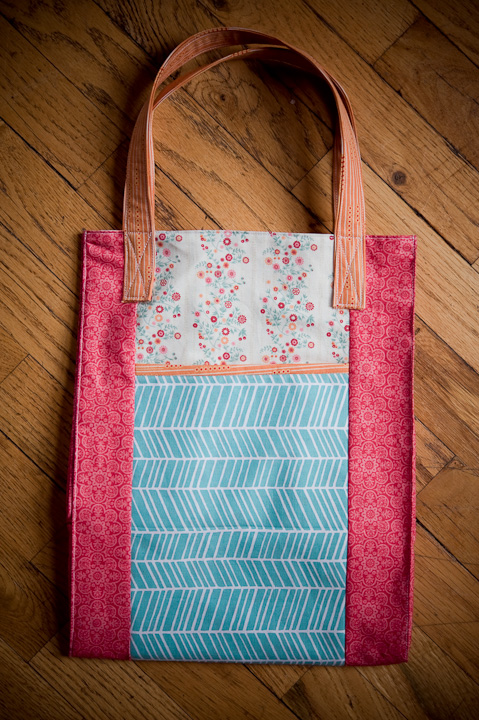 Since my Nana rarely ventures onto the interwebs, I think it's safe to say that I made this bag for her.  She's a big library fan herself, so I thought she'd enjoy a library tote!  I wanted to try a version where the center panel was the same as the exterior and just the pocket was a contrasting fabric, and I think it's nice!  I might try doing an all-one-fabric-except-for-the-straps-and-pocket-band next, but I think I'm going to take a break from market bags for a bit.  They are deceptively time consuming!