We took our first camping trip in years last weekend.  Nic and I both grew up camping, although admittedly at different levels of intensity.  What I call "camping" Nic calls "car camping" in a way that suggests that I've never been camping so much as I've just been staying at four star hotels.  I will likely also feel this way once we start backpacking when the kids are older, but for now let's just agree to call it camping.  Because if you wake up to pee in the middle of the night and there's the possibility that there is a bear or snake or angry chipmunk between you and where you will be peeing, I call that camping.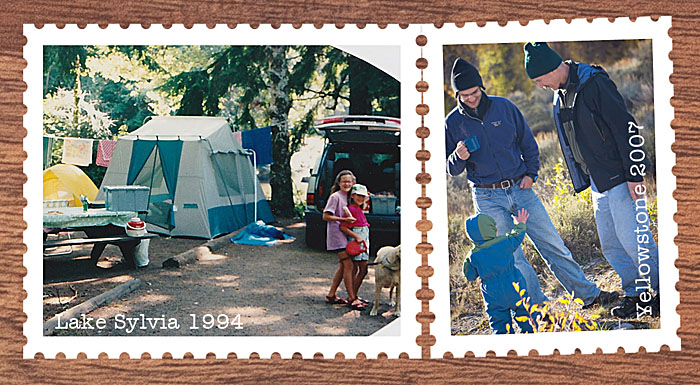 In spite of our mutual appreciation for the great outdoors, our camping excursions post-marriage have been limited first by our wedding schedule and then by the fact that once we had two children, we just didn't have any room in either vehicle to allow for a camping trip (if I'd known the vehicle I bought my senior year of college would limit my family size and vacation options I would have bought a Suburban).  This fall we got a pod for Nic's car and we are finally back in the business of camping!  I did a whole lot of internet research (thank you pinterest) before we left to make sure our first trip as a family of four was a major success.  I thought I'd share a roundup of my favorite tips, recipes, and gear suggestions for anyone else planning on tucking little ones into sleeping bags this summer and looking for ideas!  Today is all about camping tips–up next week will be recipes.

Make dedicated camping tubs.  One of the best tips I read came from this post on making camping easier.  She keeps two camping tubs perpetually ready so that when it's time to go, you just toss them in the car with clothes and food instead of spending your time tracking down can openers and paper towels and camp chairs and sleeping mats and the like.  For our small car camping, we've had to modify this a bit–having just one camping tub that goes from basement to car and another that needs to be unpacked directly into the car (and then goes immediately back into the tub on our return).  She emphasizes preparing when you get home from your camp trip for the next trip, and I agree with this right down to clothing.  I did our camping laundry immediately when we got home to prevent the hiking socks and pants from being at the bottom of the kids' hampers the next time we were ready to go out and put it all in the kids' bottom drawers, ready for our next adventure.  *Amy shared a great tip in the comments that for their camping box they use a large tool box which has the benefit of lots of organization built in.
Make a master excel camping spreadsheet.  This tip comes from my master packer brother-in-law Erik (whose spreadsheets are infinitely cooler because they include the item's weight).  Instead of scribbling on a scratch piece of paper the things I didn't want to forget (my usual method) I made a spreadsheet of everything we wanted to pack.  I brought it along on the trip so we could adjust it as we thought of new things we'd want for next time.  When we got home I immediately made the adjustments to our spreadsheet and highlighted anything we needed to purchase and any of the items we'd used up that needed to be replenished (like wet wipes).  I organized the spreadsheet by container (large camping tub, loose large items, Ellie's tote, etc) for convenience.
Pack dirt toys.  Ellie has never let a lack of toys stop her from play (she turned the 6 tent stakes into 6 Disney princesses while we took down our campsite Tuesday) but she got a lot of use out of the shovel and pail we'd brought along for the sand dunes just in the dirt of the campsite.
When your husband says you don't need as many towels as you're planning on packing, flip him the bird and pack them anyway.  Nic said that 2 towels and a roll of paper towels were enough.  I listened to him and then cried giant inside tears when we misplaced the first towel within hours of arriving and Ellie wiped her exceptionally runny nose on the other.
Pack a small box for car activities.  My kids are set in the car for the first hour.  After that they either fall asleep or get squirrely.  I packed a shoebox sized rubbermaid with raisins, coloring books and crayons, and this knot activity set for Will.
Pack everyday medications (in a logical spot).  Aside from your first aid kit, don't forget children's tylenol because you never know when a little one will spike a fever.   Or when you won't be able to find the Aleve and have such a whopping headache you can't even think about digging through everything so you take the teen doze of children's tylenol and call it good.

To keep little ones warm after dark, use a snowsuit.  Our fall camping trip to Yellowstone when Will was 19 months old was a cold one.  His snowsuit was the perfect way to keep him warm (and had the added bonus of acting like a dirt/grime shield as he played around the campsite)!
Get creative with your existing possessions.  There's so much gear involved in camping that by the time you buy it all you could have gone to a really nice hotel instead.  We knew this was going to be our kick-off camping year, so we were able to space out a lot of the purchases (buying the kids' sleeping bags last fall on sale, for example).  For other things you can get creative.  To avoid needing two sleeping mats for the kids (sleeping pads are not just a comfort object, but an insulating factor) I was able to use my yoga mat as one of the pads.
Dryer lint fire starters.  I read this tip in so many places that I decided it had to be a good one.  (And it was.)  Collect empty toilet paper rolls (or paper towel rolls) and stuff your dryer lint into them.  Once at your campsite, build your wood up around one of your toilet paper roll/dryer lint masterpieces and then light the dryer lint.  Super easy to use and you get to feel like such a great recycler, too!
Remember what time your kids go to bed.  I had read some great tips about putting glow stick necklaces/bracelets on kids at night which seemed like a clever (and fun for them) way to keep track of them and so I dutifully bought a handful.  Thinking of my own camping experiences, I also got headlamps for them both.  But our kids go to bed at 7:30 and the sun sets at 8:30 this time of year.  Both nights of our trip the kids were in their sleeping bags well before dark.
Make friends with dry shampoo. I would be embarrassed to write about this on the internets, but since Kate Middleton only washes her hair every three days, I'm going to share the life changing experience I had last month called discovering Faux Dry.  I've been washing my hair every day like a chump for the last 17 years, so most of the time camping involves me feeling like a greasy gross mess after day one.  Enter dry shampoo and that problem of camping is solved!  I've tried a couple and this is definitely my favorite (the ingredient lists of the spray versions freak me out).  I like to put it on at night so that you don't wake up with oily hair–you just go to bed and wake up with great hair.
LED lights for the tent are a fun splurge and make a night-light for little ones.  I hung these lights inside our tent as a fun surprise for the kids but they ended up being an incredibly practical night-light for Ellie (who always sleeps with an actual lamp on in her room).  The slow color-changing bulbs also served to calm and distract her as she went to sleep in the new environment.   We left them on all night both nights.  Halfway through the second night (after about 15 hours total run-time) they did switch to all red instead of color changing (as noted in some of the product reviews) but when we got home and changed the batteries they went back to changing colors.   
The potette potty seat goes everywhere with us.  I got this for Ellie as a travel potty seat for when we were running errands or at people's houses, because at 18 months old and potty trained, she was too tiny for a regular toilet seat.  I also immediately realized that it was going to be amazing for hiking (and therefore, by extension, camping).  It has little bags that you use with it (you could use just an old plastic shopping bag, but these have little absorbent pads to collect the urine) that you just tie up and toss when you're done.  (Or carry around with you if you're on a hike.  Sometimes it's a tough job to be the one carrying the pack.)  Since I still haven't mastered the girls-pee-in-the-woods maneuver, this has been my friend in a pinch, too.)
Another potty option for the women…I have long been jealous of men over their ability to (a) consume ridiculous amounts of calories without any sort of recompense and (b) pee standing up.  On a hike?  At a park with nasty portapotties?  Not a problem.  They stand, they pee, they walk away.  When I saw this I was disgusted, amused…and sure that it was the answer to all of my problems in life.

Be realistic about how much your family actually eats.  With a growing boy and husband with a hollow leg, I usually err on the side of over-production with cooking and food prep.  At home leftovers can be kept for the next day, and anything you're not going to keep is easily tossed.  While camping, though, extra food usually can't be kept and getting rid of it generates garbage which generates work.
Chill your cooler before packing it.  I was fairly nervous about the perishables situation.  We were gone for two nights, with the days being very warm (particularly in the bear locker where the cooler was) but everything stayed safely cold.  We used this cooler from REI because it is easier to store long term than a hard sided cooler.  I read a tip to put the whole cooler in the freezer before the trip, but I don't have the room in my freezer (having super important things like popsicle and ice cream makers in there instead).  However I was able to fit the whole thing into our fridge the day before we left (with the lids open) to prevent the cold items from having to cool down the inside of the cooler.  The morning we left I just had to toss the frozen items into the cooler and we were ready to go.
Freeze whatever food you can.  This way your food acts as additional ice packs (gently thawing while staying at a safe temperature.)
Fire wood is crazy expensive – don't plan on using fires too heavily for meals.  I was shocked to discover that firewood bundles at the park were $7 (and they forbid you from bringing in firewood from outside areas).  The bundles were very dry and so while it made starting fires a piece of cake, it meant that one $7 bundle was only going to get us through one evening.  I'd planned on using the fire for cooking at every meal, so I had to use our stove more than I'd expected, and I was so grateful that I'd decided to get one at the last minute.  I'd originally thought it was something we could do without, but at $7 a fire, that $50 stove will pay for itself very quickly!
The marshmallow 'stackers' are the messiest things you'll ever experience in this life.  They're big, they're rectangular, and they're super fun….but the mess is out of control.  Stick to the standard marshmallows.
Tiny airline sized bottles of flavored vodka make drinking hot chocolate next to a campfire even better.  Just sayin'.

Remember what time your kids wake up.  Even if you can sleep in a brightly lit tent with birds chirping and other campers rising, odds are your kids can't.  I made a point of getting to bed much earlier than normal (which also seemed to compensate well for the 18 times I got up during the night to obsessively check to make sure the kids were still warm and properly tucked into their bags).
Read up on the educational side of your destination ahead of time.  Being able to answer questions like "how did those rocks get there" or "how high is the tallest sand dune" on your trip to your campsite will make the car ride easier!
Discuss your family's rules of camping as early as possible.  While it seems obvious to you that of course your child shouldn't get into the tent and then take off their filled-to-the-brim-with-sand shoes or play tag right around the raging campfire or shout "MOMMY!" to you every five seconds at 6am or wave a flaming marshmallow around in a panic, it's probably not going to seem obvious to your offspring.  Thinking about the basic rules of your campsite and explaining them ahead of time will prevent you from losing your mind over things that, to be fair, your kids didn't even know were verboten.
If they need it at home, they'll need it in the tent.  My kids have always been pretty low maintenance as far as comfort objects go, but Ellie expects a cup of water in her bed with her at night.  She had the same demands in her sleeping bag.  Don't forget the little things that make your world tick!
If you have any great tips that I've missed, please leave them in the comments below!
(Digital elements in this post are from Paislee Press.)