It always annoys me how people want to tell THEIR story when something stressful happens instead of just telling THE story.  No one cares about your take on it–we just want to know what happened on the macro level.  No one cares that you were making macaroni and cheese when aliens invaded your town–WE JUST WANT TO KNOW ABOUT THE ALIEN INVASION.   It's self-indulgent and annoying to tell the play-by-play and makes it seem more dramatic than it actually was.  But suck it–my yard was on fire and I'm going to tell my side of the story, including all the irrelevant-to-anyone-but-me details.  So there, everyone being annoyed by this retelling (which is mostly me).
This morning as the kids and I were getting ready there was an annoying alarm quietly going off.  We couldn't figure out where it was coming from until I realized it was the ancient looking fire alarm in our hallway.  I turned it off, made a mental note to check the battery but probably just buy a newer one for that spot (we have newer ones elsewhere) and carried on with our day.
This afternoon I was putting Ellie down for her nap while the boy from next door mowed our lawn.  He was mowing down a section that we only do twice a year, so he'd been at it for some time.  I successfully put Ellie down and came into the office and was writing a REALLY funny Facebook post when I heard a muffled frantic knocking.  Figuring it was the neighbor kids wanting to play with Ellie, I was taking my sweet time about going downstairs when I heard the neighbor boy run through the downstairs calling "Miss Traci, there's a FIRE!"  Not really believing that this was emergency-level fire, I asked where it was.  My fire alarms weren't going off.  (Of course they weren't–apparently they run 6 hours fast.)  "Outside!  My lawn mower is on fire!"  I ran outside and saw his mom on the phone.  Double checked that she was calling 911 (she was).  Looked around for the fire and finally spotted it around the back side of the house.
Now, a small yard fire is slightly scary on about the same level as a big dog.  Unless you are from Colorado Springs and recently watched 300 houses burn in the Waldo Canyon Fire.  And then a small yard fire is scary on the same level as a raging inferno. I kept thinking 'that's probably not a big deal' but when our neighbor asked if I wanted to start getting things out of my house I thought "do I want to be the person who overreacts and puts a bunch of stuff in her car and feels silly later or the person who thinks it's not going to be a big deal and is then burned alive?"  Not really a tough call.
The neighbor's dad was fighting the fire with buckets of water, his wife wrapped up her call with the dispatch (who had told us not to go all Little House on the Prairie and go out there with quilts [I'd totally been making a mental list of least favorite quilts to use]), and the fire was a circle about 10 feet.  I got Ellie, moved her to a house farther from the fire where the older kids would watch her, and grabbed our business files, business server, and camera bags (we have a wedding Saturday) and tossed them in my car (that's right clients, you were the first people I thought of after Ellie).  At this point the wind had picked up and the fire was starting to spread faster.  Logically I knew that the closely-mown portion of the yard surrounding the house and the fact that the firemen were on their way meant that the odds of my house going up in smoke were pretty low.  But I still didn't want to be that person taking pictures instead of doing something more productive, though what really I could do other than unwind my garden hose and stand around watching from a safe distance with too much adrenaline I didn't really know.
I knew from Nic's tumble down the stairs that the wait time for emergency services is excruciatingly long.  It's about 10 minutes, but it's 10 minutes where you are either watching a fire spread in your yard or 10 minutes where your husband is bleeding from the head and can't answer any questions coherently.  It's a long time.  This is to me the crazy part of the story.  Just as the fire started to really get going, a tree moving truck came down our road.  Our small residential dirt road where we saw no other cars for this entire drama.  A tree moving truck with on-board water and a hose.  They stopped, asked if they can help, our neighbor (who was inhaling about a year's worth of smoke in his efforts to slow the fire) said "yes!" and they drove over and helped him put water down on the fire.  The dispatch had told our neighbor not to try to put out the fire ourselves.  But unlike the dispatch agent who told me not to apply a tourniquet to Nic's neck when he was bleeding from the head, this advice was hard for them to listen to.  There's a fire.  If someone shows up with a big tank of water and a hose, you're probably going to use it.
By the time the fire department showed up the fire was almost out.  (If you want to see a bunch of really depressed firemen, call and tell them you have a brush fire in your yard with wind picking up fast and then have a couple of civilians put it out before they get there.  They never even got to use THEIR hoses when there were actual flames.)  So a public thank you to God for that tree moving truck.  It was amazing.  Total burning bush moment but in reverse.
Once the fire department showed up I felt okay about getting my camera out and snapping some shots.  The smoke picture was taken by a neighbor after the tree moving truck showed up (it's hiding behind the bush)–the brown looking section is all tall happy fire grass, the green is the shorter section.  She also took the group huddle shot which I like because we have an awesome group of neighbors and we all do pool together in an emergency!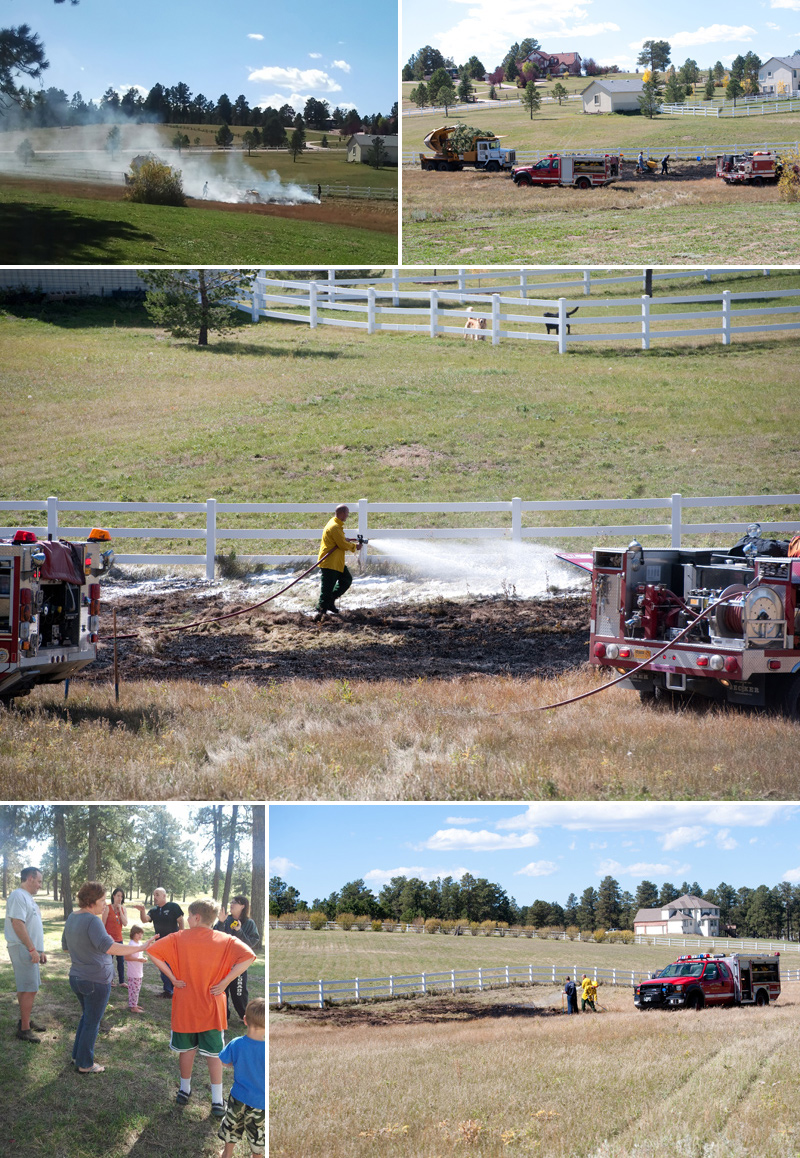 And so, the moral of the story…if your fire alarm goes off for no reason, be on the look out for smoke at some point that day.  It might not be old and crazy–it might just be clairvoyant.