Will's first ever hike as a young two year old was this short walk in Garden of the Gods.  If you have family in town and you're visiting Garden of the Gods and want to do more walking than on the paved area central to the park, this is a good option.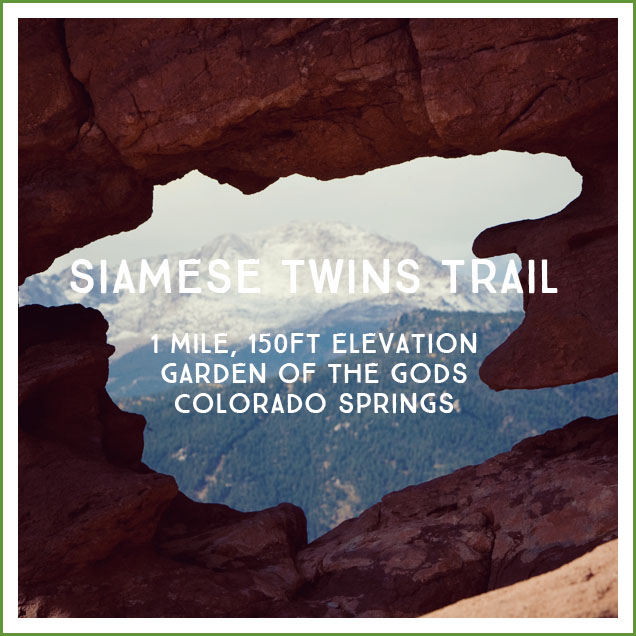 Siamese Twins Trail – 1 mile, SIAMESE TWINS TRAIL is an easy 1 mile roundtrip, with less than a 150 foot rise. There is a unique view of Pikes Peak through the natural window of the twins.
Pros:  This is the easiest and shortest walk we've been on–this is a very accessible outdoor activity with fun views of Garden of the Gods.  Unlike the main Garden of the Gods loop, this is unpaved and much less crowded.
Cons:  If you're hoping to feel a sense of accomplishment from your hike, this is not the one for you.  😉  Easy and short.
Distance/Difficulty:  1 mile, less than 150 ft elevation gain, easy as pie.  If Mt Cutler is like Hiking 101, this is Remedial Hiking 050.
Trail Teaching:
Stopping at the Visitors Center before the walk will give you plenty to talk about!
The geology behind the striking Garden of the Gods formations.  From Wikipedia: "The outstanding geologic features of the park are the ancient sedimentary beds of deep-red, pink and white sandstones, conglomerates and limestone that were deposited horizontally, but have now been tilted vertically and faulted by the immense mountain building forces caused by the uplift of the Rocky Mountains and the Pikes Peak massif. The following Pleistocene Ice Age resulted in erosion and glaciation of the rock, creating the present rock formations. Evidence of past ages can be read in the rocks: ancient seas, eroded remains of ancestral mountain ranges, alluvial fans, sandy beaches and great sand dune fields."
Garden of the God's history as a park and generosity in action:  Garden of the Gods was originally private property owned by Charles Elliott Perkins.  After his death in 1909, his family gifted the park to the city under the promise that it would always be free to access for the public.
Set their eyes on future challenging adventures – point out the views of the steep legendary Manitou Incline!
Photos: