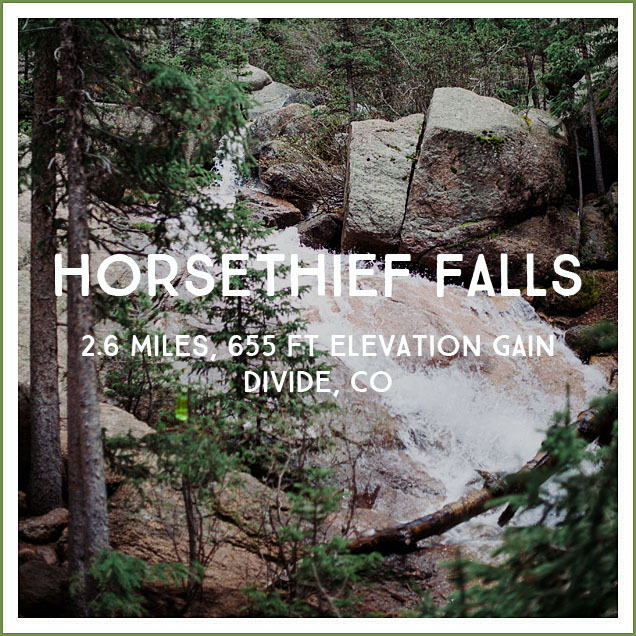 For our family this hike was part of our first backpacking excursion.  It is well known as being a side excursion to the longer and harder Pancake Rocks hike, but for a young family it's a great hike on its own.  While there are some nice steady grades for little legs, there is also a flat section in the middle for them to catch their breath.
Pros:  You'll enjoy shade for most of the hike. It's not difficult and would make a good introductory hike for young kids.
Cons:  This is a popular hike, so it may be crowded.  I was also a little spooked by several marking trees next to the falls, but given the number of visitors to the falls it's hard to imagine you'd actually see a bear during the day.  It was just enough to make me 100% sure our backpacking spot would NOT be near the falls!
Distance/Difficulty:  This is a nice family hike–the mileage and elevation are very manageable for new hikers at 2.6 miles and 655ft.
Directions:  This hike couldn't be easier to find.  Take US24 to Divide, then take US67 south for 9.3 miles.  You'll find the trailhead easily around a bend in the road, as it is notable for its large parking area next to an old tunnel.
Trail Teaching:  
Bear marking trees.  I spotted several trees that a bear had recently shredded (you can see in the pictures all of the fresh pieces of bark next to the tree).  The trees are a good opportunity to talk about bears and spotting signs of wildlife even when you can't see the wildlife, but also a good chance to talk about safety.
Water as a method of transport.  When we were hiking, there were plenty of branches and logs clogged up in the creek.  You can talk about how all sorts of things are brought along by rivers–rocks, leaves, branches, mud…and how they are deposited when the water slows down.
Area history-the hike takes you along the outskirts of Horsethief Park.  The guidebooks make vague references to Horsethief Park's "colorful history," and a few blog posts explain that the park received its name from the thieves who lived there and stole from the gold camp travelers.  From Pancake Rocks you can look out to see the giant American Eagles Mine and talk about the history of mining in Cripple Creek.  US-67 runs along the old railroad bed that ran to Cripple Creek.  According to Roadside Geology of Colorado, Cripple Creek produced $450 million in gold and silver from 1891-1942.
Photos