I've been wanting to make a scrap bag for Edna Elizabeth.  Ever since we were booted off the dining room table I've been struggling for a spot for scraps and trash that accumulates while sewing.  I made this organizer from the tutorial by Elizabeth Harman on Sew Mama Sew.  I made a few changes to make it fit my style better, but wish I'd added a border to the top of the pockets on the organizer for a little more color.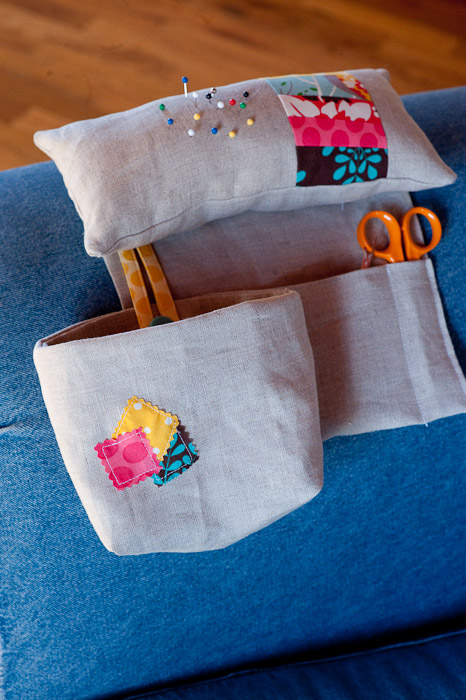 The tutorial was very well organized and written.  I'm not sure if I did something wrong or need more rice or maybe my tables are just too slippery (I added 1.5 cups of rice to be safe–the tutorial called for 1.25 for the weight), but it won't stay on the table with the scrap bag attached or anything heavy in the pockets (like the 15-91 user manual or a rotary cutter).  It's great on the sofa, but on a desk it slides off.  I'll probably try something else for the sewing desk and use this one for handwork on the sofa.  It's not a fantastic idea for me to leave scissors hanging at a low level anyway, so it's not a huge loss.  😛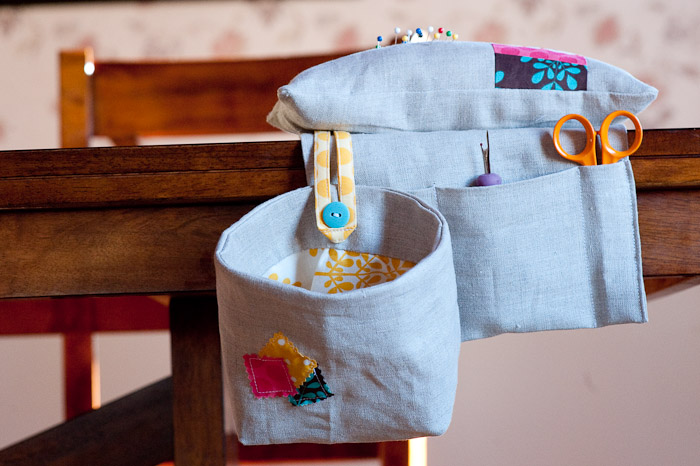 The scrap bag looks very cute with my pin cushion jars!