Off Topic Rambling
I'm not gonna lie–this post almost didn't happen this week.  In addition to shooting four weddings in 9 days (which is nothing compared to our previous wedding seasons, but when you're out of 'wedding shape' it's a shock to the system), our house was struck by lightning while I was at the final wedding!  Nic and the kids were safely downstairs when it happened, thankfully not in the kids' bathroom (where it actually blew out a small section of the beadboard, sending splinters everywhere) or Will's room (where the controller box of an unplugged strand of Christmas lights actually exploded, sending bits of melted plastic and wiring all over his room, even melting bits to the walls).  I also lost my desktop computer, and will spend most of Thursday and Friday getting a new one up and running.  But I'm writing this Wednesday, when I've done all of my cleaning for the gathering I'm hosting tonight and have done all of the wedding photo sorting my brain can handle for the day.
Supplies
The other major bummer this week is that I'd been wanting to make Ellie's book from the Children at Play fabric line, which I am totally obsessed with and stalking like a creeper (as I may have mentioned before a time or two), but it's still not out so I'm going to move ahead with a different plan and save Children at Play for a few other zillion projects.  I've pulled this rainbow of fabrics together: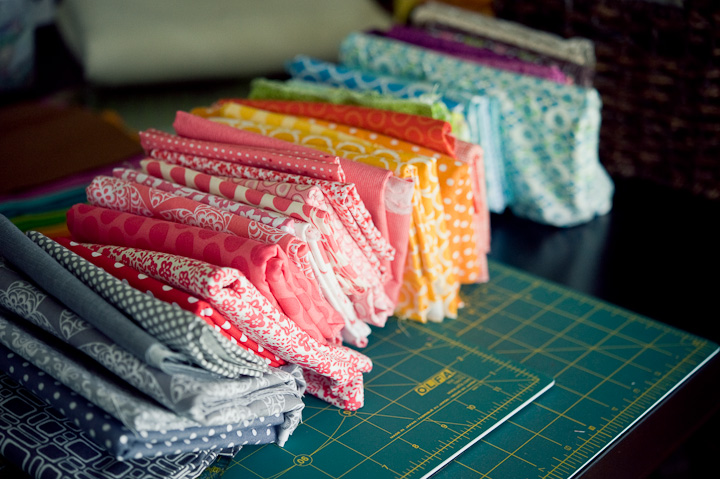 I found this bamboo felt at Crafty Laine and knew it would be perfect for this project.  It's so pretty!  (I might need to spice up my pink fabric selections to tie into the bright pink felt, though.)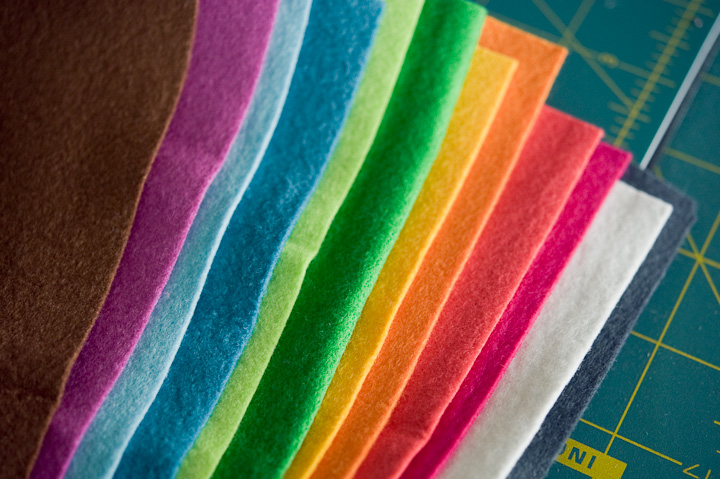 In this planning stage I've been keeping an eye out for closures and little tidbits that I might need or want to incorporate into the book.  I've been collecting them all in my Quiet Book Basket along with any patterns or fabric I plan on using.

Quiet Book Theme
I've decided to go with an unthemed book, but in brainstorming quiet book ideas, and seeing so many great pages around, I've come up with a few ideas that I think would make very cute themed quiet books:
A doll's day (a doll is tucked into the cover and each page is a different setting for her–rooms in her house, a garden, playground, school, etc)  For boys this could be switched to 'a monster's day'
Favorite books (each page pulls a scene from a favorite book)
Outer space
Cars/trucks (a seatbelt page for opening/closing buckles, a stoplight with velcro on each of the colors for the child to organize correctly, a page with various traffic signs in different shapes and the child matches the correct sign to the correct shape with snaps, a car page with wheels that turn around using a brad as the pivot point, a windshield page with wipers that can be moved up and down, a road page with a car mounted to a ribbon so the car can be slid along the road, etc)
Alphabet (each page is a different letter of the alphabet)
Numbers (each page is a different number)
Months of the year (each page is themed with a month, like the melting snowman from Piece and Quiet in January, raindrops to slide along a ribbon for April, button flowers for May, felt shapes to build a sandcastle with for August, a haunted house for October, a handprint turkey with feathers to velcro for November, a Christmas tree to decorate for December, etc)
Farm animals (or zoo animals)
Page Plans
I'll be using the Piece & Quiet book pattern for the cover and overall book construction, which means my pages need to be 10.5″x12.5″.  I've roughly sketched out my current plan for pages.  Here they are!




Until Next Week
This week I'm planning to start with the vegetable patch page. Do you have your plan in place?  If you blog about your Quiet Book this week, please link it up below!  We also have the flickr group if you post pictures on Flickr.  🙂