A couple of people commented that they were up for a Quiet Book Sew Along, so that's good enough for me–we are on!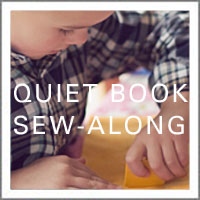 The plan: complete a Quiet Book (for a Christmas present if you like) before October 1st.  This should allow for a relaxed pace, but still free up all of October for Halloween costume making, and leave November and December for holiday-making!
The book: Quiet Books can be super simple and fast or elaborate and time consuming.  It's really up to the page and construction style you choose.  For me, I'm using this pinterest board for inspiration as opposed to following a pattern, but I will be using the Piece and Quiet Book pattern for the overall book construction.
The community: I've started a flickr group for us to share our photos.  Starting July 15th (coincidentally, my birthday!) I'll host Quiet Book Fridays on the blog and I hope you'll also post Quiet Book updates on Fridays!  I've made up a little blog button for participants above.  You'll want to link it to the following url (a link to the quiet book category where all of the quiet book posts will end up):  http://www.realphotography.com/traci/?cat=42
Sew Along schedule:
July 15th – Sharing Plans (fabric, pattern, page sketches)
Fridays July 22nd-Sept 16th – Sharing Pages (this is 9 weeks for the pages of your quiet book, so for planning purposes you could take a week off, make one page a week, and have an 8 page quiet book.  I'm planning on making a larger book, so will need to have a bit faster pace.)
Sept 22nd and Sept 30th – Construction and Full Reveal (putting the pages together and showing off the finished project)