In the six weeks between Halloween and our departure for Germany for Christmas with family, I made three quilts.  Three.  It was insanity.  Insanity that was supposed to have been completed well before November, of course…but having to commit to things like a pattern and fabric in a quilt that was JUST RIGHT for each recipient was too hard and I kept putting off committing to each quilt until the last. possible. second.
There were those who said that it couldn't be done.  (Or just those who said that it wouldn't be done by a sane person.)  BUT I DID IT!  With minimal crazy, too!
First up, a gift for my father-in-law.  A quilt with patches illustrated by his grandchildren (Crayola fabric markers on white fabric that was ironed to freezer paper while the kids drew on it) and then tied to a green fleece back (making for a very soft and warm quilt like the one I made that is in heaviest rotation in our own house).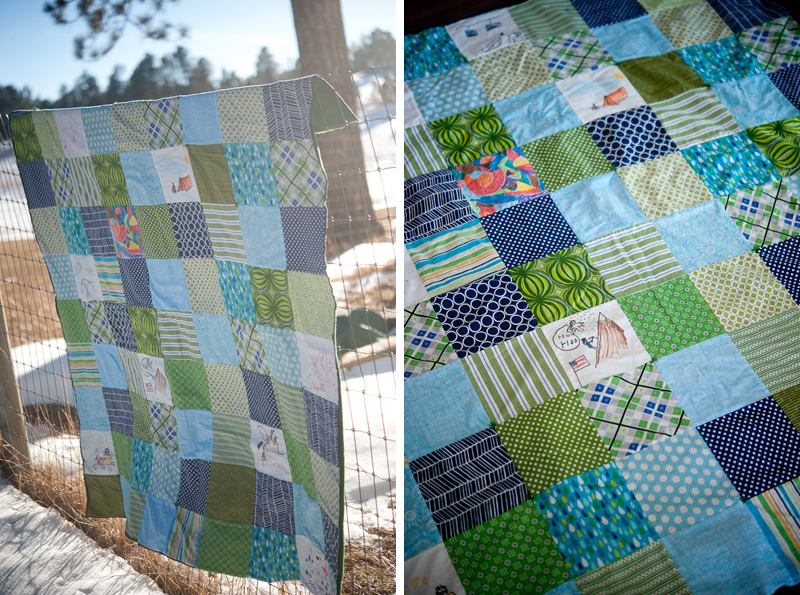 I serged the edges as I did with our family's quilt in this style, but it didn't work as well–the cotton top shrank while the fleece backing did not meaning the edges are very rolled and a little wonky.  Were I to do it again I'd serge the quilt top, wash and dry it and then tie it to the fleece backing and serge it again.
The next two quilts were both quilted on a friend's long arm–I traded her a family photoshoot for time on her longarm to get these completed and there's no way I could have made the deadline without that machine!
My sister-in-law has two quilts already, but they're both small crib-sized quilts and she had requested a picnic quilt.  She'd previously told me she liked three fabrics I had in this sweetwater line, so I let those guide the rest of the fabric choices.  Super bummer of bummers–the day after Christmas we were sitting under the quilt together (in an amazing hut in Austria because we're kind of fabulous like that) and I was talking about the quilting on it and ran my finger over A GIANT SEAM THAT HAD POPPED IN THE QUILT TOP.  Whether it popped in the washing machine or in the suitcase on our way over I'm not sure but it's pretty awful.  I gave them a broken Christmas present.  Disaster.  So now I owe her another quilt.  One without any "that seam allowance was clearly not 1/4″ on that particular triangle" issues.  A big-enough-to-picnic-on quilt that isn't totally hobo.  Good thing we have many more decades of Christmases and birthdays together!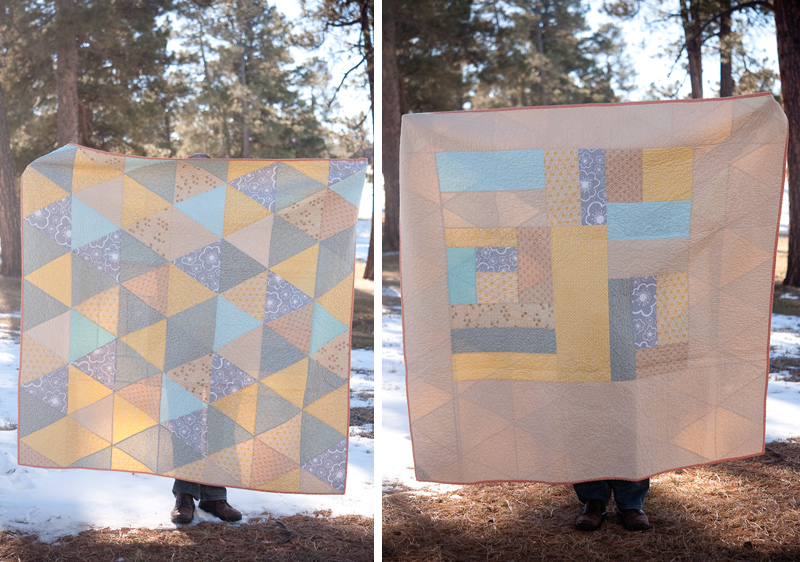 You will note that the light for these sucks.  I should have retaken them in Austria but we were too busy eating cheese.
And last but not least a quilt for my brother-in-law and his girlfriend in Germany who were our gracious hosts.  I knew I would love this one so much I'd have a hard time letting it go that I cut enough fabric for two quilts.  Of course, having made it once I have no desire to make it again…but I know from my last scrappy tripalong that you quickly blot out the trauma of the experience, not unlike childbirth.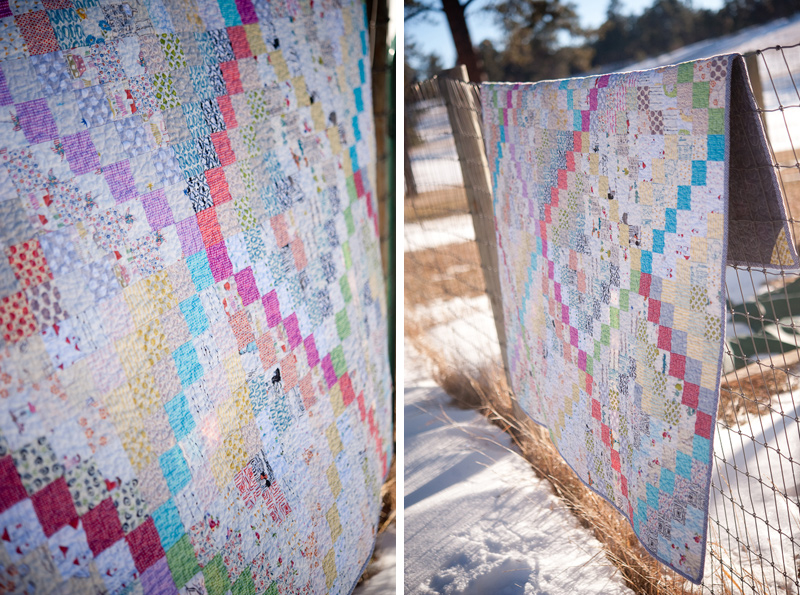 The backing on this one ended up being a bit of an epic adventure.  I wanted to do something very minimalist and improvisational…but in the middle of constructing it realized I'd be cutting it insanely close with the grey fabric.  And it was.  When I was done with the back (and it was just perfectly sized) I had less than a fat quarter of scraps of the grey left over.  :O

And there you have it–my big quilting hurrah of 2013!