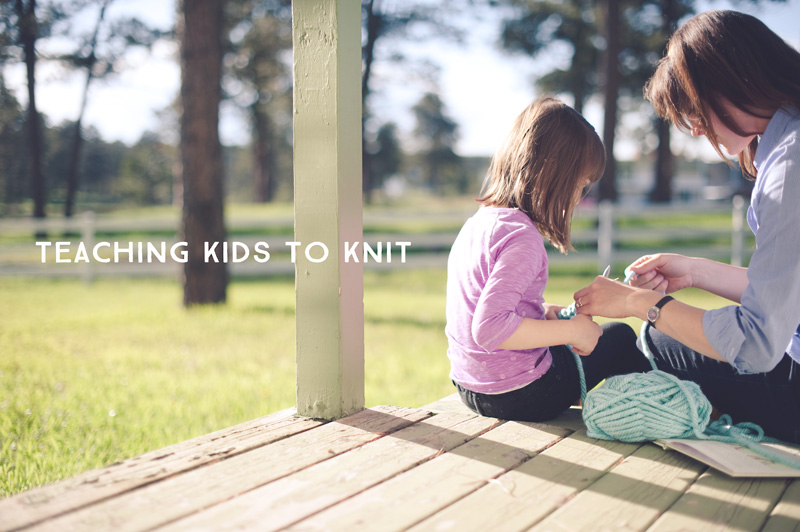 Ellie's been asking to sew and knit for…well…as long as she could speak.  She's five now, and since child labor laws were put in place partly to prevent five year olds from professionally knitting for 12 hours a day, I figured it was time to pour myself a glass a wine, pretend I am patient, and get her started.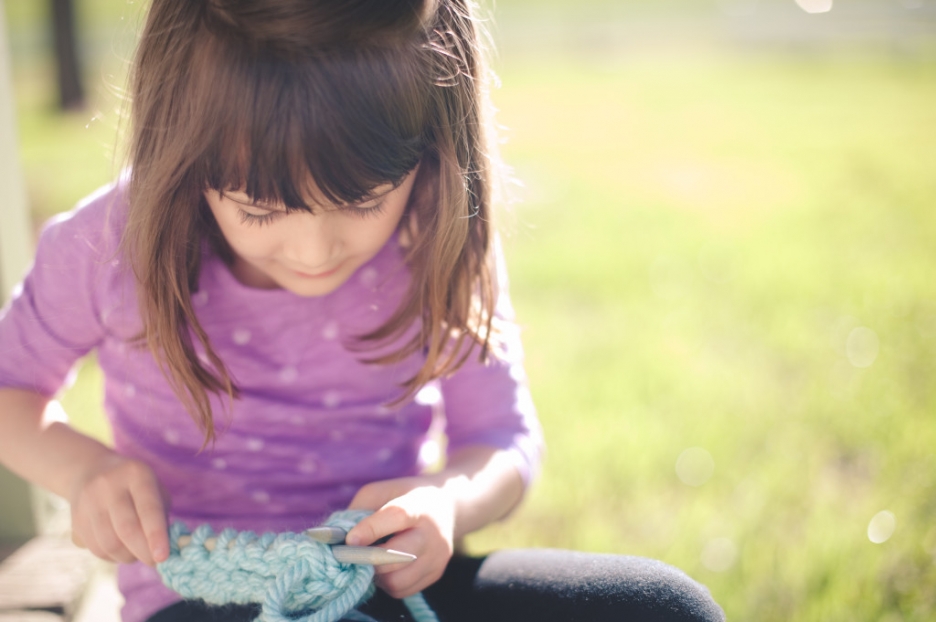 My needle stash is almost entirely circulars, which I figured would add unnecessary difficulty to the process, so I asked my mom if she could bring a pair of my great-grandmother's straight needles when she came to visit.  (My great-grandmother's stash of garishly colored metal needles and polyester yarn was handled down after she died–a rich inheritance from the dark days of crafting.)  My mom tossed in a pair of her own Clover bamboo needles*, which, at 9″ seemed like a much better fit for preschool hands than the longer metal ones.   So she had to settle for knitting needles from her grandmother instead of her great-great-grandmother.  That kid's got it rough.  Ellie picked out some super bulky yarn at Joanns:  Grande in the Wintergreen colorway* (*affiliate links) and we read my teaching text of choice:  Annie and the Swiss Cheese Scarf.  I'd purchased it for Ellie last year, but we revisited it before we started our lesson.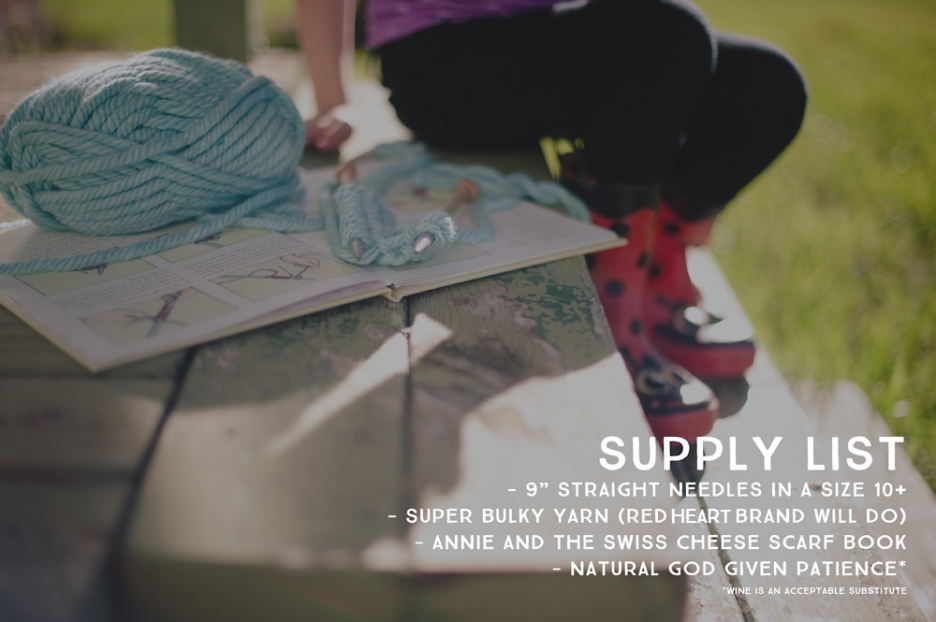 I love that it emphasizes that knitting is (a) hard and (b) a learning process.  Little Annie expects to be a great knitter right off the bat and actually gives up after her first try when she discovers that it's much harder than she thought it would be. (I love that Ellie's face matches Annie's!)

The illustration of her finished scarf shows her progress–holey and uneven at the start and slowly getting better as it goes along.  It emphasizes practice and going slowly, as well as the rhyme
In through the front door
Up around the back
Peek through the window
And off jumps Jack!
It includes an illustrated tutorial at the back, which I was shocked to find actually helped Ellie–she would look at it periodically, particularly while trying to master the 'peek through the window' stage.

It was predictably difficult for her to learn, but I think the book helped soften the blow.  After her first two stitches she said "This is harder than I thought" and I reminded her that Annie felt the same way.  Far from being discouraged, she stuck with it, and at the end of our two-ish hour time on the porch (which was broken up with tea party chatter, snacks, and toenail polish painting for good measure) she was able to complete the stitches on her own while repeating the rhyme to remind herself.  She's not by any means fluent (I could knit a row in the time it takes her to complete a single stitch) but she is doing it without my hands on help and best of all, she begged to do it again tomorrow!  I call that a success!