Guess what?!  I made a dress for me, that's what!  The good news is, it's a dress, and it more or less fits.  The bad news is, Anne Shirley would love this dress (puffy sleeves for days) and it doesn't really do anything for my figure.  I'll wear it a couple of times to feel like I got my money's worth out of it, and then I'll hopefully re-purpose the fabric for something else.  🙂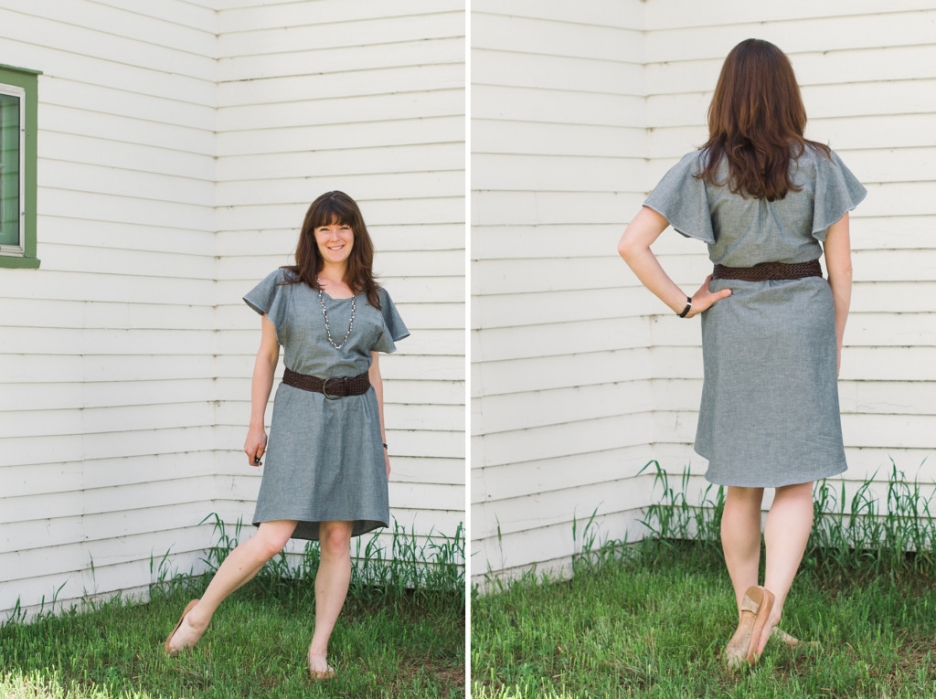 I bought the pattern at Fancy Tiger without researching it–just saw the pattern cover and thought it would be a fun easy first dress.  If I had done more research I probably would have skipped it due to the very low arm holes.  Lesson learned–no impulse pattern purchases!
In terms of construction and directions, it was awesome.  I made a medium and wish I had cut a small–I ended up taking off an inch on both sides and it's still very large, even with a belt to cinch it in.  The chambray has more body than the pictured rayon, so the sleeves have more shape to them than I'd like.  Especially because the seam seam sits higher on your shoulder, it really pops out the sleeve which then needs to bend 90 degrees before coming back down (I think in general that my shoulders are wide and I should start doing a wide shoulder adjustment on patterns, but I notice that on the model the seams sit in a very similar place).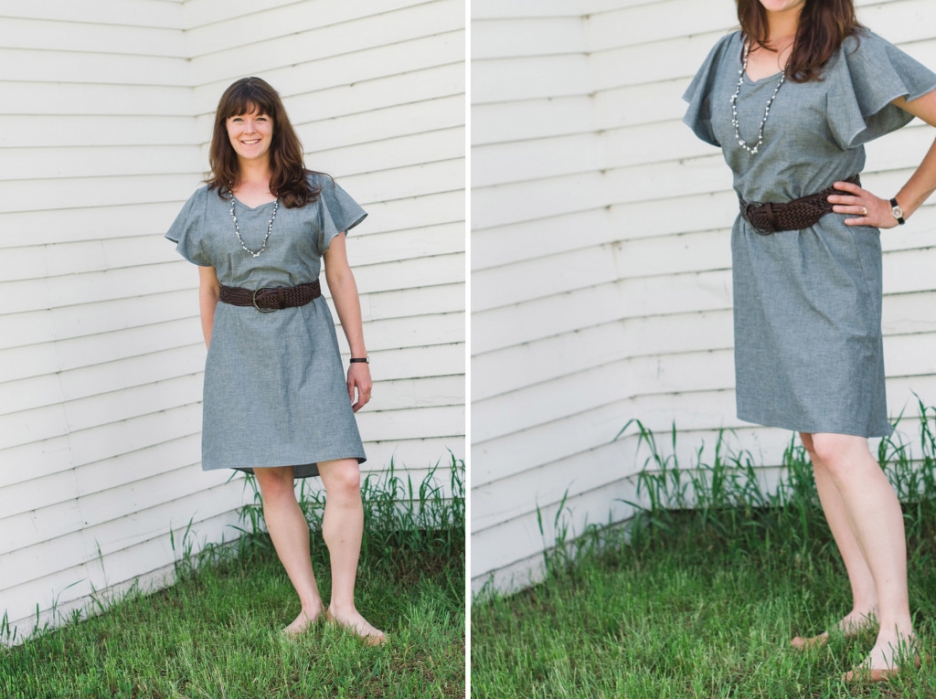 The only difficulty I had with the construction was with the neckline–I actually sewed it twice trying to get rid of the wavering that's going on around the curve.  The first time I placed the bias strip toward the inside of the dress per the pattern, but I thought it looked weird so I ripped it out and sewed to to the outside, taking care to pin and avoid stretching…and the neckline still won't lie flat.  Since it's one of several complaints I have about this dress, I opted not to try a third time (the thin chambray doesn't seem to handle having seams ripped out well).

I have opposite instincts about what to do with this pattern–whether to try it again with a more drapey fabric, a smaller size, and widen the shoulder, or whether it's time to accept that this may just not be a dress shape for me and sell it on instagram destash.  I love the dress on the model, but she clearly eats less jelly beans than me.  It might be time to move on, anyway–this is just #2 of my 7 summer patterns!  I really enjoyed the instructions (she walks you through each French seam step by step), so I'd love to try April's popular Staple Dress pattern some day and see if that might be a better fit for me.