It has recently come to my attention that there are still people left in the world who don't know what Frozen is, so in case you have been living in such a world, let me tell you:  in 2013 Disney came out with a movie called Frozen.  It was the best movie ever.  The end.
Except it's not the end because there was this little girl who happens to belong to me who was just as obsessed with Frozen, and in particular Elsa, as every other little girl in America.  She really wanted an Elsa dress and since the cheaply made Disney versions always make me a little sad (though the $90 Anna dress I saw at the Disney store the other week was pretty amaze-balls) I bought up everything blue and sparkley at JoAnns and made Ellie an Elsa dress for her birthday.
Long-time readers might think this looks a lot like the Snow White dress I improvised for her last year.  They would be right.  This one is better, though, because my mom helped!  (Which means that it has great features like a velcro back for easy on-and-off and soft fabric sewn over where the ribbon attaches to the bust.  She's nicer to Ellie than I am like that.)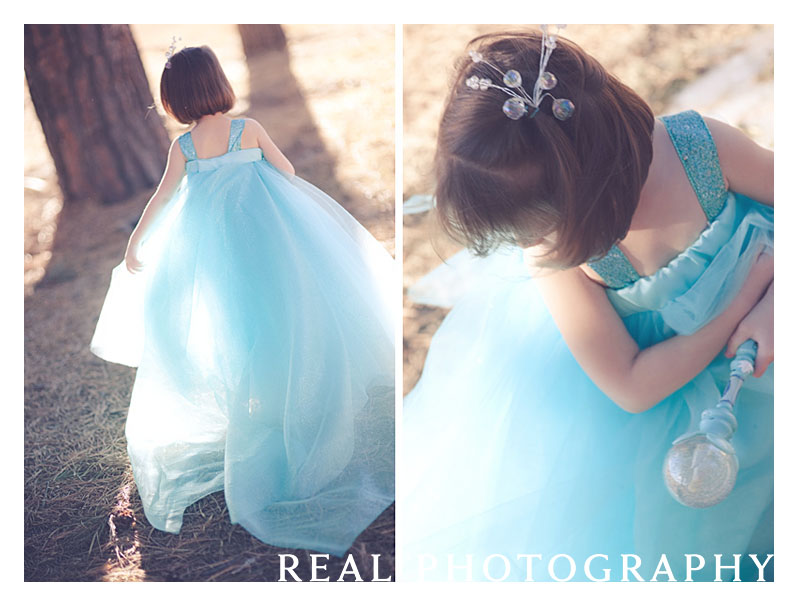 I used four different fabrics for the skirt–a light blue lining, a basic blue tulle for volume, a shimmery blue tulle over the top, and then a sheer blue fabric with glittery overlay for her train (which, like Elsa's, runs across the length of her back).  We paired it with a ice-like accessory for her hair (found in the floral section of Hobby Lobby) and the clearance rack fur coat I had a friend get for me last year because for $5 you just KNOW you'll eventually find a need for it.  She was the belle of her Frozen themed birthday party.