So I know you're here for the fabric pictures not gratuitous stories about my wee ones, but seriously, this has to be blogged.  I had totally forgotten about it, but was downloading a memory card today and found these pictures and my heart went all melty.
As we were putting away Christmas ornaments the day after New Year's, I broke the gingerbread man ornament Will had made me in preschool two years ago.  (Okay, I seriously doubt one-month-shy-of-three year old Will made this, so let's just say 'his preschool teachers made it and wrote his name on it.')  Still, it was precious, and I was bummed.
About ten minutes later Will asked me for his scissors.  I got them for him.  And then a few more minutes later he brought me this and said "you don't have to be sad.  I made you a new ornament!"  Check it out–he even put the '08 on there and stabbed it through the head with an extra ornament hook!!!!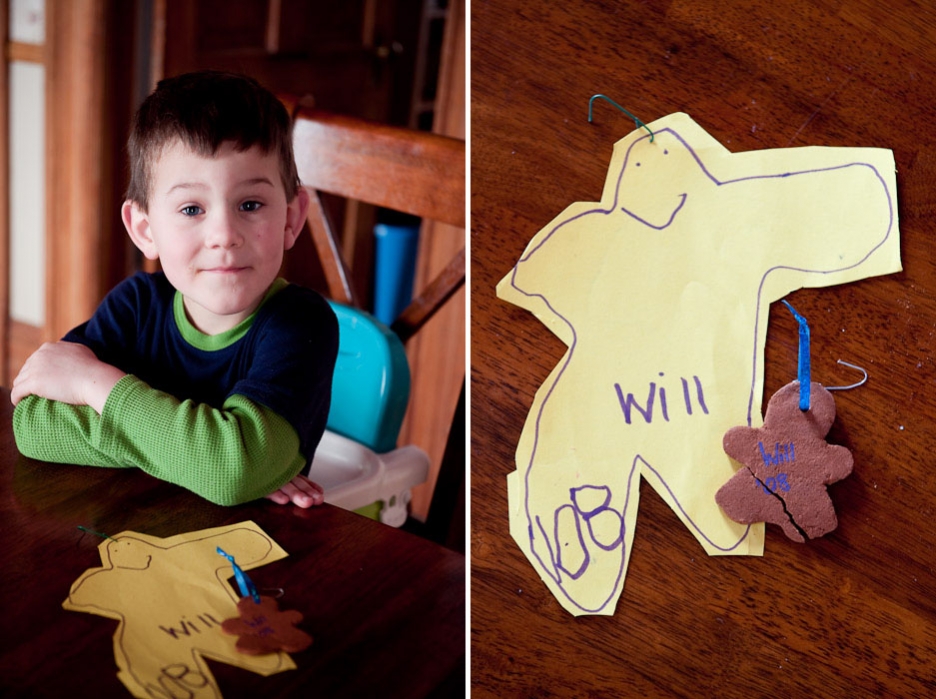 And here's the prize for listening to my gushing momma story:  a giveaway of my scraps bag from the Sherbet Pips quilt.  It would be the perfect thing to get you started on a string quilt or pillowcase or potholders.  If you're hoping to fussy cut some girls in a tree swing out of it, I'll warn you now: I pillaged those layer cake pieces, so you can get the girl, and you can get the tree, but you won't find them on the same scrap.  You will find plenty of puppies and skiers, though!  To enter this ever so glamorous 'win my sloppy seconds' giveaway, just leave a comment below.  (Preference will of course be given to comments that gush appropriately over my most precious boy.)  😛  Just kidding.  (Fine print–sorry international folks, I'm cheap and hate the Post Office, so this is a US only giveaway.)