2010 was a fantastic year.  It had its ups (Ellie's birth), its downs (when Nic totaled the Jeep two days before Christmas) and lots of working and sewing in between.  It was a great crafting year for me–in January I spent a lot of time knitting baby items for Ellie, spent the spring working on photo albums (like Ellie's birth album and our 'week in the life' album), and in the summer picked up three half yards of Riley Blake Wheels fabric, and rekindled a deep deep love for sewing.
To celebrate the closing of this year and the start of another, I'm participating in the Sew Mama Sew survey. Keep in mind that my answers have very little perspective, given that my knowledge of the current sewing scene is only about 6 months old, and before that it was the late-90s and a whole different kettle of quilting fish.
Looking back on the sewing scene of 2010, what trends stand out in your mind?
BUNTING!  I love it, I have yet to do it, but it is sooo on my list.  Nothing says 'party!' and 'happy!' like bunting!
Hexagons.  I didn't get around to participating, but recently picked up some 3/4″ paper piecing hexagons to try my hand at it in the coming year.  It's funny to be because in The Stash is a hexagon quilt-in-progress that I started my senior year in high school.  So certainly not a new trend, but the way in which they're being implemented seems to be!
The 'modern' quilt aesthetic of clean lines, bright color, improvised blocks.  I joined our local Modern Quilt Guild as it stood up last month and was shocked to hear that the original Modern Quilt Guild is only a year old!
The most recent fabric lines seem to me to be heavily influenced by the 60s/70s–soul blossom, innocent crush, and greenfield hill all call to mind different elements of that era for me.
Raw edge applique and free motion stitching.  I was all over this one after seeing Pili Pili's beautiful art pieces!
What were some of your favorite things? (Trends, fabric collections, patterns, blogs? Whatever you really loved.)
Since it is so new to me, I loved it all.  But in particular I was thrilled by the online community and swaps and blogs.  I really shouldn't have been SURPRISED by it, since I was so active in the online scrapbook community in the early/mid 2000s, but it was a thrill nevertheless.  I stumbled upon the Film in the Fridge and Oh Fransson! blogs this summer and felt like my sewing mind exploded.
What was your very favorite fabric collection or print? (If not listed above.)
This is a hard question for a fabric junkie like me.  But if I absolutely had to choose, it would be Sherbet Pips.  I love the little girl on the swing sketches and the doggie…to me it's like the whimsy of the Heather Ross Munki Munki prints but they are regularly available at a normal price!

What was the best thing you made in 2010? (Be sure to share a photo!)
I'm super proud of this Dr Seuss purse that I made for my sister-in-law for Christmas.  She adores it, as I desperately hoped she would, so that makes it even better.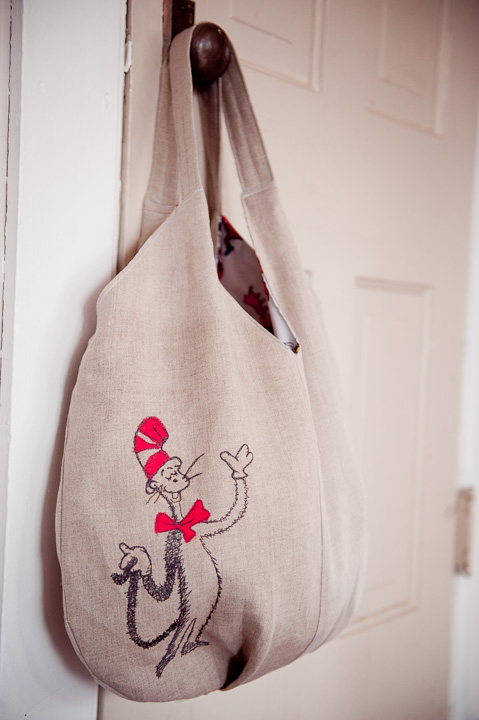 What is one of the best things you saw that was made by someone else?
Impossible to list just one!  Here are just a TINY sampling of the things I saw this year that I love.  Things that help to shape my projects and inspire my dreams of future projects!
What do you think 2011 has in store? (Again, trends, fabric, patterns, etc.)
I'm bummed about this, but I see more 70s fabric influences in our future.
I also think we'll see more pink, given that Pantone just announced a gorgeous shade of pink as their color of the year.  Pink has been taking a backseat for a little while, so it will be fun to see it come to the forefront again.  (I wore bright pink glasses all through elementary school and coordinated all of my outfits to them…I eventually graduated to contacts, but I never really outgrew my love of fuchsia.)
I think we'll see more hand quilting details–the big stitches in perle cotton in particular.  I see it popping up in some of the swaps and a few quilts and it adds so much that I think we'll see more and more of it.
Anything you're ready for the sewing world to get over?
I'm going to call it 'big name blindness.'  I feel like there are certain designers that can produce ANYTHING and the community will go gaga over it because of the name attached to it. I love seeing the quilters/crafters that really do their own thing and use the stuff they like, regardless of whether or not it is cool.  The work of Kajsa of Syko is a great example–looking at her fabrics individually none of them are 'popular' but she creates gorgeous things with them.
What's on your sewing agenda for 2011? What are you excited about? What would you like to learn more about?
Everything.  I'm super excited to finish my Sherbet Pips quilt, which I feel is my first real Modern Design quilt.  I'd like to do a solids only quilt, since I am a big fan of them.  I'd like to try my hand at those cute plus sign patchwork projects, as well as crosses.  I think I'll also be doing more free motion stitching on my machine…and one of my plans for the year is to pick up either a Singer 201-2 or a 15-91.  As our weather thaws I'm looking forward to more apparel sewing–this time of year it's hard to drag me out of my flannel shirts and fleece hoodies!  I'm also every excited to watch our local Modern Quilt Guild grow–we're having our second meeting this month and I'm thrilled to get to know the women better.
Here's a mosaic of my 2010 projects!  I don't think I grabbed everything, but this is darn close!