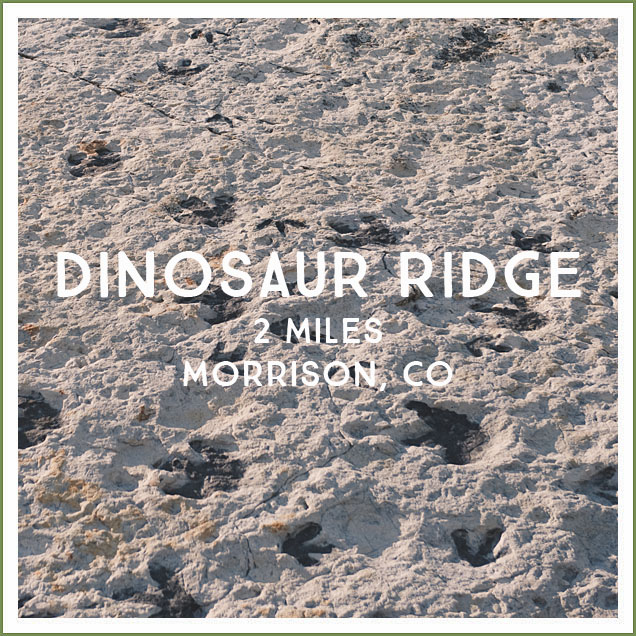 We visited Dinosaur Ridge and nearby Triceratops Trail last 4th of July weekend and it was amazing.  While neither of these are really 'hikes,' they are Super Educational and Awesome Walks well worth checking out with your kids.
Dinosaur Ridge is a two mile out-and-back paved former road.  It was a ROAD until they realized that THERE ARE SUPER COOL DINOSAUR TRACKS HERE NEXT TO A ROAD!  Some sections are accessible for touching/climbing, with others set aside for preservation, which I think is very helpful to kids.  It's one thing to look at a dinosaur footprint, and another to get to put your own hand on it.
Pros:  Unique opportunity to see dinosaur tracks, bulges, and some meh fossils.  GREAT signs along the way.  Opportunity to walk up to the hogback and see over to the amphitheater.  (It was really important to Ellie that we walk up to the top of the hogback–she didn't understand the point of a hike if you didn't get the top of SOMETHING.)
Cons:  Exposed walk on asphalt, so bring water and sunscreen even though this isn't really a 'hike.'
Distance/Difficulty:  At two miles with minimal elevation gain, this is accessible for even novice little hikers.  (So accessible, in fact, that Ellie, who had managed to get into the car in tennis shoes without socks, didn't have any foot trouble.)
Directions:  Dinosaur Ridge is easy to find to the west of the Alameda Parkway / C470 intersection.
Trail Teaching:
The whole point of this one is learning!  The signs along the way are great, but I also really liked the two books we got at the gift shop (which have gone missing at the moment or I'd tell you their titles).
The little museum at the trailhead isn't great, but it's cheap and a good way to orient the kids to what you're about to learn.
This is an amazing crash course in Colorado geology that will have you looking at your other hikes differently.
Resources:  The official Dinosaur Ridge website has all the info you could need!  Also check out the nearby Triceratops Trail to make it a great fossil-style day!
Photos: