Disclaimer: This post contains affiliate links, but the opinions are 100% my own.  I love Modcloth so much I joined their affiliate network.  They couldn't be a more perfect spot for Disneybounding wardrobe shopping! 
I have coupon links for both new and returning Modcloth shoppers
The last time we went to Disney (Disney World), I made Ellie a bunch of outfits.  One of them was a subtle nod to the style of Mickey and Minnie Mouse: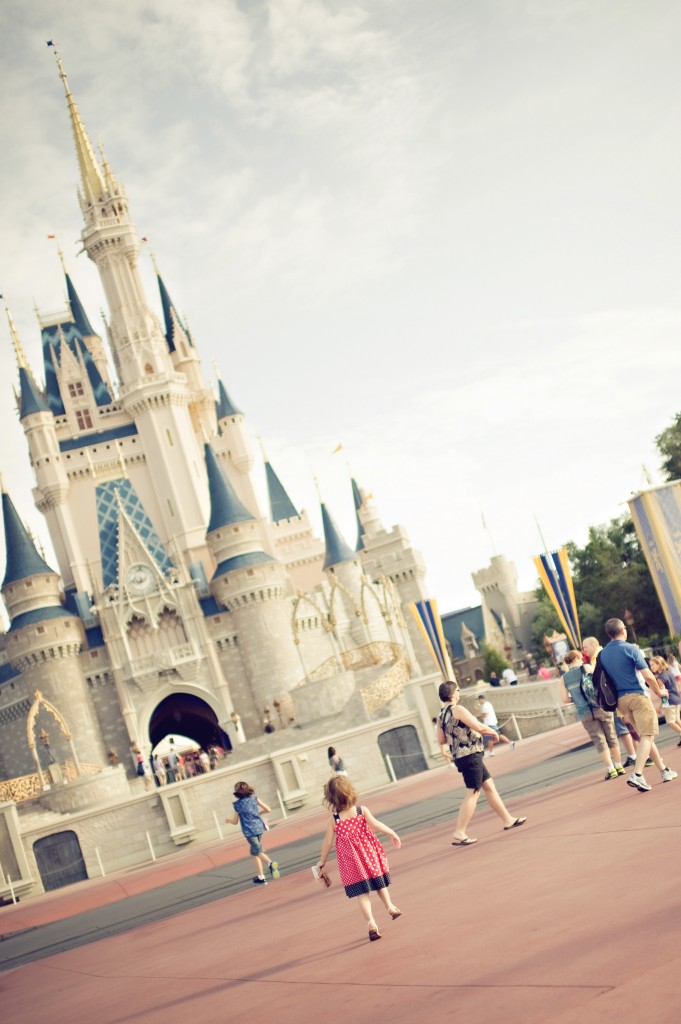 The other, a very seriously awesome nod to the princess Snow White.  I had wanted Ellie to have a princess dress, but didn't want it to be the cheap looking official kind.  I wanted it to be a Snow White dress, but also just a really nice dress.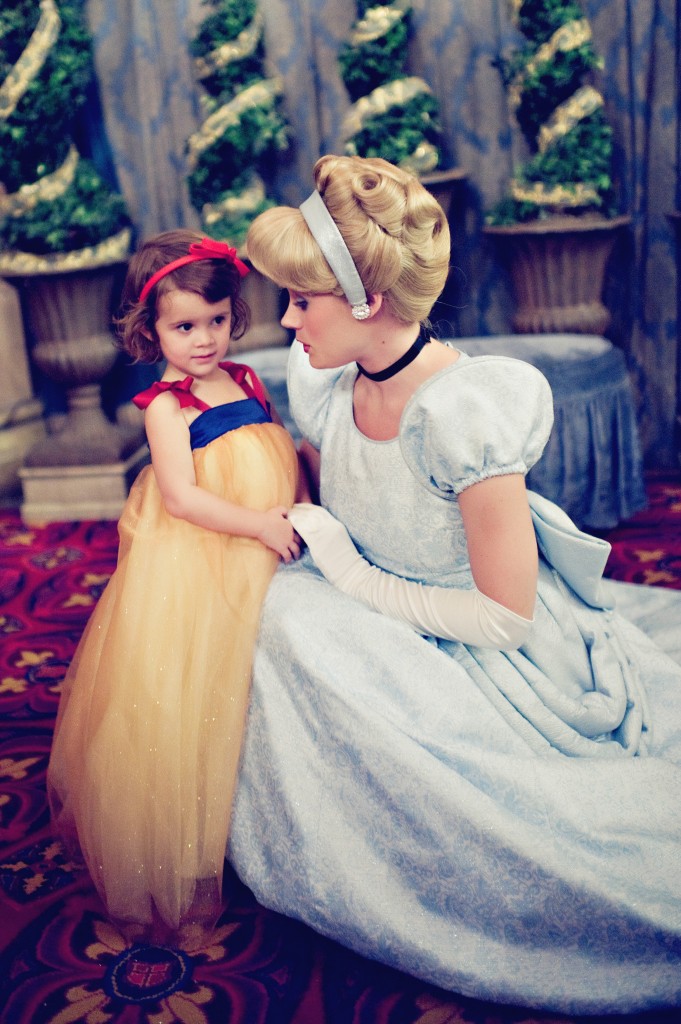 See the sparkles?  Oh they have not yet invented a fabric that speaks to me more than the bolts of sparkly tulle.

(And a backup casual place dress in case the Snow White ballgown didn't work out.)

I enjoyed the results of that so much that for our latest Disney trip, I wanted to do that again.  But I wanted to be involved, too.  If Ellie could be a Disney princess, so could I.  So I both bought and sewed pieces that ran from subtle to overt nods to Disney characters.  I was very excited.  I loved the outfits.  On our very last day an employee asked me "This is kind of a weird question, but I have to ask–are you Disneybounding?"  Having no idea what that meant I said "no."  It was awkward and I felt badly.  So I left the store and googled it.  Turns out that Disneybounding is dressing in clothing to give a nod (either subtle or overt) to a Disney character or ride.  Ooops–my bad.  I was TOTALLY Disneybounding, Mr Photopass Guy.  Sorry.
Anyway, here is a peek at our very successful 2015 Disneybounding at Disneyland.
Day one, a travel and Downtown Disney day.  Sadly the only shot of me is this partial waist-up shot, but just imagine the awesomeness of a red dress, yellow belt with Mickey Mouse fabric bow, and black and white polka dot flats.  Ellie had black glittery jeans, a red and white top, and a hoodie that was black and white polka dots.  Perfect for general Mickey/Minnie awesomeness.


Day 2, and our first Disneyland day, we again rocked the general Mickey/Minnie theme.  For Ellie's sewn-together-last-minute-with-supplies on-hand improvised circle skirt I didn't have enough fabric to make it as long as I wanted, so I added a layer of tulle underneath…and then leggings under that.  My red tulle skirt I made from this tutorial (which I followed more or less with Ellie's skirt too).   I made my belt using this tutorial (except that I was doing all of my sewing last minute and so I used safety pins instead of proper fastenings)  The tank I got on clearance at Old Navy for $2.  I still love this outfit, but I trashed the skirt that day.  It ended up raining and the velcro on Ellie's coat cuffs snagged against it for hours.  If I want to wear this again, I'll probably need to rip out and sew on a new layer or two.  If I had it to do over, I'd also use thinner elastic at the waist.  I used 1″ elastic and spent most of my time trying to hide that white elastic under my belt (in spite of many many safety pins).

(I made an effort to have Will coordinate with us on a couple of our days–next time he gets to Disneybound too!)


These flats were adorable but dang they tore up my feet something awful.  They are the kind with an elastic heel and I knew from experience that I'd pay for it, but BLACK AND WHITE POLKA DOT FLATS, PEOPLE!

You can appreciate the tulle layer to her skirt in this shot as well as her sparkle toms.  Shoes are a real problem for Disneybounding at the parks–comfortable AND theme-fitting is hard.  But these silver glitter toms definitely worked for every outfit she had (but I was weak and also got her pink ones for her Sleeping Beauty dress).  They get my thumbs up as a great Disneybounding shoe option for kids!

Day 3 was Meet Elsa day.  Ellie's top was from Etsy.  Her skirt was a tulle circle skirt with a top layer of glittery awesomeness.  (I couldn't talk her out of the ears and plastic necklace.  Oh well.)   My own outfit was my most subtle nod to Minnie, an adorable top from ModCloth (a shop that makes Disneybounding ridiculously easy if you just give them all your money), black jeans, and the perfect red shoes.  As was the theme of the trip, there really isn't a good photo of me showing off the outfit (next time I will be obnoxious and insist) but here's a group photo where you get the idea:





It is the perfect skirt for twirling.

Day 4 was Ellie's birthday and less of a Disneybound for her and more a straight up Disney princess costume that her mother slaved over for days and days.  Ellie adores Aurora, wanted an Aurora dress, and so of course we never met her on this trip (grrrrrrr).  Thank goodness the dress is a touch big and hopefully we can try for the Ellie Aurora + Aurora Aurora photo next time.  The top section is made from Simplicity 9384 that I paid a disgusting $20 for on ebay to get my hands on.  I adapted it so it doesn't include the attached skirt.  For the skirt I used the same tutorial I used for my tulle skirts and used various shades of pink tulle topped with a layer of sparkling tulle (none of that shows up in photos but was gorgeous in real life).  The underlayer I made knee-length because I wanted to be able to quickly trim the tulle to knee-length if the full skirt proved to be a pain during our park tour.  (It was totally fine full length.) Her peplum was also made with a layer of regular kona quilting cotton topped with sparkling tulle (I simply held the layers together when sewing the peplum).

We were in a rush to get out the door that morning and I forgot her pink glitter headband that was such a perfect match.  I'm still mad about that.  Especially since the rubberband in her hair broke about 20 minutes into the day (her aunt came to the rescue with emergency bobby pins).

I was so excited about this Sleeping Beauty dress–definitely the hardest thing I've made.

See?  It sparkles.  🙂
My own outfit was also my most obvious–a tribute to the first and my very most favorite Disney princess: Snow White.  I got oodles of compliments on this outfit and luckily the skirt survived the day beautifully, so it will be back next time!  (And I have absolutely no idea why Ellie chose to make THIS face in the only photo of me taken on our camera that day.)

Day 5 was just me and Will, since Nic stayed back in the hotel with sick Ellie, so here's a peek at my outfit courtesy of a Disney Photopass employee that really needs to clean his camera's sensor:

The dress and amazing yellow cardigan are from Modcloth.
(This, incidentally, is the day I hadn't really had a particular character in mind but just really liked the headband with the outfit…and yet it was this outfit that prompted the question as to whether I was Disneybounding.  He thought this was perfect for Mr Toad's Wild Ride.  I'll take it.)
We did a little bit of other Disney sewing before the trip–Will made some pajama pants and I made a Dumbo nightgown to match Ellie's favorite stuffed animal:

I also made some special Mickey pajamas for our first time Disneyland visitor in the group!

To wrap this up I'll leave you with this photo of the pile I noticed as I was packing.  I felt like it was proof that we were totally winning at this whole Disney trip.