We had a little Easter miracle occur around here: I finished Ellie's Easter dress in time for Easter morning Mass!  It came down to the 11th hour (or more accurately, the third hour), and I ended up quickly sewed the hem between showering and breakfast, but it's done and I was super happy with it.
I wanted to buy her a dress, but I just couldn't find anything I liked this year.  So I resigned myself to making something in colors to coordinate with the shirt I got for Will for $6 on clearance at Gymboree several years ago (sadly I never did find a sweater vest to go with it).  When I went to buy the fabric for it Monday, though, the Joanns lady gave me all sorts of attitude about how I wouldn't have enough time to make it before Easter.  Now, that was actually a little true given my test, assignment, and work schedule this week, but she didn't know that!  All she knew was that I was at Joanns at 10:30am on a Monday!
In the end I started sewing this dress in earnest after the Easter Vigil Mass and AFTER doing all of our Easter bunny prep…which was 12:45am Easter morning.  I'd spent about an hour the day before cutting the pattern pieces and some of the fabric, and I spent about 30 minutes Easter morning finishing up details and the hem.  All told you could definitely finish the dress within 5 hours taking your time, or 4 hours if you were all business.  The embroidery is the real bottleneck in the process.
I love the buttons–little pink bunnies that perfectly match the pink accent fabric.  What's funny is that Ellie picked them out.  We were in the button aisle and she kept showing me things that weren't at all right so I wasn't really paying attention to her when she held out these and said "Look!  These are good!" I told her "beautiful, but not right for this project" on autopilot before I really looked and saw that they were perfect!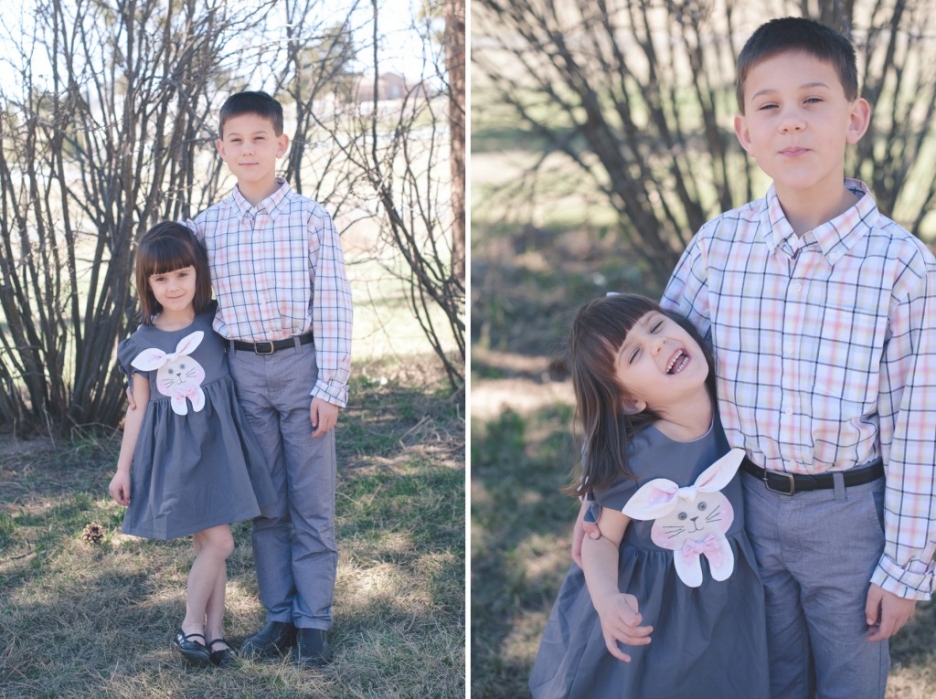 Project details:
Pattern: Simplicty 1208 (purchased used in new condition from Etsy for $5, the dress is also available from Ruby Jeans Closet as Bunny Hop Dress as a pdf)
Fabric: Kona cotton (grey and white), cheap Joanns pink polka dot print
Buttons: La Mode (Joanns)
Cost: under $25
Time (including tracing/cutting the pattern pieces onto swedish tracing paper first but not including prewashing fabric): 4-5 hours
Pattern alterations: I used a smaller insert of color for the bunny's ears instead of having the pink be full sized as in the pattern.  I did not do the understitching recommended in the pattern both (a) for time reasons and (b) because I don't really understand what that is.  😛  I'm a fan of top stitching, but for time reasons I did not do it on this dress.  Maybe later this week.  I also brought up the hem.  I think in a solid fabric this can look a little Mole Woman, so I brought up the hem to make it a little more retro and a little less I'm-one-of-five-wives.
Pattern recommendations:  The kona wrinkled terribly.  When you're looking at a definite car ride in a 5 point harness to church, some crunching is inevitable and the kona did not handle that well.  The ease included is also massive.  The pattern says multiple times that 3″ of ease is included and puts the chest measurement more prominently than the 'size,' but as a novice pattern garment sewer I just couldn't bring myself to trust her measurements more than her age, so I made the 5.  It's giant in the chest–I would have loved to try the 4 or even 3.