There are a lot of raglan top patterns out there, and the Lane Raglan by Hey June Handmade is one that gets a lot of rave reviews.  Having made two Lindens, I was interested to see how the Lane pattern differed.  While the Linden pattern is made to be a boxy sweatshirt, the Lane reglan is more form fitting, with a curve to the waist.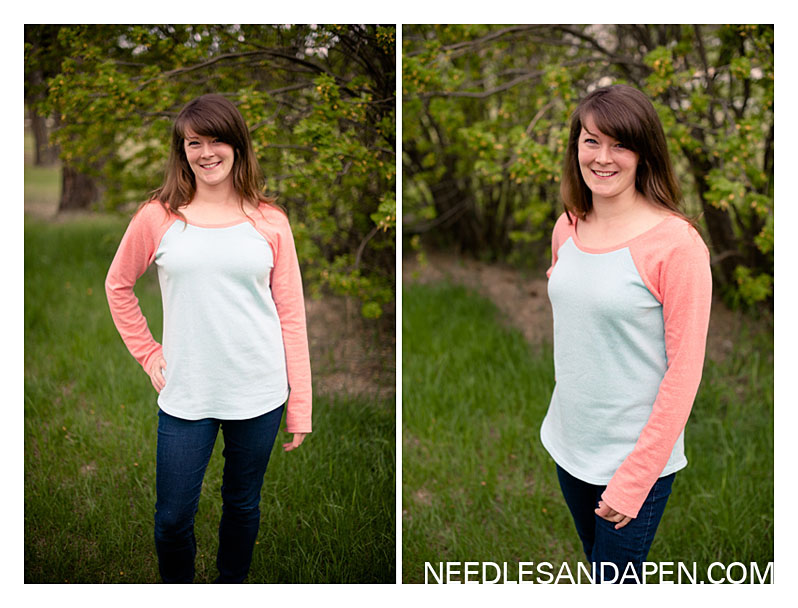 I think I suck at measuring myself, because my high bust measured even bigger than a size large, but I stuck with the large, which is lucky, because it's a little big.  I had intended to go up a size from my measurement since I was using a french terry (with a decent amount of stretch, but still a slightly thicker fabric), but instinct told me a large would be big enough.  Next time (and there will be a next time soon) I want to try a medium with the full bust adjustment and possibly graded to the large at the hips (I'm swimming in this a little in the shoulders and the waist could be a bit more tapered).  For a working muslin, though, the large worked well enough.
I got the fabric at Jo-Ann's this spring and it is great!  It was a great bargain on sale with a coupon, but sadly I haven't seen it there since.
The pattern instructions are great.  Putting the pattern pieces together is a pain (you will print approximately 8 million pages), and you have to trim the borders off each single page, but I'm over my angst about that now that the top is made.  I read a few comments on various blogs about possible neckband sizing issues, either it being too big or too small, but the pattern recommendation for the neckband worked perfectly for me–I wouldn't want it any more or less stretched.  My only questioning moment was when I went to attach the sleeves to the front and back bodice pieces.  While the front and back bodice arm scythe (am I using that term correctly here?) sections are curved, the sleeves are straight, so they have to be pinned in to make the curve work.  Maybe that's common with knit raglan tops?  Would love to know more if anyone knows the answer to that one!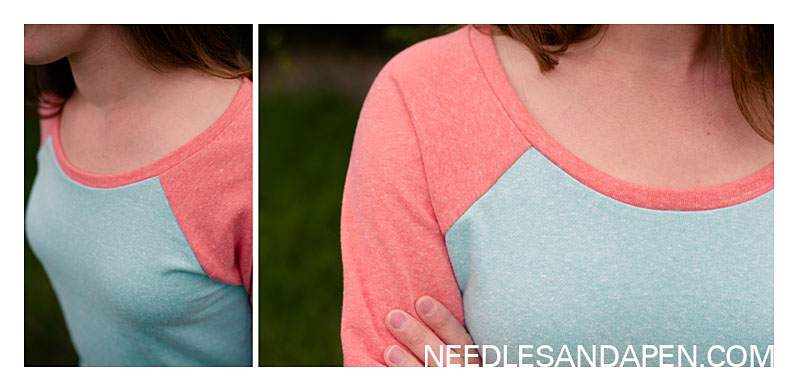 I thought that the shirt would benefit from topstitching to hold down the neckband seam, but that ended up not looking great.  Ripping that out was a huge pain!!