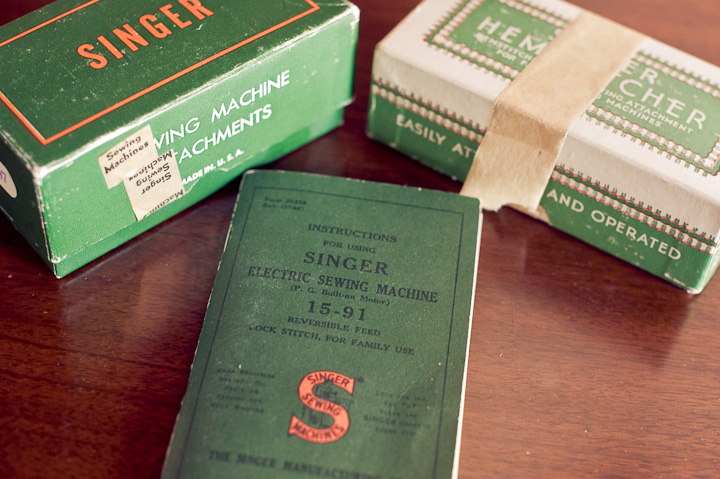 It occurred to me a few months ago that I have a very nice sewing machine with very nice features that I never use, and that if I sold said machine I could buy a serger and a basic sewing machine and have money left over.  As I began my research into great basic straight stitch machines (for if I get a serger I won't even need zigzag) I came upon the large fan base for the WWII era Singer 201-2.
Since they were mass produced and everyone who was anyone had one, they are easy and inexpensive to find locally (if you buy off Ebay, you can expect to spend $250-$550).  Locally, they can be picked up from $50-$150.
I found a 201-2 in great shape with an attached cabinet on New Year's Eve and Nic was immediately sold on the idea of a sewing machine with its on table.  "You mean we could have our dining room back?" he asked with desperate hope.
I talked the seller down from $350 to $250 (the 201-2 was in good aesthetic shape , and came with its cabinet and stool) but the seller had to leave town and wouldn't return until February.  I was super excited about the 201-2, but the one thought in the back of my mind was that in theory the drop in bobbin and horizontal hook isn't the best for free motion work–oscillating vertical bobbins are best because in a drop in bobbin the thread must make a 90 degree turn.  I couldn't find anyone who had any trouble free motion stitching on a 201-2, but it was in the back of my mind.
That's when I found out about the 15-91.  The 15-91 was produced at the same time as the 201-2, but was sold for a slightly lower price tag.  It was billed as the 'farmer's wife's machine' versus a 'dressmaker's machine.'  (And that makes me love it more.)  The main difference is the bobbin–the 15-91 has a side loading bobbin.
I found one on Craigslist in Denver with a stool and cabinet for $250.  Since the price on these should be lower than the 201-2s, I got the price down to $200 and picked it up last night on a little adventure with Will that culminated in the 9:10 showing of Tangled.  (When we picked up the machine I started looking through the accessories in the car and Will informed me that "Now is not time for art.  Now is movie time.  You can play with your sewing machine when the sun wakes up.")
I'm super excited about it!  The cabinet and stool are in really good shape AND it came with a bunch of accessories and feet, the original owner's manual, and opening the stool is like a treasure trove of vintage sewing machine needles and thread.  The cabinet looks amazing in our house and I can't wait to get the machine serviced!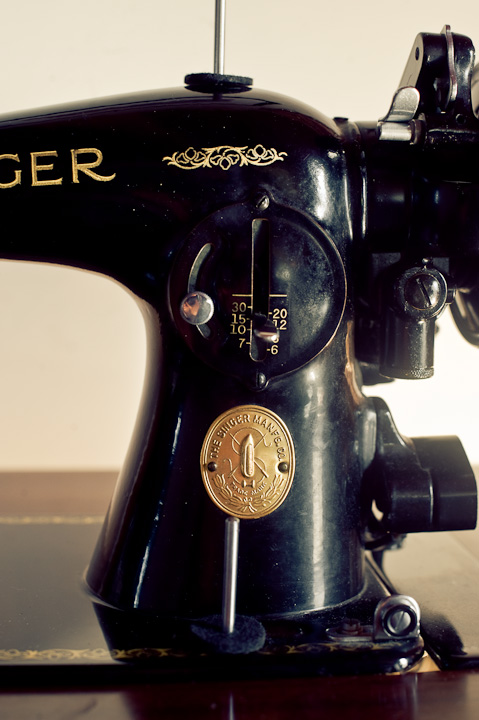 My Tips for Vintage Sewing Machine Buying:
Consider whether you have a great sewing repair shop.  I love my sewing machine guys.  They are so friendly and professional and if you call with a problem, without even knowing if you are even a repeat customer they will try to solve the problem over the phone for free–spending 10 or 15 minutes with you even, walking you through some common trouble shooting steps!  So for me it's worth it to get a machine for cheaper that might need repair versus buying a more expensive fully refurbished machine from a specialty seller that is ready to go straight out of the box.
Buy locally.  Craigslist prices are much lower than ebay prices, since ebay sellers know they are pulling from a much larger market.
Check out flea markets and estate sales.  There are stories online about amazing $20 finds.  Our flea market is terrible (particularly in the winter–and you have to pay admission which really annoys me) so I ruled this one out.  But if you have plenty of time or great local flea markets, check them out!
When negotiating, be sure to ask about when the machine was last serviced.  If the machine has been in storage for a decade or more (as many of them have been), you'll likely want to have it serviced and should be able to deduct this cost from the price.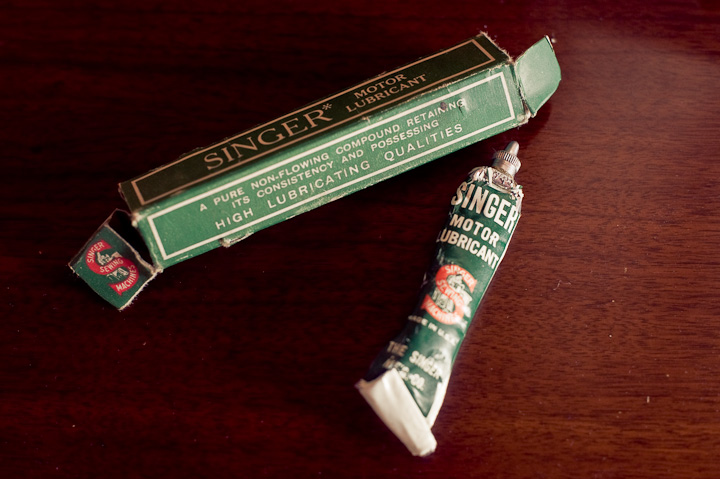 And now…onto my sweet new machine!  I decided on the drive up that (a) she needed a name and (b) that name would be Edna.  I knew from looking up her serial number that she was manufactured in 1949 in Elizabeth, NJ.  She was purchased by her prior owner in 1950.  Her prior owner has since passed away and she was being sold by the owner's grandson after a decade in storage.  Since I hate Baby Boomer names, I decided my machine needed a name that her owner might have, versus a baby born in 1949.  Because I'm sorry Baby Boomers, but your names suck.  Knowing that the 15-91 is the 'farmer's wife' machine I wanted a plain no-nonsense name.  I was brainstorming and hit Ethel which brought me to Edna, which reminded me of THE Edna from The Incredibles and I knew it was a perfect fit.  Edna is fabulous AND a fashion designer AND the Incredibles is set in the 50s.  So I named her Edna before I even met her.

But then I picked her up and she's pretty fancy.  That pretty gold detailing and her fancy little shaped leg cabinet.  And then, when I asked the grandson what his grandmother's name was, he said Elizabeth.  Are you kidding me?  This machine was MADE in Elizabeth.
So fine.  But I'm keeping Edna.  And that is how my sewing machine got not one name, but two.  (For the record I'm not normally in the habit of naming objects, much less giving them middle names, but since we're not having any more babies and I can't handle pets, I'm getting a little name-happy around here.)

Edna came with some great stuff:
Her original owner's manual.  FANTASTIC!!!!
All her accessories, extra feet, and a 'hemstitcher.'  All in their boxes.
Her cabinet is fantastic.  It has the ability to mount the foot pedal sideways and then a knee lever operates it.  (I think this would be a fabulous thigh workout.  I intend to give it a go.)
Her stool has hidden storage under the cushion.  Super practical, but it was also a trove of hidden treasures!
Inside the stool are vintage bobbins, wooden spools of thread, vintage sewing needles, the original tube of motor lube….fun fun cute stuff that I am going to display in the (photography) studio as decorative items.
And most importantly–a newspaper piece worth clipping and storing for future generations:  tips for longer lasting panty hose.

My favorite sewing machine shop made a house call today and picked Edna up for a cleaning/servicing/inspection–I can't wait to get it back for more pictures!  Old wires are always a bit worrisome, so if you pick up a vintage machine that hasn't been rewired lately, run it by a pro to make sure you won't burn your house down.  Husbands can be pretty understanding about hobbies…until the hobby burns down your house.