While we were visiting my sister-in-law and brother-in-law at their house at Snoqualmie Pass, we were able to go on a couple of hikes.  I asked Erik for something that was  3-4 miles with a beautiful lake.  He nailed it with this Mirror Lake hike!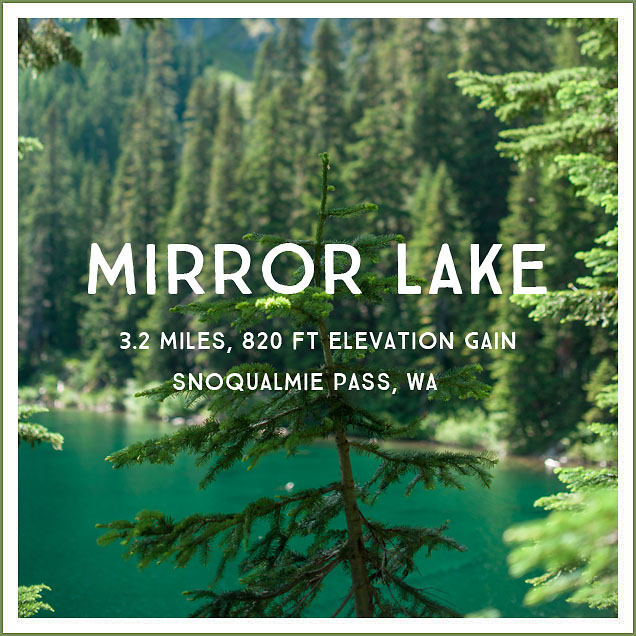 Pros:  Everything about the hike is beautiful, even the dirt road portion is lovely.  The lake looked really inviting and would be fun to swim in if the weather was warm enough.
Cons:  The road to the parking area is rough and the mosquitoes are insane.  Bug spray is NOT optional.  We were there at the beginning of July and they were awful, and I just saw a photo from a mid-August hike on Instagram complaining about the mosquitos.  It seems to be summer-round.  (After listening to the Radiolab podcast in which they explain that [a] we have the ability to get rid of mosquitos and [b] they really don't have any positive impact on ecosystems I am even less tolerant of them!)
Distance/Difficulty:  3.2 miles, 820ft elevation gain.  This is a nice moderate hike for a family with young children.
Directions:  Since I did not drive (or even roughly pay attention to where we were going), I will let the Washington Trails Association tell you how to get there:
From Seattle, head east on I-90 to exit 62 for Stampede Pass/Kachess Lake. At the end of the ramp, turn right at the stop sign onto Forest Road 54. After approximately 0.5 miles you will go over a bridge crossing the Yakima River. Continue straight on this road for another 0.6 miles and then turn right, leaving the paved road, onto the gravel Forest Road 5480. Proceed with caution along Forest Road 5480 as it runs parallel to the Iron Horse Trail, a popular path for hikers, bikers and cross country skiers.

Continue on this road. 4.2 miles into this section, go straight on the middle road and pass Lost Lake. 6.1 miles from the turn onto FR 5480, reach the sign for Mirror Lake. 
Trail teaching:
The Pacific Crest Trail intersects the Mirror Lake Trail which means you can tell the kids all about the PCT!  The Pacific Crest Trail is 2, 663 miles long and goes from southern California at the Mexican border all the way to the Canadian border in Washington (or the other way around).  According to the google, most thru-hikers (as the crazies that tackle it as a continuous hike are called) take 5 months to complete the trail but elite athletes may finish it in two months.  The PCT was one of the original National Scenic Trails (along with the Appalachian Trail) established by Congress in 1968 with the National Trails System Act and it falls under National Forest Service administration.  While it was established in 1968, the PCT wasn't actually completed until 1993 (and some of the PCT is still alongside roads versus a dedicated trail).
With all the mosquitoes there are also plenty of opportunities to teach the children about mosquito borne illnesses like West Nile, Malaria and Zika.  (Just kidding.  Kinda.)
Photos:

Further Reading: