We added a few things to our Christmas and Advent celebrations this year that made it one of the most meaningful celebrations we've had!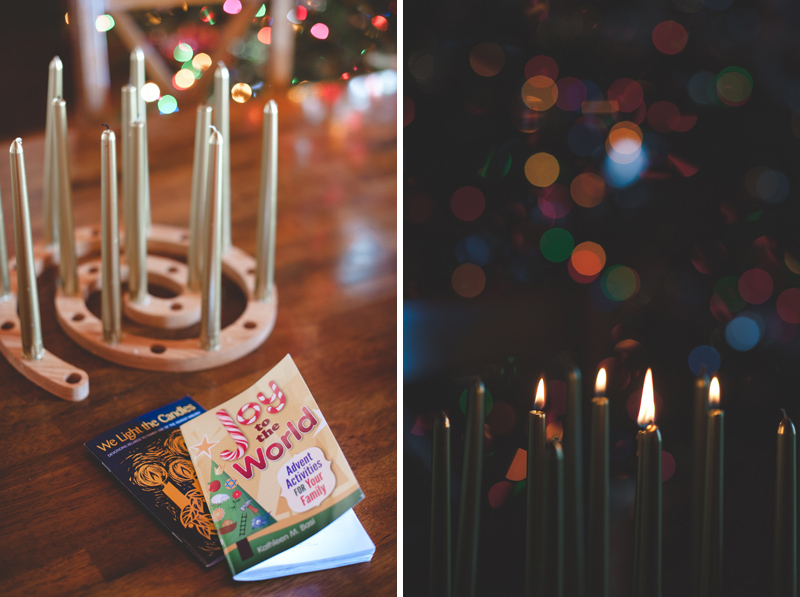 Joy to the World was my guiding book this season, with We Light the Candles guiding our Advent celebration each night.  I have loved Joy to the World.  Unlike some guides about adding more meaning to the Christmas season, it doesn't disparage the fun of the secular traditions.  It encourages the fun along with the meaningful, and even gives you ways to add meaning to secular traditions.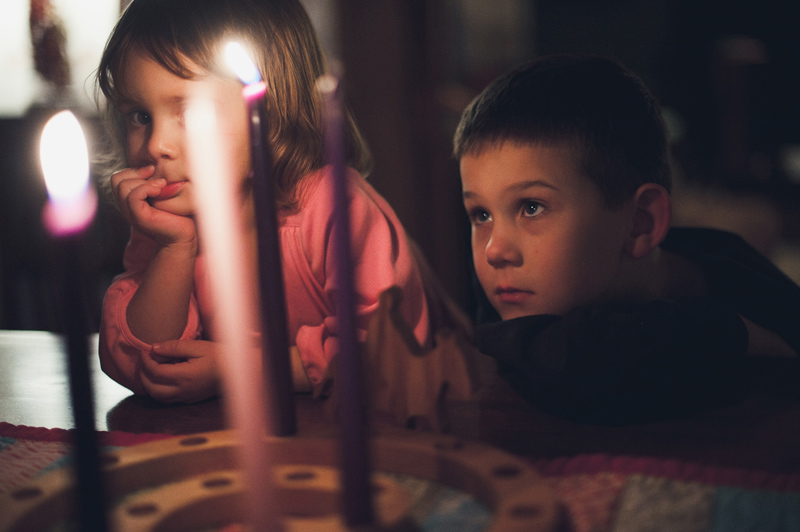 I grew up without an Advent wreath, so when Nic suggested it this year I knew I'd need help on exactly what to do.   We Light the Candles was a great guide.  For each night there is a short bible excerpt, a devotional passage, and then a suggested song.  Will and I played the piano for the song, depending on whether or not he knew that particular one.  After the song we moved over to our Jesse tree, where we read the day's bible story from Joy to the World (with the first three weeks of readings rewritten well for a young audience) and hung the applicable ornament.  Then it was back to the wreath for a closing prayer and blowing out the candles.  It quickly became the highlight of Ellie's day ("Advent time?!" she would shout at the end of dinner each day) and we made it happen even when meetings or work made the logistics a little tricky.  It was such a quiet centered time of day that none of us wanted to miss it!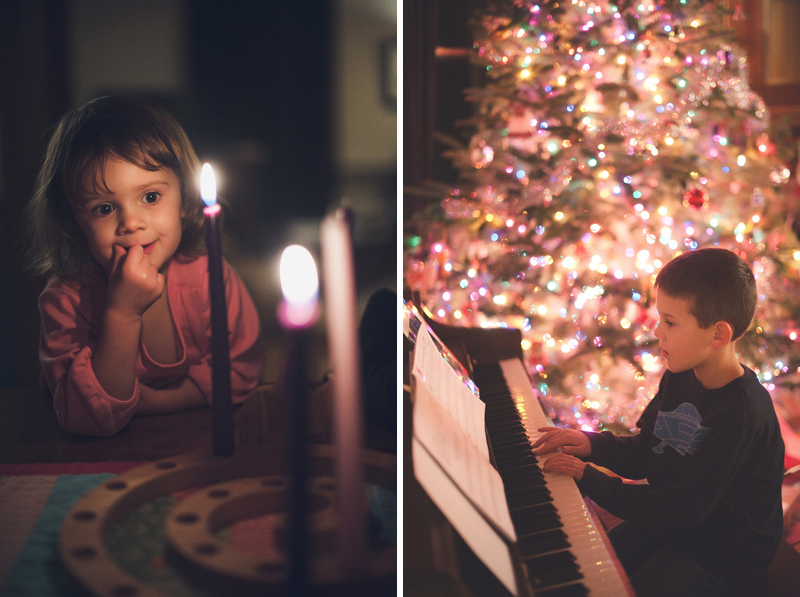 In searching for our Advent wreath this fall Nic had requested a wreath like the one he grew up with (a solid wood disc with spaces carved into it for the candles until the traditional ring shape).  Unfortunately I was unable to find one close, but in my search I discovered this wreath.  Since it moves with the family from Christmas to Lent to the Easter season it seemed like the perfect tool to help us celebrate the liturgical calendar.  (My only complaint [and it's sort of a big one] is that it doesn't quite fit standard taper candles, so you have to shave them down.)  To make it more like a traditional Catholic Advent wreath, I placed the four candles (3 purple, one pink) around the spiral on the spot where that particular Sunday fell.  (So with the 25 hole spiral and Advent starting on December 2nd this year, our first purple candle went in the second hole, then another in the hole 7 spots later, etc).

We've also used the wreath as a tool to celebrate the days to Epiphany.  I'm passionate about the fact that CHRISTMAS ISN'T OVER YET.  For so many in the US, the 25th marks the end of Christmas (because for the stores, their work is done–the presents have been purchased and it's time to move onto selling people Valentines Day items), and many have already packed up their Christmas decorations.  However I want my kids to grow up knowing that the 25th is the START of Christmas, not the end.  This wreath is a great way to mark that!  We've put twelve gold candles around the wreath (for the 12 days of Christmas, since Epiphany actually falls on January 6th this year) and are lighting a new one each night.  (We started out adding a new candle each day but it's too pretty with all of them to see that for only one day, so I put all 12 into the wreath and we're lighting the appropriate number each night.)

The kids have LOVED blowing out the candles and it occasionally gets a little less reverent and a little more rowdy, so I picked up a candle snuffer this weekend to help us out in that department.  Pier 1 has festive bedazzled ones.

Jesse Trees seem to be making a comeback, which made it easier for me to design and make the felt ornaments I wanted to use for it.   Many of my ornaments were heavily inspired by the ones on Fig Tree Freedom.   The tree I spotted at Pottery Barn and it could not have been more exactly what I was looking for.  The ornaments were more work than I expected (or then I think they look!) and I would absolutely suggest making them well before Advent, not making them on a day-to-day basis like I was doing!  They average out to about an hour a piece, with more involved ones like the rainbow going into the three hour arena.  Next year I'll be reading this with Will and Ellie, but this year we used the Joy to the World passages.

Since the length of Advent varies from year to year, Joy to the World includes more stories and suggested ornaments than you'll use most years (and I noticed that some are slightly different than the lists I've seen online that include  24 ornaments each year and always begin on December 1st).  I still actually have one last ornament to make for this year–a pregnant figure to symbolize Elizabeth that just didn't happen on the right day.  I'm hoping to finish off the whole set in January so I won't find myself throwing in the last stitches during dinner again!  I might redo one or two of these ornaments that I'm not in love with later down the road, but for now just getting the set finished is my goal.  🙂  I used 100% wool felt from Etsy because I want this to be something that is with us a long time.

In non-kid-land, I've been reading and loving this each day for a more adult focused Advent activity.