No hike so thoroughly divides our family as Seven Bridges.  The kids and I would rate it as one of our favorite hikes…Nic would rather get a root canal than go on it a third time.  If crowds and dog poop are deal breakers for you, skip this one.  If you are big fans of creeks and some water play time, it might be worth it.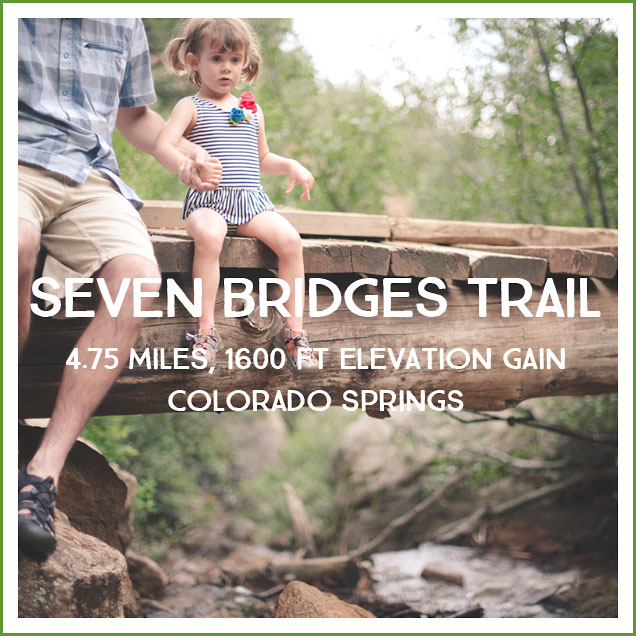 Pros:  Once you get past the Gold Camp Road portion, this trail is beautiful, shady, and follows North Cheyenne Creek most of the time (leading you to cross the seven bridges that gave this trail its name).  Most kids love hiking along a stream, and this momma does too.  The reward for your hike is at the top, a great spot to splash around in the icy cold water.  (Hint:  we have the kids wear their hiking boots but bring a towel and Keen sandals for them to wear at the top for water play.  They wear their swimsuits under their hiking clothes on the way up, and then quickly change into underwear and back into their clothes under the cover of a towel when it's time to head down.)  The other thing I like about this hike is that you could easily back out at one of the middle bridges that have a nice splashing area (there are a few) and make the hike shorter if your kids are just starting out.  The seventh bridge is a nice place to stop, but it's not the only spot suitable for a break and a turn-around point.
Cons:  To get to the trail you have a 3/4mile walk along Gold Camp Road.  This particular section of Gold Camp Road is now called "The Poop Trail" by our family as it is absolutely littered with piles of dog poop.  The entire stretch stinks like dog feces as is rather miserable.  The hike is also very popular, which means that it is a crowded trail.  It's narrow in most places which makes for a lot of pausing to let other groups go around you (or hoping they will pause to let you pass).
Distance/Difficulty:  At 4.75 miles and 1600 ft of elevation gain, this is an easy hike for adults, but a good stretch for preschool hikers.  The motivation of water play at the top makes this a great one for stretching their abilities, though–the payoff at the top is big!
Directions:  From I-25 take exit 140 to follow Nevada south.  Turn west onto Cheynne Blvd and follow it to the Starsmore Discovery Center, then turn right onto North Cheyenne Canyon Rd.  You will drive past Helen Hunt falls to reach the large parking lot that marks the intersection with Gold Camp Rd.  There are several hikes that begin here, so expect the parking lot to be crowded if you don't get an early start.  The hike starts out flat and boring with 3/4 mile on Gold Camp Rd. As Gold Camp Rd bends to the left you will see a trail marker for trail 622–this is where the hike truly begins.  It is then 1.6 miles up to the seventh bridge.  If you're looking for a more challenging hike you can follow the trail past the seventh bridge to Jones Park.  (We have yet to try that–maybe I can convince Nic to slog through The Poop Trail to try it out this summer…)
Trail teaching:
The way creeks and rivers have sculpted the canyons
Use the dog poop as a lesson about why we don't have a dog how one single disrespectful act can multiply and ruin things for everyone.  😉
In the spring talk about how the creek is fed by melting snow and that contributes to its icy temperature!
Make temporary tiny dams from rocks/branches when you stop to play in the water and watch how the water is diverted and see if it will eventually break through.  Point out the much larger scale naturally occurring versions.
Look for different types of rock (beginning with the broader igneous vs. sedimentary vs. metamorphic categories).  Let the kids bash different types of small stones against each other as you walk, exploring the relative durability of each.  (This used to be a huge distraction for Will on longer hikes!)  Talk about different situations that might have two different types of rocks coming into contact with each other.
Photos: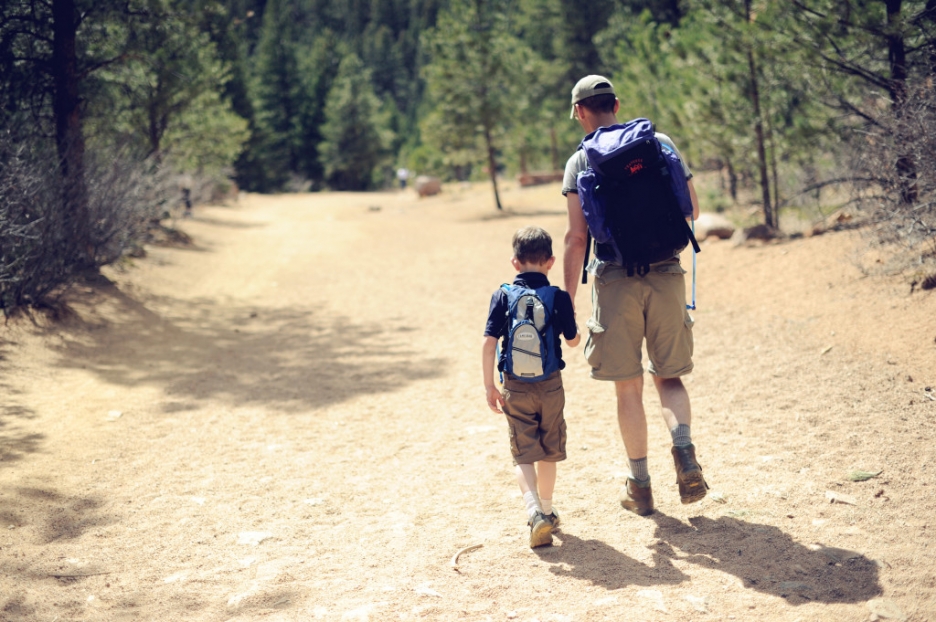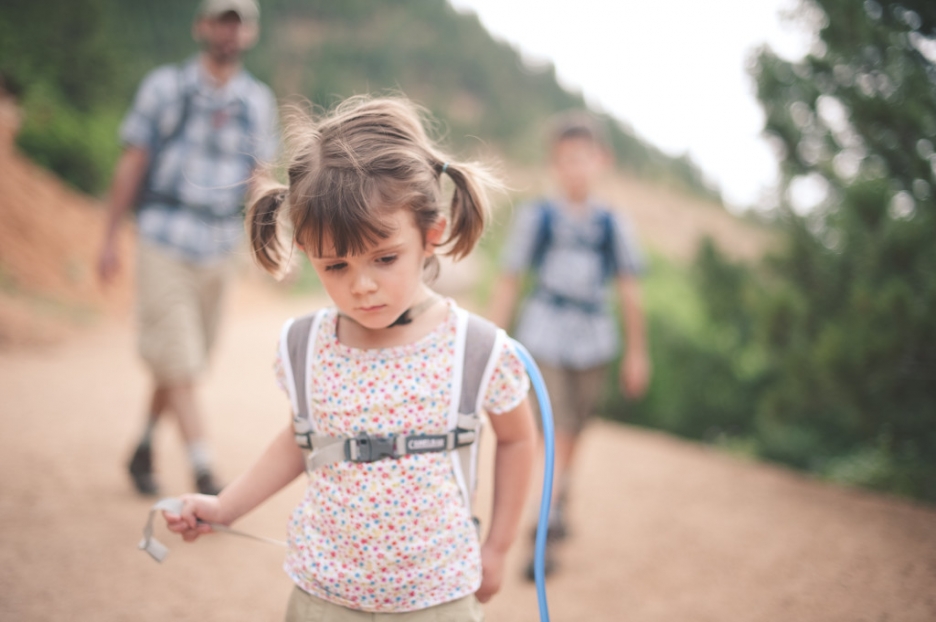 The Gold Camp Rd dog poop smell makes Ellie sad.

The hike in on Gold Camp Road and the marker at the beginning of Seven Bridges Trail

Once you are past Gold Camp Rd, the hike is shaded which makes it a nice choice on a cool day.

See if you can spot the gorilla in the tree!



If you have a bad attitude about a hike, Ellie is happy to literally make you smile.

Counting the bridges as you pass them is a good way to motivate little people on this longer hike.

The area at the top with the seventh bridge is popular for splashing and exploring.

You can see the big difference in foliage between our first May visit and our second visit in July (the following year).





Further reading:  Check out the trail guides here and here for more detailed topographic info.