Traci's note:  If you're here for the crafts, thanks for bearing with me while I get the hiking/camping section of my blog up to date!  I've got less than half a dozen campgrounds/hikes left to review before they will go back to being occasional posts in otherwise crafty/nursing school endeavors.  If you haven't seen it yet, I've been working on this google map with all of the posts tagged.  I'm excited to have that as a resource! 
This weekend we braved The Poop Trail (Gold Camp Rd) once again to enjoy the St Marys Falls hike.  We figured that with all the rain we've had lately this was THE time to see the falls!  We weren't disappointed–the amount of water following through N Cheynne Canyon Creek (which the trail follows) and flowing over the falls was awesome.  If this distance is an appropriate one for your family, I'd definitely suggest doing it soon while the falls are at their most impressive!  The way the trail sneaks up along side the falls it's difficult to get a good photo of them (especially if you're like me and always hike with a fixed 50mm lens), so I don't have a good photo of the entire scope of the falls, but you can kind of piece it together from the pics below.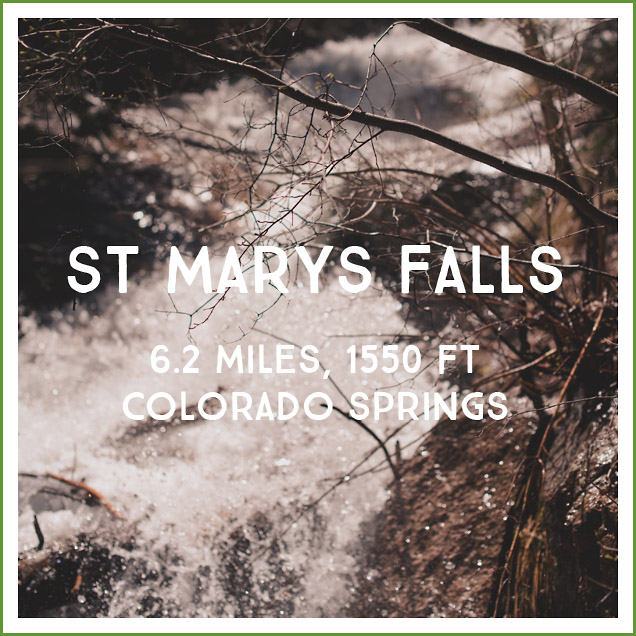 Pros:  This was a great hike to challenge the kids, at 6.2 miles.  The first mile is along Gold Camp Rd (so relatively flat), but once you step off the road it has several steep sections that are great practice for kids.  Ellie (at 5) was wearing in some new boots and developed some hot spots on her heels midway from the hike which kept her preoccupied (in spite of the blister bandaids we put on them), but if it hadn't been for that I don't think we would have had any complaints from her.  Once you are off Gold Camp, the trail stays close to the creek, making it a beautiful one.  It was popular without being overly crowded.
Cons:  The first stretch of Gold Camp Rd is always a little obnoxious, with its dog poop, occassional broken glass, and people just generally exhibiting poor trail manners (letting kids blow on emergency whistles multiple times, grafitti, litter, etc).   It definitely seems to be the place where people who like nature–but have no regard preserving it for others–go to hang out.  Reviews of the hike suggest that the signage on the trail isn't entirely accurate when it comes to distance.
Distance/difficulty:  6.2 miles (or 6.4 miles–depending on the website you check) and 1550ft – a moderate family hike.  A couple hiking down warned us about the "extremely steep" final switchback.  I got a little worried based on their description and manner, and while the switchback was quite steep it wasn't anything horrific or unmanageable.  Based on their warning we stopped at the penultimate sign pointing to the falls (it indicates that the falls are 0.2 miles away).  There is a little spur down to the creek at that point with a beautiful cascade and nicely dappled shade.  We fueled up the kids with energy bars and water and a few minutes of rest, and I would definitely recommend that strategy.  Quick refuel before the final push to the top!
Directions:  The trailhead is the same parking lot as for Seven Bridges Falls past Helen Hunt Falls.  From I-25 take exit 140 to follow Nevada south.  Turn west onto Cheynne Blvd and follow it to the Starsmore Discovery Center, then turn right onto North Cheyenne Canyon Rd.  You will drive past Helen Hunt falls to reach the large parking lot that marks the intersection with Gold Camp Rd.  There are several hikes that begin here, so expect the parking lot to be crowded if you don't get an early start.
Trail Teaching:
The way creeks and rivers have sculpted the canyons
Look for different types of rock (beginning with the broader igneous vs. sedimentary vs. metamorphic categories).  Let the kids bash different types of small stones against each other as you walk, exploring the relative durability of each.  (This used to be a huge distraction for Will on longer hikes!)  Talk about different situations that might have two different types of rocks coming into contact with each other.
How the creek might have more or less water at different times of year and in different years
The chipmunks at the falls are extremely used to humans and definitely see them as a source of food (to the point of being obnoxious as you sit enjoying your snack and looking at the falls).  This is a great illustration for kids of why we shouldn't feed wildlife–it turns them into pests!
Photos: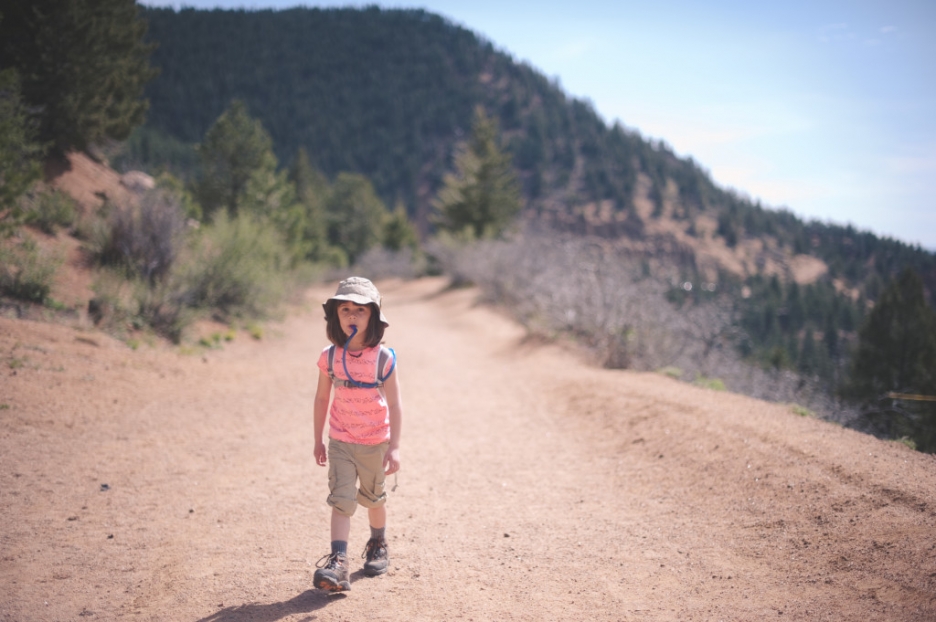 Braving The Poop Trail (Gold Camp Rd)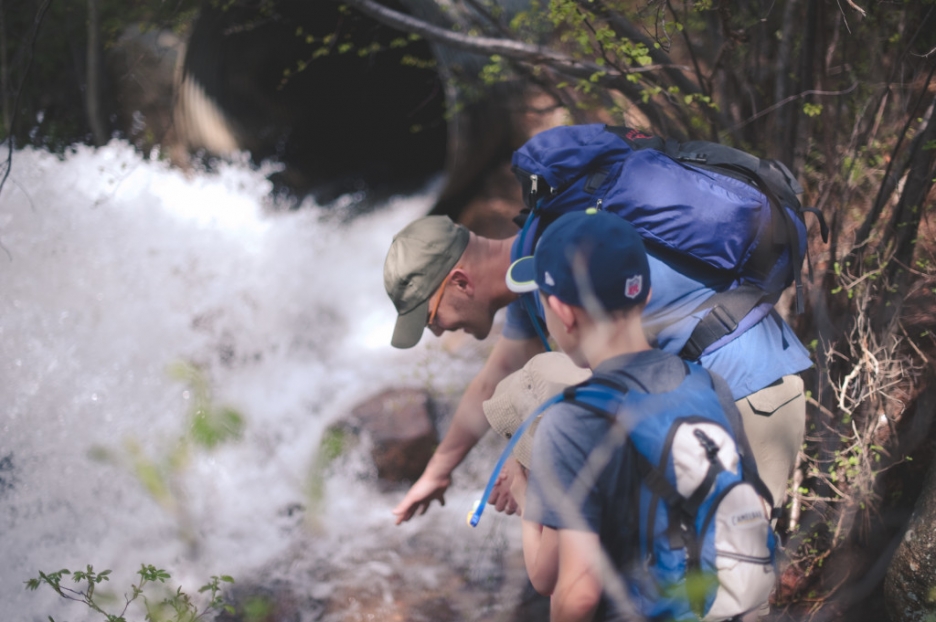 There are a couple of places you can walk down to enjoy the creek from Gold Camp–I highly recommend it on a hot day!  We all enjoyed the cool spray and the sheer magnitude of the water coming out of the drainage pipe right now!

As you near the end of your time on Gold Camp Rd you'll walk up and over this old tunnel.

Very shortly after the tunnel you'll see the trail fork into two, with a sign toward the falls.  If you go left you can drop down next to the creek (we stopped there for our first snack break).


After Gold Camp Rd it becomes a much more traditional hike.








We had been warned that after this sign the trail became steep, so we stopped here for a refueling break.

Ellie adores Luna bars.  (Particularly the Smores flavor.)  They're a go to hiking snack for us when it's not too hot for the chocolate to melt!

Once you reach this final sign the trail flattens out a lot–you're over the hardest steep section!

I might have missed it had Nic not seen it, but when you reach the lower part of the falls there's a rock path/stairs that will lead you up farther along the falls to a resting area with benches.


A memorial to Eamon Murphy at the top of the trail.

We had an awesome lunch of triscuits, cheese, summer sausage, and pepperoni.  The chipmunks very much wanted to join in.


Keeping in mind that I was shooting a fixed 50mm lens–these guys came CLOSE–close enough to reach out and touch.

Will earned his whittling chip in Cub Scouts this year, so that is a new activity for him on hikes/while camping.

The view toward town from the falls.

We played with my new camera remote (which I'll go into details about later–I'm so excited to finally have one after eight years of wanting one)!


We found what is very obviously a fairy island.

"Come on, Cougar Bait!"

We enjoyed a solid rain for the last ten minutes of our hike.  Someone lost his raincoat at school.  On Mt Herman Will had "the coat of shame" and now he has "the poncho of shame."  It's a theme for him I guess!
Further reading:  Nice summaries here, here, and here.