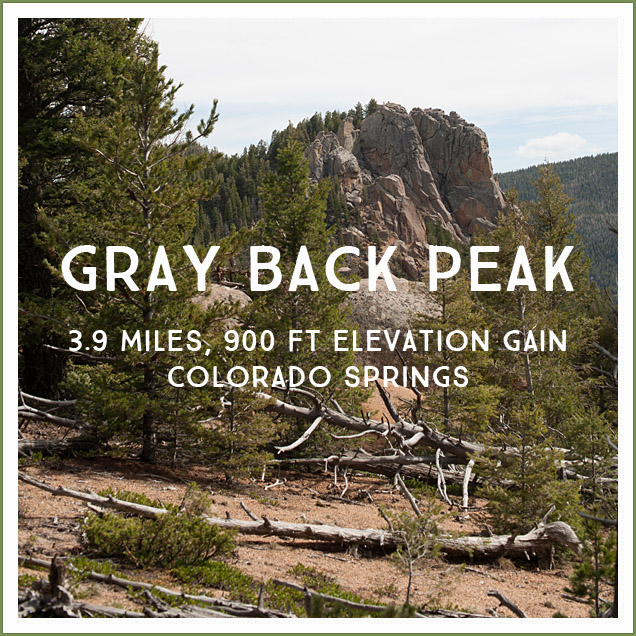 We checked out this new to us hike last weekend and were thrilled to discover that the dirt road to the trailhead is in fantastic shape (truthfully it was in better shape than the road to our house).  While the trail itself is not well maintained, the lack of other hikers and abundance of quartz earned it favorable reviews from my crew of hikers.  You begin with easy elevation gains to the top of a ridge and then traverse across it before making a rather steep descent (alarming because you know you'll have to come back up on  your way back to the car) before coming to a fork in the trail.  Follow the trail to the right to continue up to Gray Back Peak.  Helpful along the route to keep you on track are yellow tags.  The final portion of the hike involves steepish switchbacks, but it is mercifully short.  There is a little fire pit at the top.
Pros:  It was a beautiful Saturday afternoon, but we only saw two other groups hiking–the solitude makes this a great hike.  You cross numerous veins of quartz along the hike, so much so that we took FOREVER getting to the top because Nic and the kids kept stopping and looking for rocks.  For that reason I renamed this hike Quartz Mountain.
Cons:  The first section of the trail is in really rough shape and deeply rutted out.  There are also many downed trees to cross.  While the dirt Old Stage Road getting to the trailhead is in excellent condition and accessible (at least at the moment) but any vehicle, it is 6.6 miles up the slow going road, making this a bit of a longer drive coming from Colorado Springs.
Distance/Difficulty:  3.9 miles, 900ft elevation gain.  This is a nice moderate hike for a family with young children who are comfortable hiking.
Directions:  This is an easy one to get to if you are a frequent zoo visitor!  Going south on Penrose Blvd take a right onto Old Stage Road.  Follow it for 6.6 miles (it begins paved but turns into a well maintained dirt road) before taking a left onto FR 371 with a sign for the Ranch at Emerald Valley.  After 1/2 mile you'll see a sign for a Horse Trail.  This is the trailhead.  There are two trails visible here, take the one that heads uphill!
Trail teaching:
National forests – As a hike inside Pike National Forest, this represents an opportunity to explain National Forests and how they differ from National Parks.  The part the kids will most care about is that in National Forest, you can take the cool rocks home! Rocks that would be off limits to collect in a National Park are yours for the harvesting in National Forests.  You can explain that with permits, people can cut down trees in National Forest land (if your kids are used to more conversation style rules, this might be peak their interest).  According to Wikipedia, The Land of Many Uses (I love those signs–(a) it's an awesome slogan and (b) the National Forest Service has the best font of any government organization I have ever seen) comprises of 155 separate National Forests across the US comprising almost 190 million acres (put together that's about the size of Texas) or 8.5% of the total land area of the US.
Quartz – Since you will run across a ton of quartz on the trail, now is a good time to brush up your  quartz knowledge.  Don't tell them that it is the most common mineral in the Earth's continental crust, though, since that ruins its specialness.  😛  It is found in many igneous, metamorphic, AND sedimentary rocks.  Most quartz is formed when magma crystallizes.  Along this hike you'll mainly see milky quartz, with the white color caused by gas or liquid trapped inside the crystal during its formation.  Its relative hardness/resistance to weathering is what makes it so abundant on mountaintop hikes–it is left behind when the softer rock wears away.  (Another great quartz summary is here.)
Photos: