When I read about the Denny Creek waterslides I was all "How did my mother not take me to this?!"  A natural waterpark an hour away from our house?  How had I never tried this?  When I got there I realized that oh, a bunch of slippery granite and unpredictable you-can-drown-in-it water?  THAT is how my mother never took me to that!  😀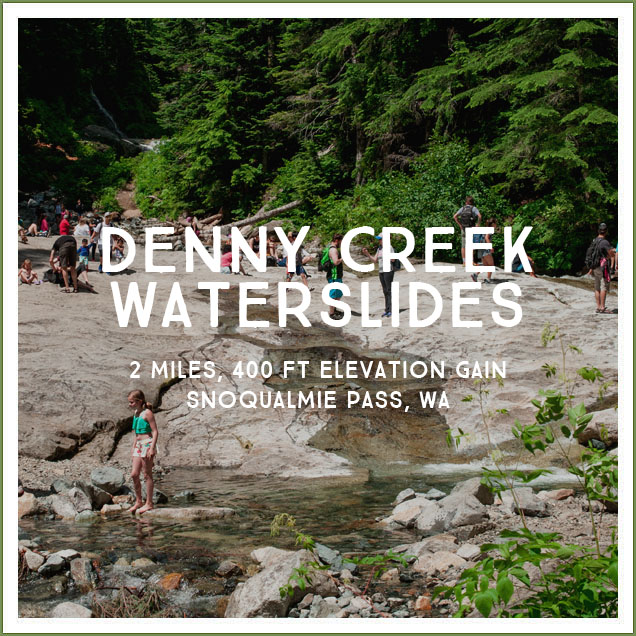 It was the first week of July, and the flow was also too low for the 'slides' to have any real power.  When the flow is high enough for the slides to be truly like waterslides, it's probably too cold for it to be enjoyable.  So.  If you are a worrywart or expect a real waterslidey adventure, this one is not for you.  That said, this was really fun (especially for the babies in our group), the scenery is beautiful and if the cons aren't dealbreakers for you, it is well worth checking it out.
Denny Creek Campground near the trailhead looks like a great spot for camping!
Pros: Beautiful scenery!  In early July this year there were plenty of shallow relatively flat places for very young toddlers to play.  Walking up the creek reveals two beautiful waterfalls.  We even got to see baby birds that were living in the rock behind the waterfall.  Will lost his mind over seeing them–it was really special.  The walk up the creek is slippery and a little tricky and would be tough with babes-in-arms, but picking our way up to the waterfall was a fun adventure with our elementary school aged kids.
Cons:  Very crowded (think waterpark crowded)–in many places the hike wasn't so much a hike as it was just following a line of people.   We had a hard time finding a parking spot–the cars had spilled well out of the parking lot and significantly down the road.  The flow wasn't heavy enough for the 'waterslide' effect the big kids were expecting, and the water is very cold.
Distance/difficulty:  2 miles (plus the million miles from where you had to park your car), 400 ft elevation gain – an easy family hike with a well marked, well traveled trail.  If you continue to Snoeshoe Falls this could be a 6 mile hike.
Directions:  From I-90 take Exit 47 for Denny Creek/Tinkham Road and turn left.  After 0.2 miles at the T intersection, turn right.  After 0.2 miles turn left onto Denny Creek Rd.  Follow this as far as you can get to the Denny Creek Trailhead.
Tips:  We brought sandals for playing in the creek and socks/hiking boots for the walk in and out.  The walk out is long enough that it would be miserable/blister-inducing in wet sandals.
Trail teaching:
The water has smoothed and scooped out the granite in incredible ways along Denny Creek.
Near the parking lot is a section of the original Snoqualmie Pass wagon road.  It's nothing much, just a short section through the woods between one stretch of the parking lot and another, but it's fun to imagine a time before I-90!
Photos:



Further reading: This protrails review has great info.