Both my psych class for school this bimester and my IBCLC course (for eventually being certified as a lactation consultant) have a significant number of audio powerpoint hours.  This is perfect for handwork projects, and before I start one of my new Frosted Pumpkin Stitchery patterns, I figured I should finish up this oldie that had been stagnating in my embroidery bag for years.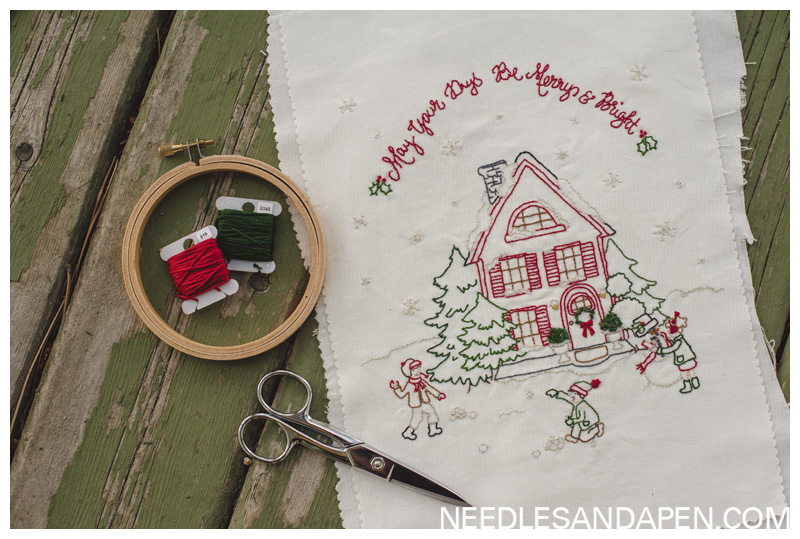 The project is based on this beautiful piece of art that I found (in 2012!) on Etsy.  I asked the seller if it would be okay with her if I turned her picture into an embroidery project after buying the print.  She agreed (and it's neat to see that later she ended up selling a few embroidery patterns)!  With her blessing, I then was able to scan the print.  I put it into photoshop, created a new layer on top of the scanned print, and drew the outlines that I would want to use for my embroidery stitches in a light gray.  I then ironed a piece of white fabric onto freezer paper to stabilize it, and printed the outline layer onto the fabric.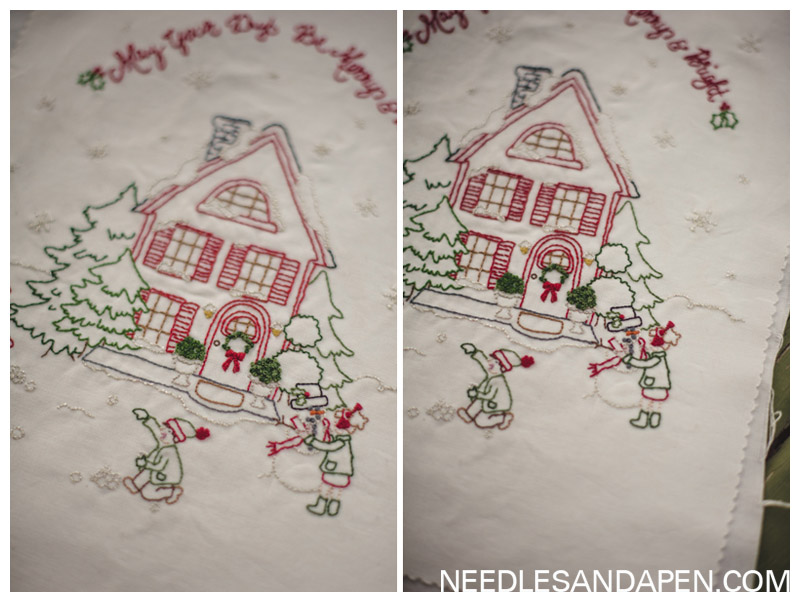 Since this was not a typical embroidery project, I got to decide all of the colors and stitches I would use–this was a LOT of freedom or stress, depending on how you look at it!  I love the french knot wreath and bushes and the sparkle floss I found for the snow.  Looking back at the finished piece, if I were to do it again, I would get rid of the children (which were really hard to translate into embroidery stitches) and just use the house and the title.  I love that house.  When I created the embroidery pattern, I had moved down the title a little bit to close the space between the house and the title, but when the embroidery was finished it still looked like too much empty space between the title and the majority of the embroidery.  I marked dots in pencil on the fabric for where I wanted snowflakes to go, and then ad libbed snowflakes.
This was my second project of translating art into embroidery (the first project I received the artist's permission to make the project, but she asked me not to share publicly that I had done so).  After two, I think my big lesson is that it's really hard to make the people look good, and I will stick to houses and gardens in the future!