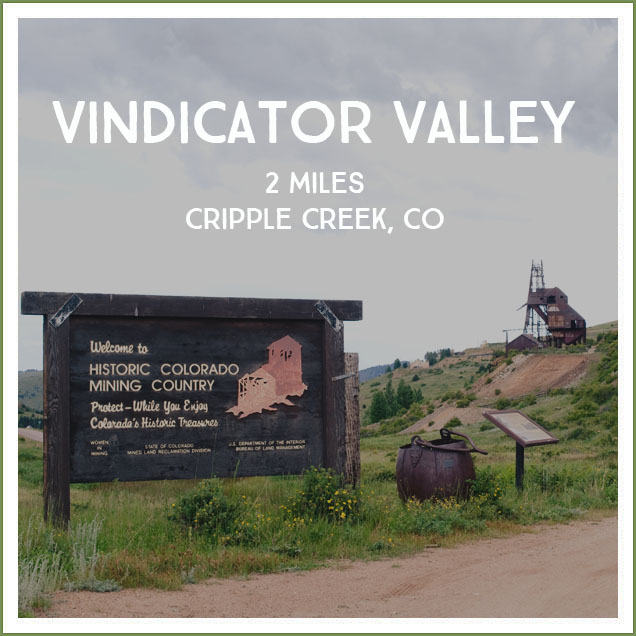 What this trail is missing in elevation gain and shade and water it makes up for in history.  We spent a day in Cripple Creek last summer visiting the Vindicator Valley Trail and exploring some of the area and we will definitely be back.  This would be a great weekend trip so you can fit everything in!
Pros:  The route is short, the hills are minimal, it's a loop trail (versus an out-and-back) and the old mines are great to see.  I was surprised by how deserted the trail was, although the approaching rain may have had something to do with it!
Cons:  The youngest hikers will find the mines repetitive after one or two, and there is no shade to be found on this trail, so it could be a rough one on a hot summer afternoon!  Keep the elevation in mind as you prepare–you'll need more sunscreen than you're used to even in Colorado Springs.  A section of the trail was closed while we were there due to over-saturated ground.  (Remember how wet last summer was?!)
Distance/Difficulty:  This is an easy two mile walk with some easy uphills.  The biggest difficulty is in the elevation–an almost flat walk at almost 10,000 ft isn't the same as one at 5,000!
Directions:  From Divide, take C)-67 south through Cripple Creek to Victor.  In Victor turn onto Fourth Street and drive 1 block before turning right onto Diamond Avenue (CR 81).  In 1.7 miles the trailhead is on the left.  (If you would like to start at the upper trailhead, it is off CR 831).

Trail Teaching:  
There are signs along the walk to help explain what you're seeing.  Gotta love good signs!
The trail begins at the Theresa Mine, which you will see from CR 81 as you drive in.  Although the mine opened in 1895, the metal structure you see was built in 1934 after a fire destroyed the original wooden structure.  It operated from 1895 to 1961 (with a break from 1915-1930 when low gold prices forced its closure).  The main shaft of the mine is 1,620ft deep, and it produced an estimated $196 million in gold (at today's gold pricing), or 7,500lbs of gold.  Also interesting is the fact that beginning in the 1980s the mine's waste dump rock was removed and processed by modern methods to even more gold from the mine.  There may be less gold in the remaining rock, but we have better methods of getting at it!
See the recommended excursions below–lots of learning opportunities in this area!
Nearby Excursions: 
The American Eagles Mine Scenic Overlook is a total must stop, even if you don't a full tour of the Cripple Creek and Victor Gold Mine (it was such a great place to even just see from the outside that we're definitely doing the tour this year)!  I was completely wowed by the scale of the operation.  I can't even imagine what it would be like to be a little boy and see it!
The Cripple Creek Heritage Center is another amazing (and free–thanks, casino money!) stop on your way in.  We stopped in on a whim, and ended up spending more than an hour there, and we were in a hurry to get to lunch!
If I had it to do again, I would have planned a weekend trip with camping nearby.  You could visit the Heritage Center, American Eagles Mine overlook, Cripple Creek Gold Mine guided tour,Vindicator Valley Trail, and Molly Kathleen tour.
We had lunch in Victor at a little "soda fountain" that had decent burgers, but was cuter on the outside than the inside.  There are not very many choices for lunch in Victor.
Photos

(Bottom three pictures from the American Eagles Mine scenic overlook.)