Labor Day weekend did not go as planned.  It was supposed to be a glorious backpacking trip to end our summer, and I'd made the Rocky Mountain National Park reservations months in advance and was so proud of myself.  I packed us all up.  And then we had a family meltdown that ended up with just me and Will driving up to go on a little mother-son backpacking adventure by ourselves.  Which would have been fine, except when we got to the ranger station for our passes the ranger casually mentioned that there had been some bear activity at our campsite, so we would need to be especially diligent.
"What kind of bear activity?"  I asked.
"Some campers were irresponsible and so the bears got into their food.  Then some campers had their bear container on a ledge and the bear pushed it off a cliff."
Oh.  Not the "A really old almost dead tiny bear whose teeth and claws had fallen out was seen at a great distance" that I had been hoping for.  Will started making small whimpering noises next to me.
"And how long ago was that?" I'm thinking like two years ago.  Or maybe back in April.  That would be okay.  Tons of campers would have come through since April.
"This weekend."
Well, fudge.
I put on my brave mommy smile, thanked her, and walked out.
Will was wearing his "I'm being so brave and I'm not going to cry" face.  For reference, this is what that looks like circa 2008: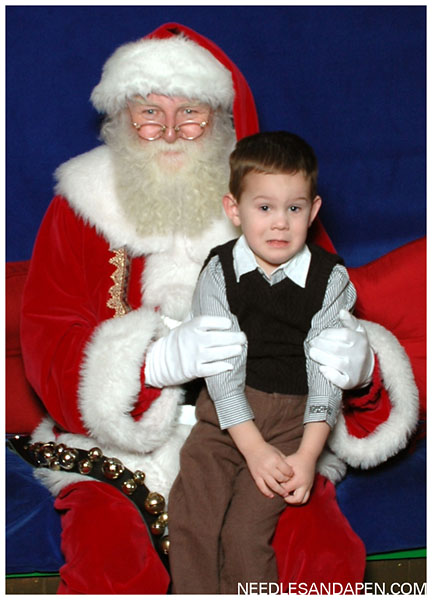 We had a nice little talk about whether he was actually okay with the bear thing, or whether he was worried mommy would cry all over the place if we didn't go on this trip.  He was not okay with the bear thing.  So we turned around and walked our little bottoms back over to the ranger's station where I had seen a big gaggle of 20 year old girls earlier trying to scrounge a last minute site at 4pm on the Saturday of Labor Day weekend.  I figured they would be very excited about our only 2 miles in site with the next site another 3 miles away for a great little loop weekend trip.  They were.  Until they walked to the ranger to get it and she talked about the bear thing and they were all "WE ARE NOT DOING THAT."  And so then the ranger gave it to a German couple who was very excited to have a campsite, and thanks to a language barrier did not quite seem to understand the bear thing.  (Note: I did not read about any Germans being eaten at RMNP over Labor Day weekend and so my conscience is clear.)
We decided to make the most of it, and have a backpacking dinner near the lovely river that I always admire as we drive into and out of Estes.  We also stopped for pie.  And listened to The Big Burn on audible and learned about the creation of the Forest Service and how Teddy Roosevelt is a super star who really doesn't get enough credit in the modern day.  So here we are, momma and sweet baby, making the most of a craptastic day: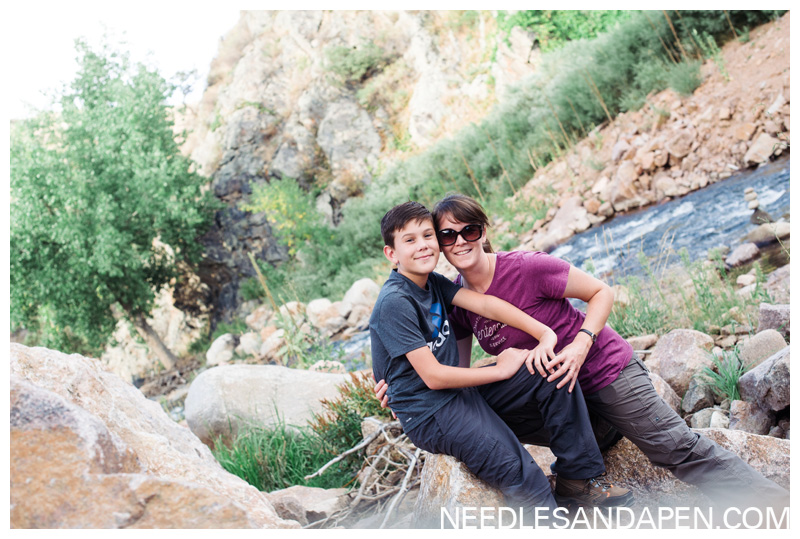 So, if you should ever find yourself driving home from Estes Park with nowhere else to be, the little turn off parking areas for fishermen past Lions are a delightful place for a picnic.