I bought a few fat quarters on the new Joel Dewberry heritage line on complete impulse.  I think it's because I didn't covet them for long before their release (and am really not even sure that I love them now) that I hacked into them so quickly.  I want to sew something with them quickly before I decide that I hate them.  😛  Sort of like how I made my It's A Hoot quilt because I was worried that I was starting not to love it anymore.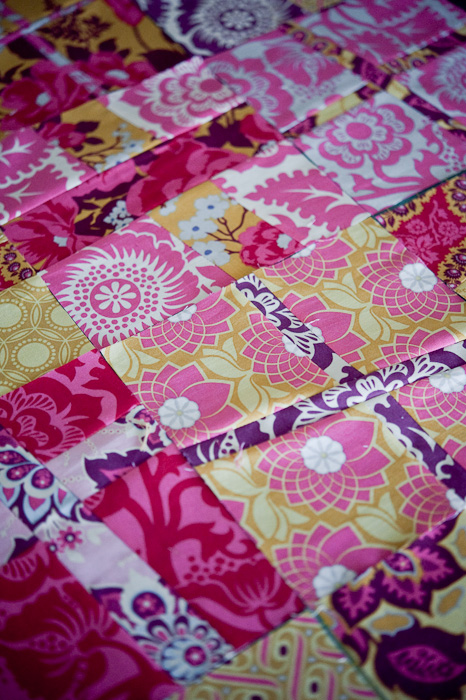 I settled on a wonky cross pattern for them, thinking it would show off the large prints and also give me a chance to try a quilt pattern I've long admired.  I wanted something really blendy and think this does the trick.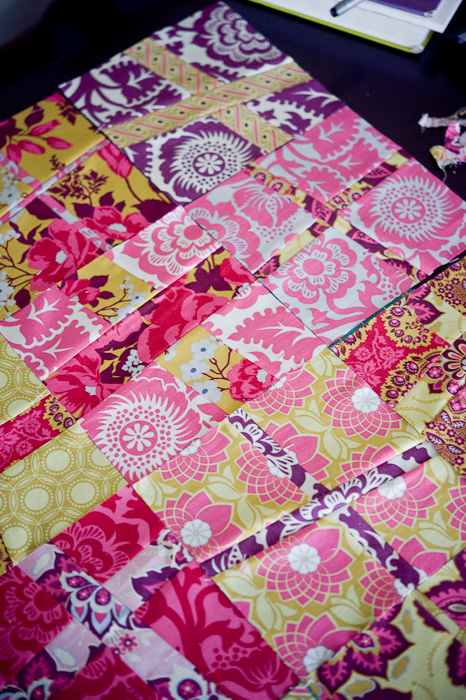 I'm working in groups of 4–I managed to get 4 8.5″ squares from each fat quarter, so I organized them into 4 groups so that I can strip piece them without getting confused.  I'm a little worried that I'll need a few more fat quarters to get to a decent lap size, but I think a more immediate concern is that I don't think I have enough strips for the crosses.  My plan for the strips is to add in some coordinating solids if need be (and if the quilt turns out a little on the small side I'll grab a couple more fat quarters).
My first group of the 4 is done, and I managed to do it in just a couple of hours last night, so I hope to get the other 3 done relatively quickly.  We joined a gym two weeks ago and working out and enjoying the pool is consuming a bunch of my free time–all this getting healthy is really cutting into my sewing time!  😛