We're turning the corner on winter now, which is good because I spend most of the winter being miserably cold.  When I saw the "luxe fleece collection" at JoAnn's one January day I fell in love and began trying to figure out ways I could wrap myself in it.  I've been wanting a second Linden (I mean a hundred more Lindens) since I made my gloriously-lengthy-in-the-arms Linden sweatshirt last spring, so I decided to give it a go in fleece.  It is awesome.  It is so soft and comfy that Ellie immediately demanded her own version.  (Because I always like to know EVERYTHING about materials I see used, the grey I used for the bands is also from Joanns–just their basic grey rib knit.  They only have three or four colors of their rib knit, so grey it was!)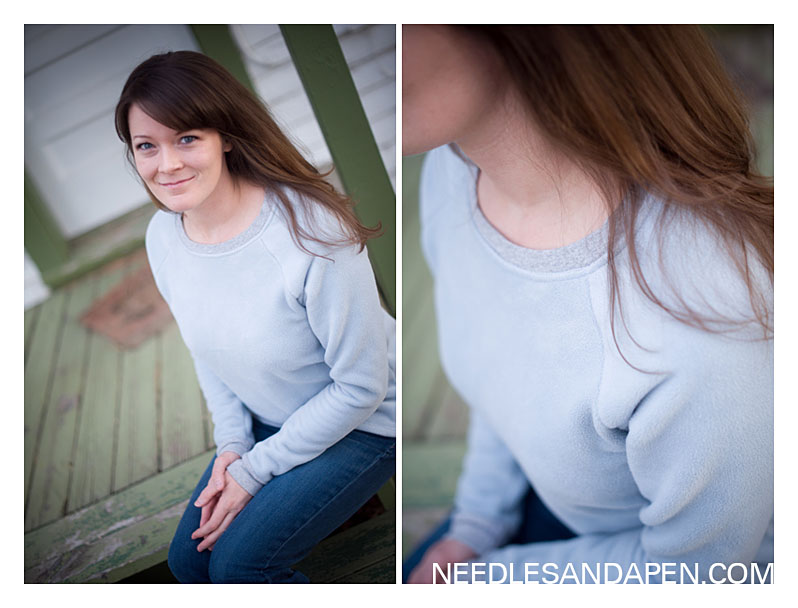 This project is a little bit special because it marked my first successful use of my coverstitch machine!  I was so excited to use it over Christmas break, but then my first attempt at a quick hem was a disaster and the more research I did the more intimidated I became.  I decided to set aside a few hours to really learn this machine…and so of course it acquiesced completely to everything I wanted it to do and acted like "what?!  I'm super easy and a delight to use. "  For anyone using a cover stitch machine, my tension settings were 4, 4, 3.  These out-of-the-box settings seemed perfect for the thick fleece.  After this project, I went back to my first attempted coverstitch project and discovered that the tshirt fabric of my original attempt benefited from tensions of 3, 3, 2.  (This is the extent of my tension knowledge: if you are getting tunneling with your coverstitch machine you should lower your tension.  I happened to randomly drop them all by one and that ended up being perfect.  Phew.  Because that could get really complicated really quickly.)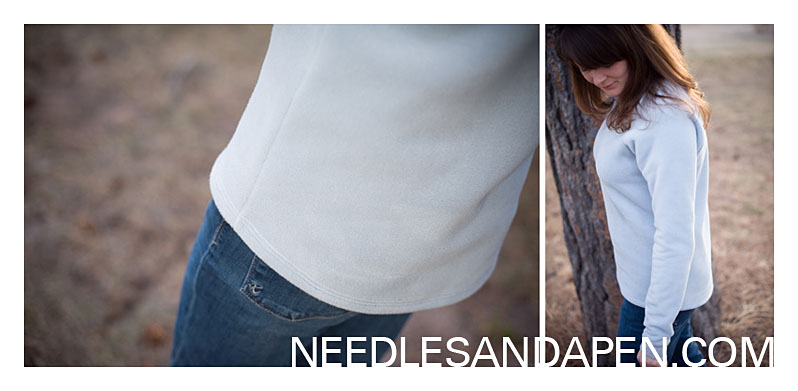 A couple of pattern/fabric notes:
 Go up a size!  I made this one in the same size as the last one, and if I had it to do over I'd go up a size, particularly for arm roominess and the snuggle factor.  This is a big thick fatty fabric without stretch, so go up a size.
 Don't wear it in the car without a coat on top.  Mine is ruined from a day of driving around.  I noticed that the seat belt was pulling up a lot of fuzz, but I hoped the diagonal crease lines across the bust would go away once I washed the shirt.  They didn't.  It's noticeable enough that I won't wear this one outside the house anymore.
 If you extend the sleeve length like I do, you'll need to regrade the tapering down of the sleeve.  I just carried the lines down a few inches and they ended up being too tight and I needed to cut off the extra inches and stick a ribbed knit cuff on them so they'd be the extra long sleeves of my dreams.
I went with my same longer length and self drafted curve on the hem and I'm really happy with those choices.  Honestly, it's a boxy pattern and not particularly flattering especially when made up in such a thick fabric, but it's a sweatshirt.  It's meant for cozy days!