Chasm Lake is a Rocky Mountain National Park destination that gets lots of acclaim, but at 8.4 miles, it is deservedly called a difficult hike.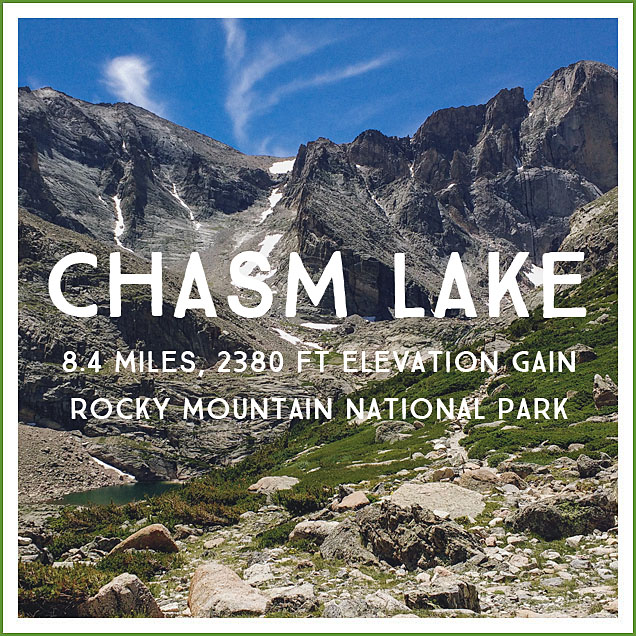 I was hesitant to attempt it in its entirety with the kids, so we planned a backpacking trip with a two night stay at Goblins Forest which knocked 2.4 miles and 750ft off the trip total.  It was still a tough one that had me wiped out, but what surprised me was how well the kids handled it.  Ellie can be a bit of a whiner sometimes on hikes, but faced with this challenge she just buckled down and got to it!  (Nic also did a fair amount of assisting in lifting her up this trail–with many of the steps well above her knees he supported a lot of her weight by holding her hand as they climbed.)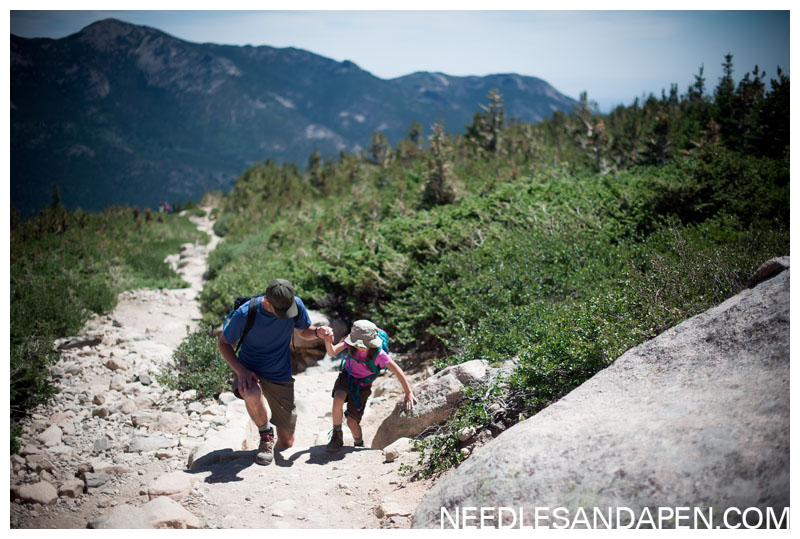 While the trail is long with a lot of elevation gain and a good rock scramble at the end, what really got me was the exposed traverse section.  If you happened to be hiking to Chasm Lake on July 16th and saw a family have an absolute meltdown on the trail, that was me.  You're welcome.  I am not a fan of heights.  I do a lot with heights, but I still don't like them, and I like my children being around steep drop-offs even less.  In the weeks leading up to the trip, I'd done research and several resources called a particular stretch of the trail "dangerous," especially when it was snow covered.  From instagram pictures I couldn't tell if it that section was still snowy or not, but when we got to the trailhead the night before, a sign announced that it was snow-free all the way to the lake.   Great.  As we approached that section, I started asking hikers coming down how it was, because we could see snow.  The first group of three told me there wasn't snow, but that if you're afraid of heights, it is not pleasant.  Well, crap.
I told Nic that I was starting to feel nervous about it, and he said that it was fine, and to look at allllll of the people coming back from the lake (there was a steady stream of people–it is a very popular hike and the sheer number of people on the trail surprised me).  That made me feel a little better.  An older couple was walking toward us, the man holding a TOTE BAG over his shoulder, and Nic asked them how the trail was (clearly wanting them to make his point that it was totally doable).  The man said something not at all reassuring in his Texan drawl about how the scramble was really hard and maybe not doable.  Double crap.
I gave Nic the "see?  we should just turn around here" eyebrows and he said "They're TEXANS.  And he was carrying a SHOPPING BAG."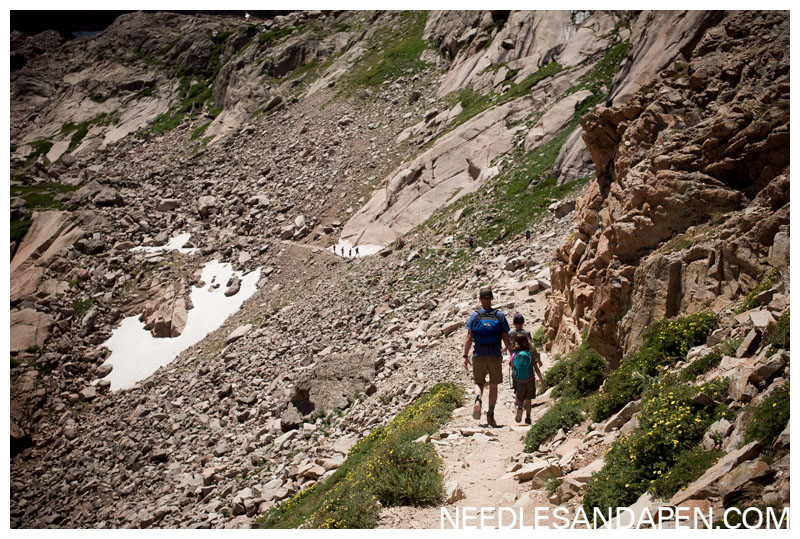 So on we went.  The foliage thinned out and the traverse became exposed and my anxiety went sky high.  This was worsened when Nic (with Ellie) went to the exposed edge of the trail to allow returning hikers to pass through every time we crossed a group (which was often [there is no photographic evidence of this because at that point of time I was LOSING MY MIND with dread]).  I finally couldn't take it anymore and asked him to STOP GETTING SO CLOSE TO THE EDGE WITH MY BABY and burst into tears and said that we needed to turn around.  We then proceeded to entertain the mountainside with a family drama meltdown in which we got our karmic due from all the times we have smugly watched Fighting Disney Families (one of our favorite Disneyland activities).  I would like to state as a little tip that if one of the members of your hiking party starts to freak out that her babies are going to fall to their deaths, yelling at her that she needs to "admit that her fear is irrational" when numerous trail guides call that section dangerous and she recently discovered how very terrifying it is to be in the wilderness when there is a crisis such as discovering you unconscious with what is perhaps a bear standing a few feet away IS NOT THE BEST WAY TO DEESCALATE THE SITUATION.
Snuffling and now furious, I turned back.  Will walked with me and was being a Therapeutic Communication prodigy.   I felt badly because I did really want to see this stupid lake, so we came up with a new plan.  Will and I would hike in front, and Will would be slow and careful and speak to me like the little Mommy Whisperer he is, and Ellie and Nic would follow behind and do whatever reckless crap they wanted to do and I wouldn't have to see or think about it.  So we did that all the way to the end of the Terrifying Section.

We got through the exposed section, and Nic and Will praised my bravery.  Ellie said she didn't get what the big deal was, that it was fine, that she was fine with that section.  (Ellie should probably never go into nursing.)  The little alpine meadow at the end of the traverse was a nice reward for facing my fear, but I had a whopping headache from crying and was too emotionally exhausted to enjoy it much.  (Isn't getting out into the wilderness with your family so fun and wholesome?)

After the pretty little meadow, you turn toward a wall of rocks to pick your way up and over.  In reading about the hike, I had not been quite sure what to make of this "rock scramble."  The kids had a blast with it, and because it's not so exposed it wasn't nearly as scary as the traverse.  It is hard work, though–you'll be breathing hard!  It's also hard to follow a particular route.  We ended up going down a different way than we came up (not intentionally), but it all works out no matter which way you come in.

There's a little bit of a false summit involved in the climb, but eventually we dropped down into the basin of Chasm lake.  The crowds had all turned back when we got there, so it was just us, a couple from Virginia (that come to think of it never did send me the pic they took of us with their wide angle camera) and the BALLSIEST MARMOTS THE WORLD HAS EVER KNOWN.

I had read about the marmots, but reading about marmots stealing stuff, and actually seeing a fat marmot steal a banana from someone's hand are two very different things.  The marmots up there are insane.  And really entertaining for the kids.  But guard your snacks.  I don't mean hold them in your hands–I mean, GUARD YOUR SNACKS.
I only had my 50mm lens with me, which is the wrong lens for this destination, but even with the right lens I wasn't sure that the lake itself is all that amazing.  I think the Rocky Mountain National Park lakes we visited last year, Emerald, Jewel, and Mills for example, were much more beautiful (if you're looking around for my blog posts on those, I still haven't gotten around to it yet, but they're coming).  I think Chasm Lake is popular because it is so hard to get to and because the hike itself is beautiful and takes you through so many different settings, but not because of the lake.  (Nic thinks the cliff of Longs Peak rising so steeply above it makes it impressive and worth the hype, so I guess you'll just have to hike it yourself to decide how you feel about that one.)

Pros:  It's long and hard and you'll feel accomplished at the end of it!  The boulder scramble was our first, and a good introduction to this element of hiking. The hike was beautiful and exposes you to a lot of different views.  Peacock Pool and Columbine Falls, visible from before the traverse across Mt Lady Washington, are beautiful and would be a nice destination in their own right.  The marmots at the top were fun for the kids.
Cons: Mid-July was the first week this summer where the trail was snow-free.  The exposed section has a spot that holds onto snow/ice that I wouldn't attempt with kids until the trail is melted out.  The exposed section will be a challenge for anyone who struggles with heights.  It is a popular trail, so there are a lot of people on it.  We got a late start and so weren't hiking with the bulk of the crowd, but that has its own downside–with the late start we were constantly concerned about getting caught in a storm, and since you are hiking on the eastern side of the mountain you aren't able to see weather rolling in until it is on top of you.  I would be very concerned about being up there during lightning.
Distance/Difficulty:  8.4 miles, 2380 ft elevation gain.  Our kids were the only children we saw on the trail once it split off to head to Chasm Lake, but it was very doable for them starting and finishing at Goblins Forest.  I think they could have handled it as a day trip, but it would have been more of a challenge.
Trail Teaching:
The ranger station at the trailhead offers information about John Wesley Powell, who first climbed Longs Peak, as well as a model of the area and other interesting tidbits.
If someone in your party is starting to have some anxiety about the whole business, distract them with helpful facts like how 60 people have died on Longs Peak including 8 from heart attacks and 6 from lightning.
If that doesn't help, you could try talking about marmots I guess.  They are actually large squirrels (what?!  way to ruin the allure of marmots, Google!) who live in burrows and hibernate for most of the winter.  They communicate by loud whistles, and when not stealing hikers' snacks, they live on whatever grass, lichen, moss, flowers, roots, and berries they can find.
Photos:  (Some of these are cell phone photos since I didn't have a wide angle lens with me. Take a wide angle lens on this hike–it would be worth the extra weight!)




Further reading: