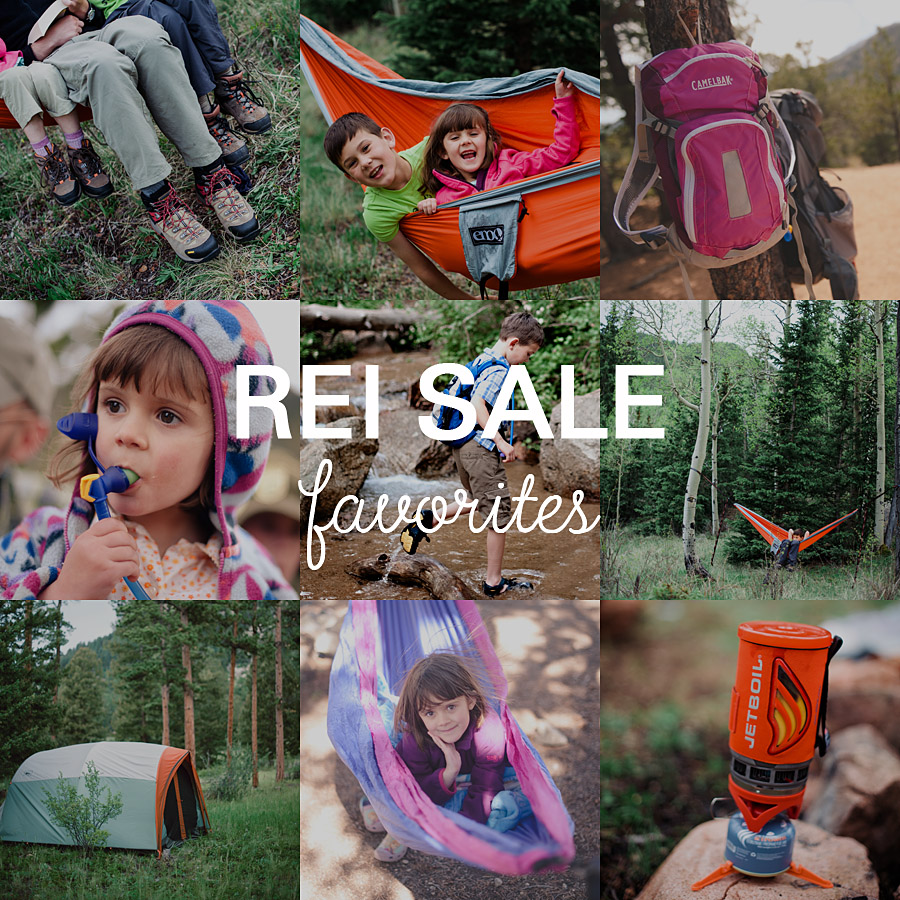 (This post contains affiliate links.  If you purchase something based on my recommendation, I would love it if you used these links–thanks!)
Hurray!  It's time for my second favorite sale of all!  (Favorite sale of all: the Nordstrom Anniversary Sale, which conveniently coincides with my birthday.)
As I debate how to use our 20% coupons and which sale items to stock up on, here are a few things that we LOVE that I noticed on sale and would wholeheartedly recommend to other hiking/camping families.
Eno doublenest hammocks.  We love this hammock so much we have two.
Jetboil stove.  We couldn't backpack without this stove, and now we love it for car camping too–it's awesome to make a quick pot of water for coffee in the morning!
Campbed 3.5 sleeping pad.  I am obsessed with this thing.  I'm even willing to take the weight hit and carry it when we backpack.  It is beyond belief comfortable and helps me stay warmer at night.
Patagonia briefs.  These are fantastic.  And are one of the very few underwear options in the whole wide world that don't show your panty line when you're wearing see-through white scrub pants.
Kingdom 6 tent.  We got ours at the REI sale four year ago and we love it!  It's fantastic to be able to stand up inside the tent and we have been able to host camping trips with visitors because of the extra space.
Kids Camelbacks.  Will and Ellie have MiniMules that have been fantastic for all of our hiking adventures.  I'm planning on getting Ellie the Scout during this sale for our backpacking trips so she can carry just a little bit more when we backpack.
Here's what I'm drooling over:
Kelty tru.comfort sleeping bag.  THIS IS THE COOLEST SLEEPING BAG I'VE EVER SEEN.  I want it for car camping.  Except I also want a lighter but warmer sleeping bag for backpacking.  Will needs to hurry up and outgrow his kid sleeping bag so I can pass on my current one and go sleeping bag shopping!  I am a tummy/side sleeper and therefore Mummy Bags are torture for me.  But I probably am going to be spending all of my clams buying up those white-scrub-friendly Patagonia briefs, so alas, I will covet this from afar.
A new backpack for Nic.  Nic is still rocking his external frame pack, which causes problems in some areas (like getting a rain cover to fit it).  He has admired Will's REI brand pack so I might be able to convince him to invest in a new pack so I can stop feeling quite so guilty about always buying all the things while he makes do and mends like a WWII housewife.
Asolo Hiking boots for me.  I have nice sturdy hiking boots that are awesome (and look very cool–which is important because the best part of any outdoor adventure is usually the sweet gear)…but they are heavy.  And sometimes I think it would be really nice to have a lighter hiking boot for those hikes when I know we're not going to be crossing little streams or wading around in a lot of muck.
United by Blue shirt.  Will picked one out for me for Mother's Day last year and he created a small problem.  It is so soft and wonderful I want another one.  It would be very worthy of my 20% off coupon.