Painted Rocks Campground is only an hour from Colorado Springs and a total gem of a campground with both reservable and first-come-first-serve campsites.  We stayed here on an informal group trip with our Cub Scout den and the campground was a big hit.  We'll be back.
Pros:  Painted Rocks is convenient while still feeling remote and beautiful.  The Woodland Park Walmart is less than 15 minutes away if you've forgotten toiletries, and home is only an hour away if you've forgotten…say…to pack your tent.  (That second one may or may not have actually happened to us on this trip.)  The rock formations within the campground are beautiful and a blast for the kids to play on.  It's like camping in Garden of the Gods, but you're able to play on the rocks!  The sites are beautifully spaced so that everyone can enjoy the outdoors without feeling on top of one another.
Cons:  It's a standard Forest Service campground, so there are no showers, sinks, or flushing toilets.  It's also close enough to the highway that I could hear the road noise at night.  And finally, while we were there a bear was spotted each day close to the campground and the Department of Wildlife was actively tracking him/her with the intent of shooting it with plastic bullets to discourage it from coming around the campground.  (I would make a terrible Dept of Wildlife employee.  Looking at a bear, shooting it with non-lethal bullets would not be my plan.  I'm pretty sure I'd just hand over my wallet and promise to drive it to Safeway if we could all agree to Just Keep Playing Nice.)  The maddening part of the whole thing was that there was a bear within sight of the campground…but no bear boxes.  Le sigh.  (We stored all food/toiletries/clothing we'd either fished in or had stuff frenched toast cream cheese exploded onto [more on that in a later post] in the car.  Ellie normally smells delicious, but the minute she goes camping she starts behaving like a baby elephant and throwing dirt all over herself, so I felt pretty confident not storing her in the car.)
Facilities:  Vault toilets, water spigots, and fire grates and picnic tables at each site.  (No specific tent pads, but a general tentish area was discernible at the sites we saw.)
Campsite recommendations:  We were at site 15, which had great shade and a fun little hill to put our tent on (and two trees perfect for my hammock).  It has a rock formation off its backside that is a little bit obscured by the hill/trees.  Site 13 has no shade but is a dream for kids–a great rock formation for playing is at the back of the site (pictured above).  One of the families from the den was staying there and left the campout early.  Within five minutes another family had scooted on over to claim it.  If it's not too hot, this site is the winner in my opinion!  Site 16 also a small rock formation of its own with the added bonus of a small amount of shade, but it is closer to the road and a bit smaller than site 13.  As Nic pointed out, though, there were really no bad campsites at this campground.  The ones on the southeastern loop have more rock formation visibility/access and the ones on the northwestern side have more shade, but the sites are spaced far apart and you could find something nice about any of them.
Nearby activities:
Fishing at Manitou Lake (the $6 admission fee is waived due to your campsite fee), which has absolutely beautiful views back toward Pikes Peak
Centennial Trail – a paved easy bike path that runs from Woodland Park to Manitou Lake (and would be easy to ride to from the campsite)
From the entrance off the highway to the Red Rocks Group campground you can access a short walk (about half a mile round-trip) to even larger rock formations that have many nooks, crannies, and pass-throughs to explore.  (You take the exit off Highway 67 for the Red Rocks Group campground, then stay straight [not going into the actual campground area], park at the gap in the fence, and follow the trail/powerlines to the sandstone formations).  You'll notice a large formation and then a second large formation.  The second large formation has the 'secret room' that we heard about from our campground host, but the real treat was passing through the gap between the first and second formations and then climbing back behind the second formation.  Lots of good exploring in that area of that second rock formation!
On the drive home we stopped at the Donut Mill in Woodland Park for giant donuts and ice cream.
Photos: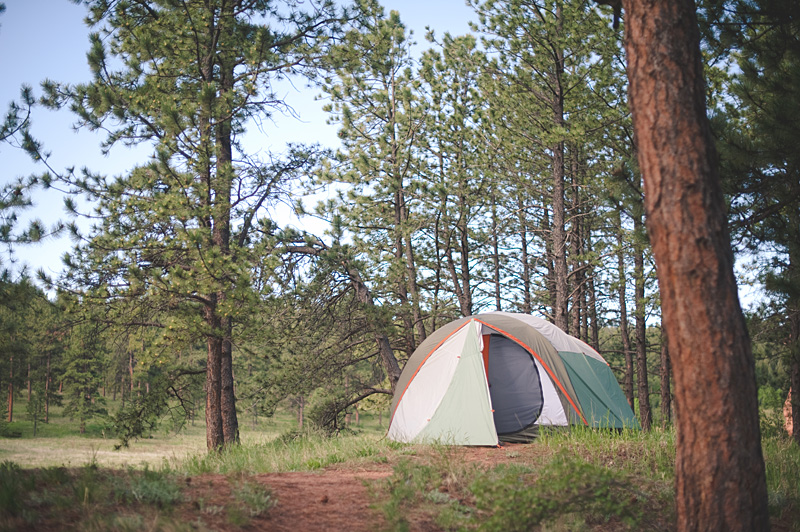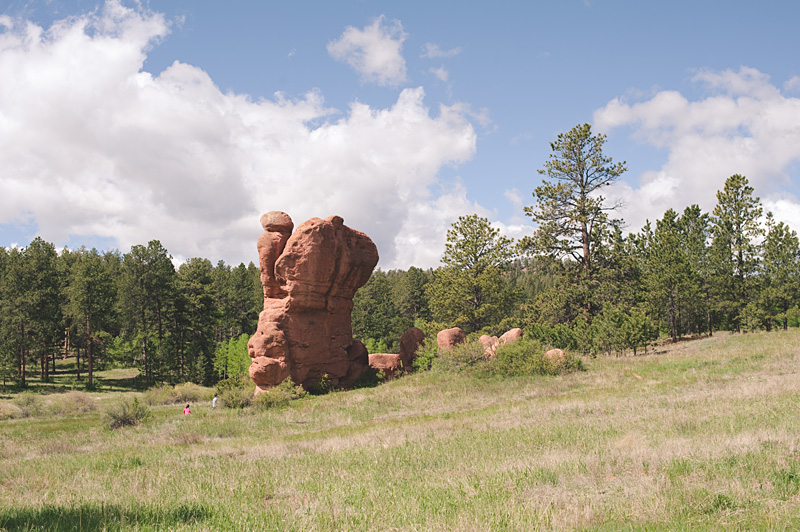 The formation at the back of site 13 was a great playing spot for the kids.


(I found that awesome striped table cloth the morning we left for the camping trip at a garage sale for $0.25.  I was pretty pleased with myself.)

I put up this hammock (using these straps) for the first time and I am totally in love with it (affiliate links).  It is such a great spot to hang out at camp, whether you lay in it or sit "sofa style."  When we got home I immediately hung it up outside in our yard.  My new favorite time is hammock-o-clock.


The formation next to our site.


The kids always learn so much while we're camping.  Here Nic and Will were discussing length versus area and why feet versus square feet are such different units of measure.

The larger rock formations by the Red Rocks group campground were a blast to explore!



Ellie does so well keeping up with the cub scouts!

The kids were soooooo excited to go fishing for the first time.

Manitou Lake is a beautiful spot to fish!




Luckily John caught a fish so we had a 'win' for our two trips to the lake!



A qucik stop at The Donut Mill in Woodland Park on our way home for some big-as-Ellie's-head donuts.