Hey!  Look what I found in my drafts folder!  A post almost all ready to go about our first backpacking trip–I finished it up and here it is!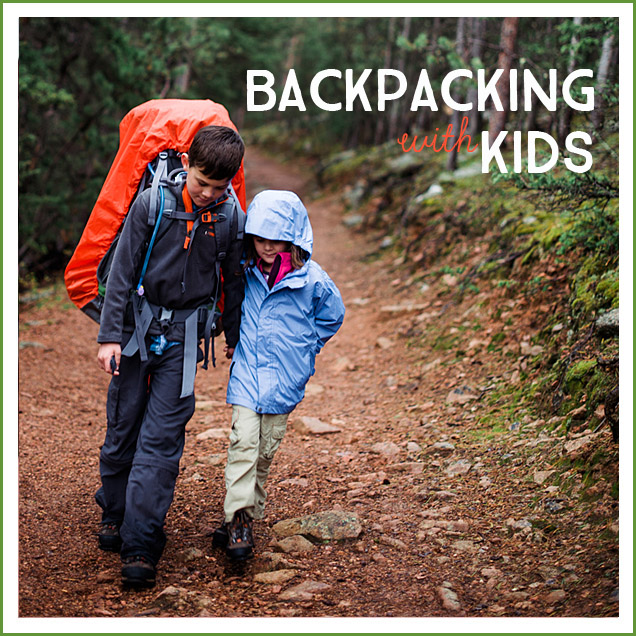 Last month we backpacked for the first time as a family.  I am so excited for the flexibility this offers in terms of planning.  Great campsites need to be reserved 6+ months in advance, and with my schedule at the hospital changing from week to week and often unavailable to me until two weeks prior to the dates in question, this is a risky move at best.  Backpacking also allows us flexibility in weather–you can go where the forecast is best!
The Location
For our first trip we chose the Horsethief Park area (located between Divide and Cripple Creek).  We were looking to hike about 2 miles to test Will's ability with his pack.  We ended up hiking up to Horsethief Falls, then back to the Ring the Peak trail junction, which we then followed for about a third of a mile before finding an established campsite with a fire ring and flat area for a tent.  Our backtracking meant that we were really only a mile from the car, which allowed us a nice low commitment way to gear test!  We hiked to Pancake Rocks the next morning before packing up and heading out.
The Weather
Nic didn't want to go on this trip because the forecast was for thunderstorms on both Saturday and Sunday.  I argued that if we waited for a summer weekend without thunderstorms, we'd never go camping.  We had our camp set up before the storms rolled through Saturday evening, so we retreated to the tent for about an hour, and it worked out just as I'd expected.  What I hadn't thought about was how it would go if you had to pack everything up in the rain.  Sunday we hiked up to Pancake Rocks.  It started raining when we reached the top, and didn't stop for the rest of the hike.  Everything not covered by our raincoats was drenched, and though we had a tent to crawl into and dry clothes to put the kids in, we still had the prospect of packing up in the rain.  Luckily the rain stopped just as we had finished packing up everything inside the tent, so we were able to put the tent away dry and the weather held for our walk to the car.  But it was enough to bring me onto Team No Rain.  We had wanted to go backpacking this weekend for the 4th of July, but when the forecast showed thunderstorms for everywhere we were thinking about going, we stayed home instead!
The Food
I had told my sister-in-law that the food part of backpacking was really stressing me out.  It's either heavy or complicated.  She recommended that I just grab the Mountain House box of dehydrated meals from Costco.  They were on sale for several weeks, which made them an even better deal–the packs are usually about $8 each, but the box of 13 was $48.  We made two pouches for dinner and two pouches for breakfast and I was worried that with Will and Nic it might not be enough food, but there was more than enough.  Two pouches will definitely feed a family of four even if your kids are older.
Along with the dehydrated meals I brought our usual hiking snacks – Luna bars (which Ellie is in love with) and Larabars (which both kids also eat well).  It's amazing how much tossing one of these at the kids during a hike will improve their mood 15 minutes later!
The Gear
Choosing our tent was a major source of stress and our biggest logistical challenge for backpacking as a family.  No one makes a true backpacking tent for four people!  You go from 3lb three person tents to 7lb four person tents.  It is actually better in terms of weight to take two two person tents than one four person tent.  (Laws of efficiency make this just so WRONG, but there it is.)   We talked about going with two two person tents, but I knew I wouldn't be happy with that solution.  So, (in keeping with most of the weight-decisions), we decided to eat the extra weight and get a light-ish four person tent.
This was one of my big revelations while planning:  While I admire my ultra-light family members, we realized that as a family of four, we're not cut out for the ultra-light mentality.  Backup equipment, contingency plans, and comfort are too important when traveling with kids.  When hiking with elementary school kids your distance will be low, anyway–a heavy pack isn't as big a deal.  (Says the woman carrying around a 4lb sleeping pad.  No joke.  My sleeping pad weighs more than most backpackers' tents.)
Want to see our gear?  Here's what we used:
Nic's backpack – no link, because you'd have to travel back in time to get it.  Seriously.  The dinosaur era called: they want that backpack back.
Will's sleeping pad (Ellie uses an old one of mine)
Jet boil stove.  Seriously awesome.
Trash bag for the bear hang.  (DEFINITELY NEED TWO for a family of four.  Probably three.  We had one and it was not cutting it.)
Water filter.  (Our ultra light relatives use chemical methods, but Nic wanted to go with a filter.  I researched a bunch of filters, bought this one, and then he laughed because it's the exact brand as the one he used as a teenager.  Sweetwater for the win.)
Rain covers for the bags without one built in (mine comes with a PINK rain cover, people–it almost makes it worth it to go in the rain.  Almost.)
The Loads (or, Life Isn't Fair)
We ask Ellie to carry her water and coat.  Will carried his water, his clothing, his sleeping bag, his sleeping pad, and Ellie's sleeping bag and her sleeping pad.  (Telling him this was actually very helpful.  When we first put the pack on him at home to test it out he acted like he was that idiot woman from Wild (my reaction to that book is so strong I probably would have been kicked out of book club over it if I hadn't had to quit anyway because of my schedule) and just about fell over.  Then I told him what was actually in his pack and he said "Is that all?" and realized that it actually wasn't very heavy.)
The Fun
The kids did beautifully.  At 5 and 9 this proved to be very doable.  With weight for a consideration, we didn't have some of the usual distractions (making treats, board games, etc), but I did bring our absolute favorite thing: my Eno hammock.  I also brought the lightest book I could find for bedtime (Homer Price)–which we ended up reading in the tent while it rained.  Ellie found a baby tree to tend to within an inch of its life.  😛   It ended up being our only backpacking trip of the year because of our schedule and the weather on the weekends that we did have free, but if the weather and schedule had cooperated our plan had been to bump up the distance to 3 miles one-way for the next trip.
The Pictures