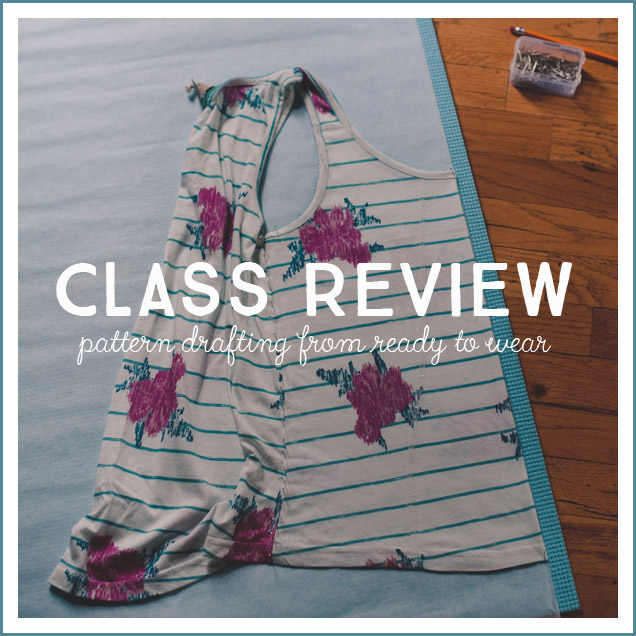 (Disclaimer: this post contains affiliate links.)
Last spring I took my first Craftsy class, Pattern Drafting From Ready to Wear.  I was completely thrilled with the class.  I'm not normally a video tutorial person–in fact, I've resisted Craftsy for years because I thought the format wouldn't work for me.  I like to move at my own pace and typically am frustrated with videos that go too slowly over the concepts I know and then speed over the things I don't know.  I also hated the idea of sitting in front of a screen for hours when I could be DOING something.  But once I tried it, I was hooked.  The classes I have tried have been wonderfully paced and I have learned so many things that I haven't seen anywhere else.  It's really helped my clothing sewing and I wholeheartedly recommend checking Craftsy out!  To see if you like the format, they even have a bunch of free mini classes.  My recommendation would be the free zipper class.
For me, I found that watching the classes in the same way that I watch regular TV is very helpful–which is to say, while doing other things.  Folding laundry, doing dishes, or sewing an unrelated project, I was able to watch the lessons without feeling like I was 'losing time' to the class.
Pattern Drafting From Ready to Wear was well paced and easy to follow and I was excited to try out the techniques using a top I'd found at Bass Pro Shop where I liked the fit, but didn't like the pattern.  For my wearable muslin, I used a knit with a lot of stretch that I got from Fabric.com years and years ago.
Drafting the pattern was easy, thanks to the class, and I felt confident using the techniques.  For the pin board, I used a yoga matt I happened to have around the house.  Everything went together smoothly, although I ended up waiting to hem the tank for months until I got my coverstitch machine because I really hated using the twin needle on my sewing machine for the neckline and armholes.
I would use a less thick binding next time (using a raw edge on the wrong side of the shirt versus encasing the binding completely.  I was being very critical of my wonky stitches until I noticed that the store bought tank had even worse stitching!!  It made me look more critically at the clothing in my closet and prompted the realization that I am WAY too hard on my own sewing projects–the clothes in my closet from stores are full of 'mistakes' that I've never noticed since I never turned a critical eye to them!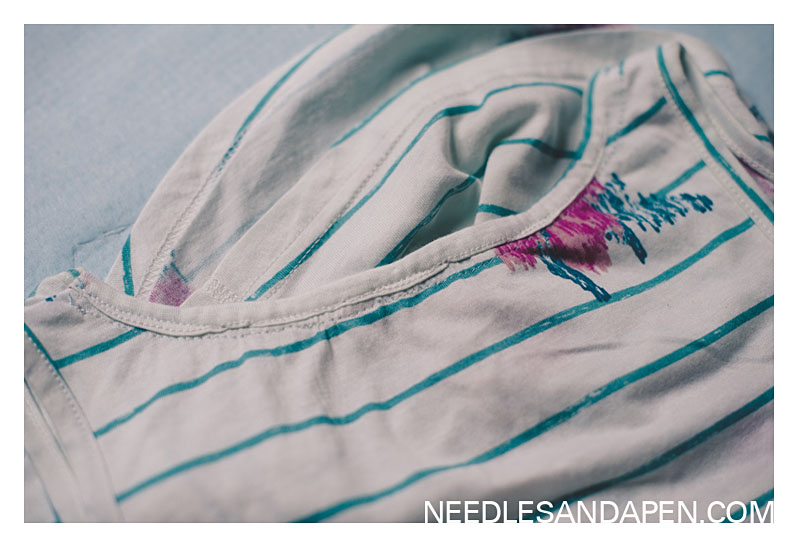 When I finished the binding on the neckline and armholes I panicked a little because it was very distorted and weird looking (no pics because of the panic).  I did some looking online and noticed that for many people working with knits, the moment of 'ta da!' is one of similar 'oh no!' and the key is to wash and/or iron it after you've finished sewing to make it all even out.  That helped a bunch.
My final finished tank is a meh.  The fabric I chose stretches a lot, which pulls the armholes down much farther than the original shirt.  The neckline is also a little wonky even after washing/ironing which I think is in part due to that big fat binding.  BUT the good news is that the actual pattern drafting was a success and the techniques I learned from the class were solid and I feel confident that I could tweak the fabric/binding to make the pattern work if I want to try this tank again.

My next class will be Custom Fitting: Back, Neck, and Shoulders.  I often have issues with the fit of the shoulder of shirts–the sleeves always begin before my shoulder has ended, so I'm excited to learn some techniques to fix that on clothing I make myself!